Tylko zdecydowana postawa Parlamentu może zakończyć problem przełowienia w UE
Europosłowie muszą interweniować, aby plany wieloletnie nie były osłabiane przez decyzje ministrów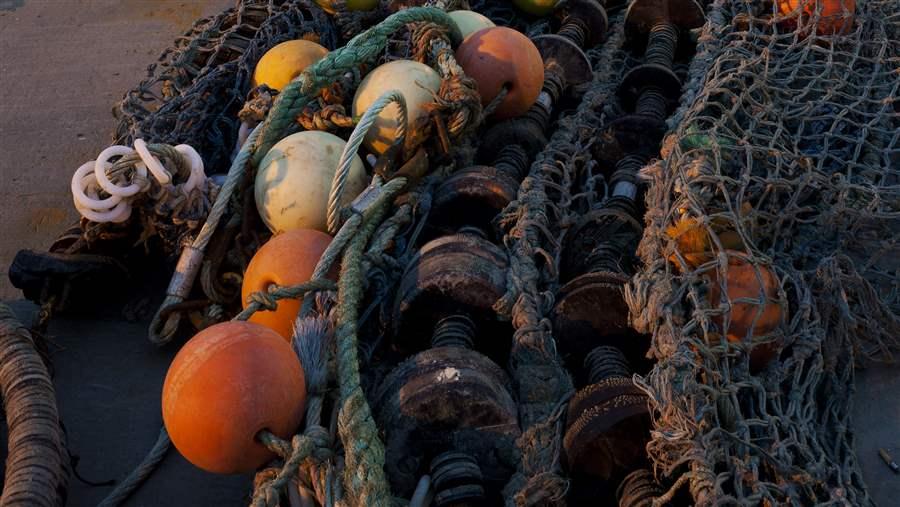 Puste sieci rybackie w brytyjskim porcie. Bez interwencji Parlamentu Europejskiego trudno mieć nadzieję na rozwiązanie kwestii przełowienia w UE.
© Corey Arnold
Jeszcze w 2013 r. przedstawiciele wszystkich państw członkowskich i urzędnicy instytucji unijnych z dumą ogłaszali reformę wspólnej polityki rybołówstwa (WPRyb). Po całych dziesięcioleciach zaniedbań UE nareszcie postanowiła skończyć z nadmiernymi połowami i uchwaliła prawnie wiążące zobowiązanie do realizacji tego celu w ściśle określonym terminie. Była to wspaniała wiadomość, a jedynym niepokojącym sygnałem mogły być komentarze ministrów rybołówstwa, że jakoby "potrzebują jeszcze paru lat na stopniowe wdrożenie przepisów".
Procedura reformowania zajęła ponad pięć lat wypełnionych przez trudne negocjacje między europosłami i rządami krajów członkowskich. Tak postępowe programy wymagają ogromnej dozy cierpliwości i wytężonej politycznej pracy u podstaw i to zanim jeszcze rozpocznie się faza realizacji.
Nadmierne limity połowowe świadczą o tym, że koniec problemu przełowienia jest wciąż odległy
Chociaż zreformowana WPRyb obowiązuje już od 3,5 roku, opóźnienia w jej realizacji dobitnie świadczą o tym, że ministrowie nie kwapią się do rozwiązania tej kwestii.
Najświeższe dane opublikowane przez Komitet Naukowo-Techniczny i Ekonomiczny ds. Rybołówstwa (STECF), naukowe ciało doradcze przy Komisji Europejskiej, wyraźnie mówią o rozbieżności między obecną sytuacją na łowiskach a zobowiązaniami podjętymi w WPRyb. Jeśli chodzi o stada ryb uwzględnione w naukowych opiniach na temat długoterminowego utrzymania wysokiego odłowu, w 2015 roku aż 41 procent z nich podlegało przełowieniu. Zgodnie z własną analizą The Pew Charitable Trust na podstawie limitów połowowych przyjętych na rok 2017 można stwierdzić, że postępy w kierunku zerwania z przełowieniem są nadal nikłe: ministrowie rybołówstwa ustalili na ten rok limity, z których 54 procent przekracza zalecenia naukowe, w efekcie czego ponad połowie europejskich stad ryb wciąż zagraża przełowienie. Dane te obejmowały też stada, dla których opinie naukowe nie były tak wszechstronne.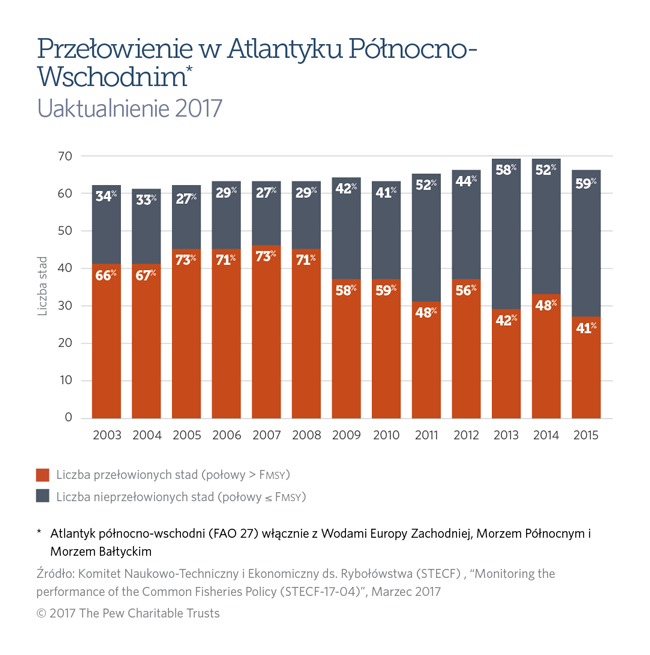 Plany wieloletnie uwzględniają perspektywę długoterminową
Zostały już tylko trzy lata do roku 2020, w którym upływa prawnie wiążący termin zaprzestania przełowienia w UE. Uczestnicy prac nad reformą WPRyb nie byli naiwni. Wiedzieli o potężnej grze wpływów, która kształtuje coroczny proces decyzyjny Rady Europejskiej na temat limitów połowowych. Dlatego właśnie WPRyb zawiera wymóg formułowania "planów wieloletnich" (MAP), obejmujących długoterminową perspektywę w ustalaniu limitów dla poszczególnych łowisk, gwarantujących realizację celów WPRyb. Parlamentarna komisja ds. rybołówstwa będzie debatować nad propozycjami MAP dla Morza Północnego już na lipcowym posiedzeniu. Rada przyjęła jednoznaczne stanowisko: ci sami ministrowie, którzy nie potrafią oprzeć się pokusie ustalenia limitów wyższych niż zalecenia naukowe, jednocześnie dążą do osłabiania wymogów określanych w planach wieloletnich. W przypadku niektórych kategorii stad ministrowie chętnie przyjęliby łagodniejsze cele niż przewidziane przez WPRyb i szukają sposobów, by limity połowowe ustalać na poziomie wyższym niż pułapy podane w WPRyb.
Europosłowie muszą domagać się zdecydowanych działań
Niestety, nie jest to żadna nowość: między oczekiwaniami Parlamentu a działaniami ministrów utrzymuje się ogromny rozziew. Zakończywszy ciężką walkę o wprowadzenie ważnych reform, europosłowie muszą teraz rozliczać rządy opornych państw członkowskich z tego, jak realizują unijne przepisy.
I nie chodzi tu tylko o śledzenie poczynań władz poszczególnych krajów. Na posłach ciąży odpowiedzialność za uchwalanie planów MAP wspólnie z Radą i dlatego mogą domagać się skutecznych rozwiązań prawnych. Wielu europosłów zasiadających w komisji parlamentarnej już teraz stara się korzystać z tego prawa: proponują poprawki przeciwdziałające próbom łagodzenia planów MAP przez Radę, a w niektórych przypadkach nawet aktywnie próbują ulepszać oryginalne propozycje Komisji.
Dopóki Rada nie udowodni, że naprawdę ma zamiar dotrzymać szybko zbliżających się terminów określonych w WPRyb, apelujemy do zaangażowanych europarlamentarzystów, by domagali się pilnego postępu w sprawie, a zwłaszcza, by plany MAP nie były rozwadniane, lecz zaostrzane, prowadząc do ostatecznego rozwiązania kwestii nadmiernych połowów. Właśnie ci europosłowie zasługują na entuzjastyczne wsparcie za ich niezmordowane wysiłki, by rozliczać ministrów z podjętych zobowiązań.
Andrew Clayton kieruje działaniami Pew Charitable Trusts mającymi na celu zakończenie przełowienia w północno-zachodniej Europie.