Rajat Rohatgi, M.D., Ph.D.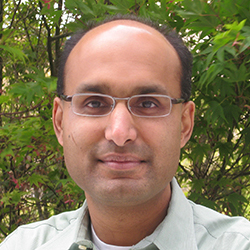 Title

Department

Institution

Address

Beckman Center Room#413, MC5307
279 Campus Drive

City, State, ZIP

Phone

(650) 387-5666

Email

Website

http://rohatgilab.stanford.edu/

Research field

Award year
Research
My research focuses on primary cilium, a solitary cell surface projection found on most cells of our bodies. Primary cilium, often only a few microns long, are complex signaling machines that play a central role in cell-cell communication. In vertebrate development, cilia have emerged as organizing centers for signaling pathways, such as the Hedgehog pathway, that shape most tissues in the embryo. Damage to cilia or to signaling proteins in cilia lead to a myriad of human abnormalities. Our research goal is to achieve a detailed biochemical portrait of the primary cilia using techniques based in chemistry, imaging, and biochemical reconstitution, with the belief that such information will lead both to a better understanding of how cells communicate with their environment and to new strategies for therapeutics based on modulation of ciliary function.