Heather W. Pinkett, Ph.D.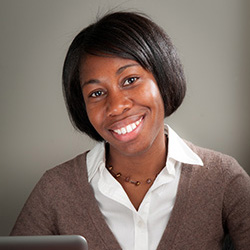 Title

Department

Institution

Address

2205 Tech Drive

City, State, ZIP

Phone

(847) 467-4048

Email

Website

http://groups.bmbcb.northwestern.edu/pinkett/Welcome.html

Research field

Award year
Research
My lab is exploring the molecular basis for transport, a cellular process that is universally conserved.To date, 13 human diseases are linked to defective transporters, including the multidrug resistance (MDR) phenomenon. ATP Binding Cassette (ABC) transporter proteins are major agents of multidrug resistance (MDR) in bacteria and humans. These membrane proteins harvest the energy of ATP hydrolysis to transport a vast range of molecules across cell membranes and act to protect cells from cytotoxic and antimicrobial agents. In order to determine the mechanisms underlying transport and its regulation, my lab uses a combination of x-ray crystallography, biochemistry and biophysics.