Daniel D. Kalderon, Ph.D.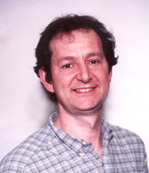 Title

Department

Institution

Address

1212 Amsterdam Ave
1013 Fairchild Bldg

City, State, ZIP

Phone

(212) 854-6469

Email

Website

http://www.columbia.edu/cu/biology/faculty-data/daniel-kalderon/faculty.html

Research field

Award year
Research
Our general objectives are to understand how cell behaviors are regulated by communications between cells in development by using Drosophila molecular genetics supplemented by suitable biochemical and microscopy approaches. Our earlier investigations of the functions of Protein Kinase A (PKA) led us to study how a Hedgehog signal is transduced to alter cellular behavior, and this in turn led us to investigate how somatic stem cells in the Drosophila ovary are regulated by Hedgehog and other factors. Our two main focuses are 1) Mechanism of Hedgehog Signal Transduction 2) Regulation of somatic stem cells in the Drosophila ovary.