'No Silver Bullet' for Opioid Crisis in Philadelphia, Other Urban Areas
A mix of education, treatment, and other measures shows promise, experts say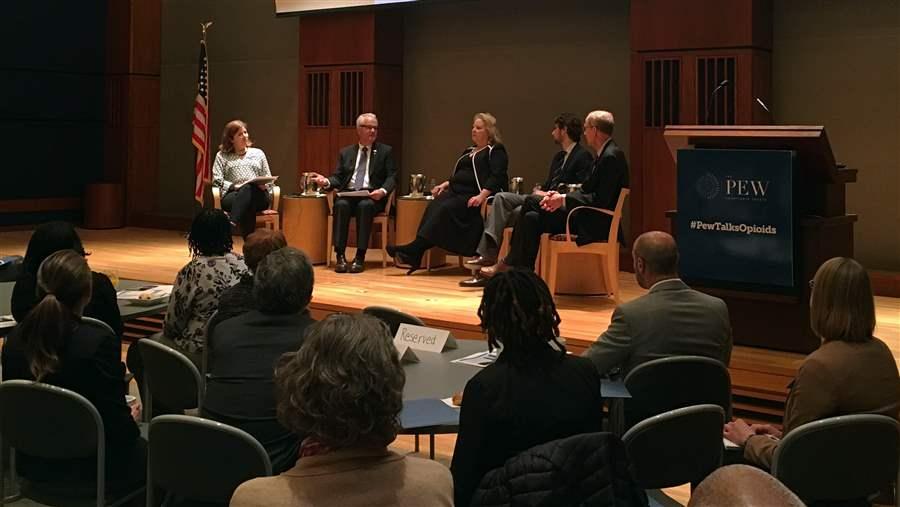 Moderator Maiken Scott, left, discusses evidence-based responses to the opioid crisis during a Pew-hosted panel April 20 in Philadelphia with experts Michael McMahon, Cynthia Reilly, Evan Behrle, and Thomas Farley.
The Pew Charitable Trusts
An entire city floating on opioids.
That was how Philadelphia's health commissioner, Thomas Farley, described the city during The Pew Charitable Trusts' recent panel discussion on the opioid crisis in Philadelphia and other jurisdictions. Use of these drugs led to 1,217 overdose deaths in Philadelphia alone last year.
Joining Farley at the April 20 event were Evan Behrle, special adviser on opioid policy for the Baltimore City Health Department; Michael McMahon, district attorney of Richmond County (Staten Island), New York; and Cynthia Reilly, director of Pew's substance use prevention and treatment initiative.
McMahon called the epidemic "a multiheaded hydra," noting that "there is no silver bullet" to solve it. Rather, the panelists told the audience of some 200 people—including policymakers, health care professionals, law enforcement officials, and academics—that a number of approaches have shown promise when used comprehensively.
One is medication-assisted treatment, which combines the use of FDA-approved drugs with behavioral therapies, such as counseling. These medications—methadone, buprenorphine, and naltrexone—work to relieve withdrawal symptoms and/or block the euphoric effects of opioids, including fentanyl and heroin.
This is "hands down the most effective treatment we can offer patients," Reilly said. But communities face barriers to fully implementing this strategy, including the price of the medications and attitudes toward drug use. "We see a lot of individuals who are in fear of seeking treatment. They worry that their families will be disappointed or, potentially, that they might lose their jobs. We even see a bit of stigma within the health care system," she said.
The panelists agreed that answers to the opioid issue could be broadly grouped into four categories: education and prevention; medical and psychosocial treatment; emergency services and harm reduction; and the role of law enforcement and the criminal justice system.
Education and prevention measures range from raising awareness in schools to encouraging physicians to prescribe fewer opioid pain relievers. Harm reduction efforts include distributing emergency treatments such as naloxone to save people who are overdosing. Baltimore's use of "alert teams" and distribution of naloxone to city residents, as well as trainings on how to administer it, have helped save about 1,800 lives since 2015, according to Behrle. Philadelphia's Department of Behavioral Health and Intellectual Disability Services and the nonprofit Prevention Point also offer naloxone training to residents.
Another key issue is access to counseling and treatment. Panelists agreed that the goal is to make treatment available on the spot, also known as "on-demand treatment," and to ensure that people can take advantage of all the services available. Farley noted that Philadelphia has a "strange mismatch, where we have a lot of people who say that they want treatment, [but] we actually have a lot of empty slots."
Panelists also discussed the use of safe-injection sites, where users are allowed to inject drugs in a dedicated location under supervision, with treatment and counseling close at hand. Farley said that a site in Vancouver, Canada—the only one currently operating in North America—has been associated with a 30 percent reduction in overdoses in the surrounding neighborhood, fewer users and less drug paraphernalia on the streets, and zero fatalities over 15 years. McMahon pointed out that such sites "pose some very serious questions" for police, who must enforce prohibitions on heroin use. Philadelphia has been considering creating such a facility, which it calls a Comprehensive User Engagement Site, but the concept has been met with opposition in some neighborhoods and concern in others.
On the criminal justice side, one strategy is to divert users into treatment programs. Staten Island's Heroin Overdose Prevention & Education (HOPE) program has been credited with reducing overdose deaths by enabling police to take users to medical facilities; the users' arrest records are sealed if they stick with treatment. The Philadelphia Police Department has launched a similar diversion program in its 22nd District in North Philadelphia, which redirects low-level offenders engaged in drug and prostitution activity to community-based assistance services instead of prosecuting them.
Panelists and audience members also addressed the racial aspect of the crisis, contrasting the treatment approach for opioid use disorder today with the punitive response to crack-cocaine use in the 1990s. Research has shown that a majority of individuals using opioids in Philadelphia are white, while much crack-cocaine use occurred in lower-income urban neighborhoods that were predominantly African-American or Latino. Farley noted that Philadelphia Mayor Jim Kenney has said the punitive response to the crack epidemic was "a mistake; it was something society did because these people were African-American, predominantly. … We should not repeat that mistake for this drug crisis—or for any future drug crisis."
Ultimately, the panel's consensus was that any strategies must take into account broader conditions in a community. Said Behrle: "Hopelessness or despair … is a really important factor in a lot of the lives of people who have become dependent on opioids. We face a public health crisis, but a public health response is not going to give people who do not have a place to stay a place to stay, and it's not going to give [jobs to] people who don't have jobs." For Staten Island, McMahon cited trauma-driven depression from Hurricane Sandy and 9/11, as well as "boredom" among middle-class residents.
"In some communities, it is driven by poverty and lack of opportunity," McMahon said. "In others, it may be just the opposite. And that's how pervasive this problem is. There is no simple cause, and thus no simple solution."
For more information, watch the full panel discussion.
Larry Eichel directs and Meagan Pharis is a senior associate with The Pew Charitable Trusts' Philadelphia research initiative.