Newly Protected Public Lands to Be Thankful For
Conservation of these landscapes gives us plenty to be grateful for heading into 2016
Many public lands were protected this year. These gems are now safeguarded for wildlife to flourish and for the public to enjoy recreational activities amid unspoiled scenery.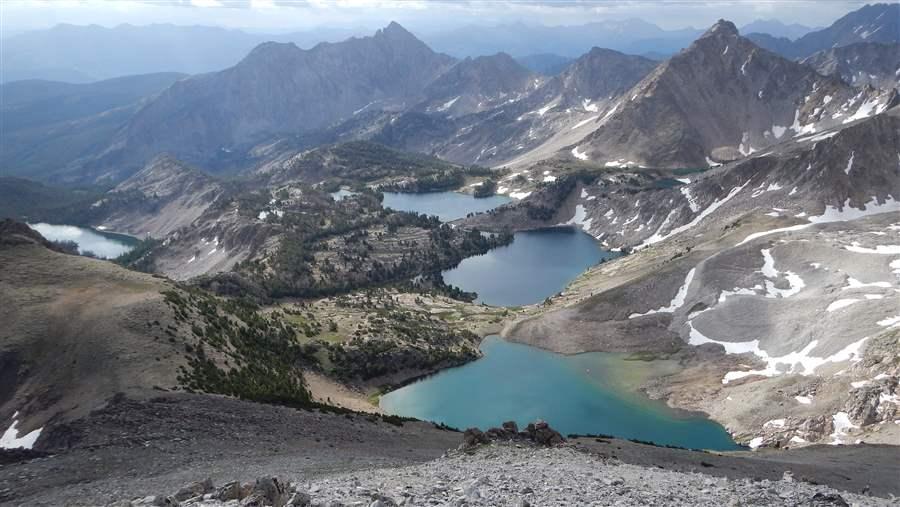 Matthew Skroch, The Pew Charitable Trusts
Idaho's Boulder-White Clouds designation protects more than 275,000 acres of
public land.
Boulder-White Clouds (Idaho)
Central Idaho's Boulder-White Clouds region became a designated wilderness, the highest level of conservation for federal lands, on Aug. 7.
Boulder-White Clouds is the centerpiece of the Sawtooth National Recreation Area and Jerry Peak Wilderness Additions Act. This legislation conserves over 275,000 acres of public land for future generations, while promoting recreational activities that drive local economies, and facilitates the voluntary retirement of eligible grazing permits.
With more than 150 mountains surpassing 10,000 feet, Boulder-White Clouds has an alpine ecosystem and a large roadless core that support rare flora and fauna and provide critical habitat for animals such as elk, moose, and bighorn sheep, making the area a premier destination for hunting.
According to the Outdoor Industry Association, Idaho's outdoor recreation economy generates $461 million in state and local tax revenue, drives $1.8 billion in wages and salaries, and directly supports 77,000 jobs.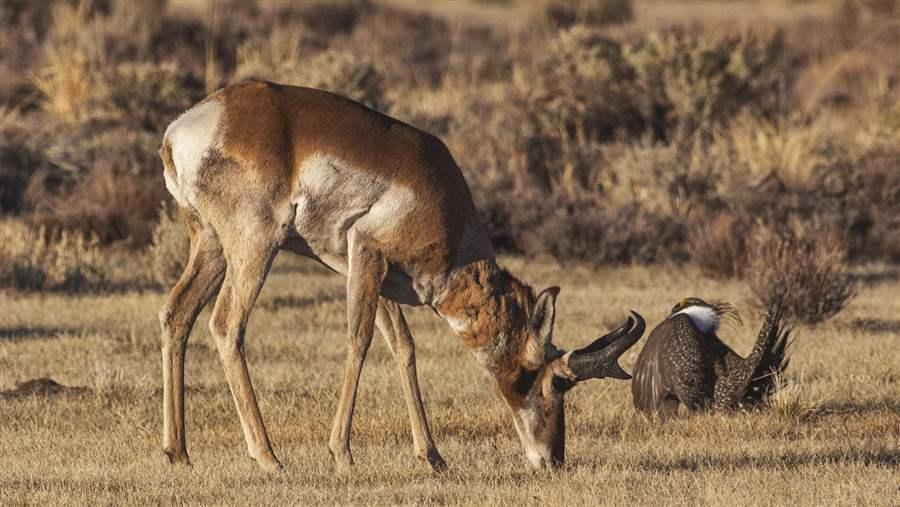 Bob Wick
Pronghorn and sage-grouse depend on healthy sagebrush habitat for their survival.
Sage-grouse habitat (Western region)
The U.S. Department of the Interior's Bureau of Land Management (BLM) made history Sept. 22 when it implemented plans to balance land conservation with energy development on millions of acres of public sage-grouse habitat across 10 Western states. This is the largest conservation effort undertaken by BLM and the biggest land-protection initiative of the Obama administration.
This decision will have significant economic and environmental effects, protecting the greater sage-grouse and more than 350 other species of wildlife. And this iconic Western landscape—an important economic driver that generates $1 billion annually—will be safeguarded for recreational activities.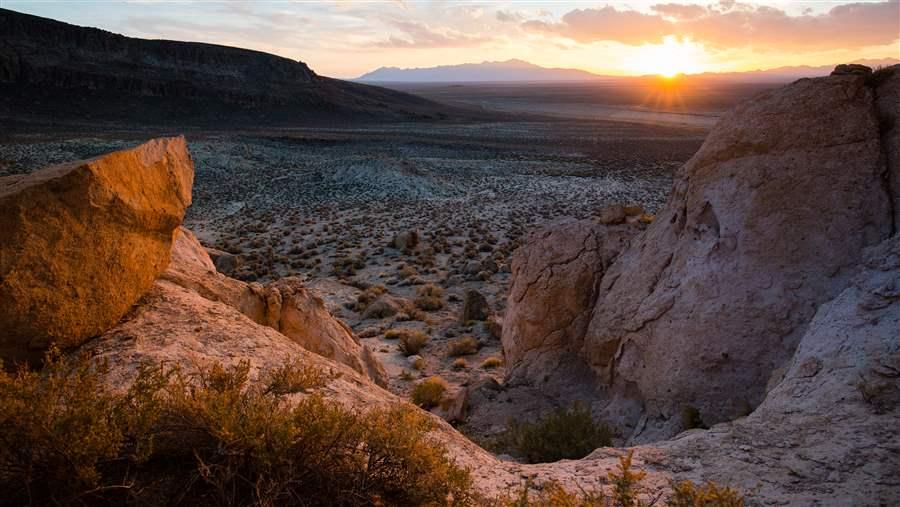 Tyler Roemer
At sunset, Nevada's Golden Gate Range, in the Basin and Range National Monument, offers beautiful vistas to outdoor enthusiasts.
Basin and Range and Berryessa (Nevada and California)
Two new national monuments, covering more than a million acres across Nevada and California, were announced by President Barack Obama on July 10. The 704,000-acre Basin and Range National Monument north of Las Vegas will safeguard irreplaceable Native American rock art, wildlife habitat, and rare and sensitive plants.
The Berryessa Snow Mountain National Monument—which encompasses about 330,780 acres near Sacramento and San Francisco—will boost the region's tourism, stimulate the local economy, improve recreational opportunities, and protect important species of plants and animals.
Bob Wick
The Arkansas River in Browns Canyon National Monument provides excellent whitewater rafting and kayaking opportunities.
Browns Canyon (Colorado)
One of the most popular rafting destinations in the United States became a national monument with the designation of the Browns Canyon National Monument in Colorado on Feb. 19.
Browns Canyon and the stretch of the Arkansas River that runs through it are economic powerhouses in central Colorado, drawing people from all over the country for outdoor activities. For years, visitors have enjoyed the river's whitewater rafting and the canyon's wild features.
The canyon's rugged cliffs and spectacular backcountry are home to a variety of wildlife, including bighorn sheep, peregrine falcons, and golden eagles—in addition to the region's outstanding wild trout fishery in the Arkansas River.