Nevada's Basin and Range
A classic western landscape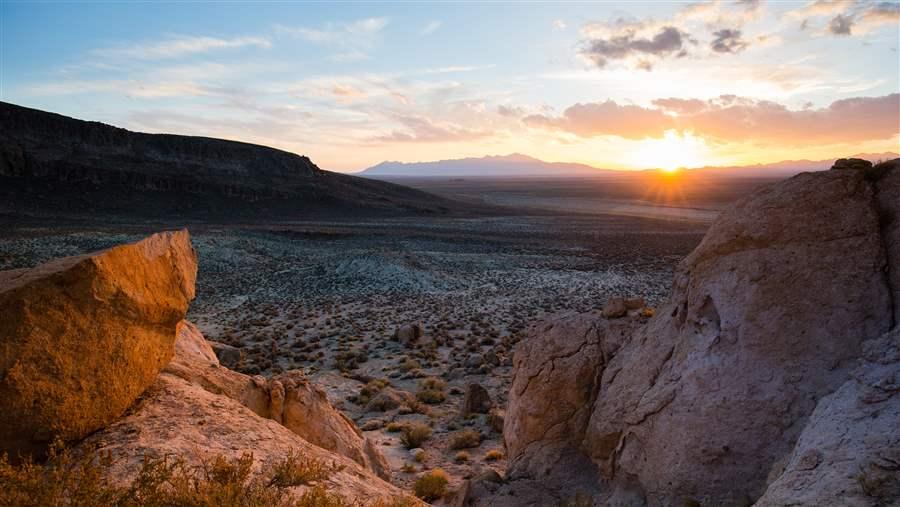 Tyler Roemer
Sunset over a southern Nevada valley.
Nevada is blessed with wild, rugged lands that are rich in history and natural wonders. From the picturesque Black Rock Desert and Lake Tahoe in the north, to high desert sagebrush that provides a haven for endangered wildlife, to petroglyphs in the southern lands that document those who came before, Nevada's public lands are vast and varied.
Perhaps none of the state's special places captures this story as richly as Basin and Range, an unspoiled mountain and valley landscape just a two-hour drive from Las Vegas. In February, more than 300 people from southern Nevada took part in a public meeting sponsored by Senator Harry Reid (D-NV) and Representative Dina Titus (D-NV) and attended by two Obama administration officials, Deputy Interior Secretary Mike Connor and Bureau of Land Management Director Neil Kornze. Participants were invited to share their views about the state's prized public lands. They delivered a clear message: Basin and Range is a unique area that deserves permanent protection from the federal government.
The region is composed of two basins, Coal Valley and Garden Valley, framed by a series of mountain ranges: Grant Range and Quinn Canyon Range to the west, Seaman Range to the east, Mount Irish to the south, and Golden Gate Range running from north to south.
Clarence Dutton, a soldier, geologist, and poet who was a founder of the National Geographic Society, once described the Basin and Range as resembling "an army of caterpillars marching toward Mexico." The collection of north-south mountain ranges, each separated by a valley, is one of the most distinctive geographical features in the state. Past conservation efforts in Nevada have focused on its glorious mountain ranges, such as Great Basin National Park, or specific mountains, such as Red Rock Canyon National Conservation Area. But little of the basin area in between has received legislative or administrative consideration. Congress and President Barack Obama now have an opportunity to protect a unique landscape that should have been safeguarded long ago.
Basin and Range is rich in historic, cultural, and natural resources. Protecting this large area intact would help safeguard irreplaceable Native American rock art—the product of thousands of years of habitation by the Southern Paiutes and their forebears—and preserving a glimpse into the lives of the earliest Americans. It would shield both upper- and lower-elevation wildlife habitat, a rarity in the West, for the mule deer, pronghorn, elk, and greater sage-grouse native to the area. It also would protect the area's rare and sensitive plants—one of which, the White River catseye, can be found nowhere else on the planet.
And its location so close to Las Vegas, a magnet for tourists all over the world, virtually ensures that Basin and Ridge would be enjoyed by those looking for a wilderness experience to complement their visit to the bright lights. And local businesses stand to benefit from the tourism dollars that travelers leave at hotels, gas stations, and shops. Adding to the distinctive nature of this part of Basin and Range is a unique art installation on private land near the Worthington Mountains. "City," by artist Michael Heizer, is a massive landscape work inspired by great world archaeological sites and located, appropriately, in proximity to some of Nevada's finest examples of such sites.
Around the country, community leaders want to preserve natural, historic, and scenic treasures for the enjoyment of future generations. Clearly, Nevadans do as well.