Maine Schools: A School Food Success Story
The Challenge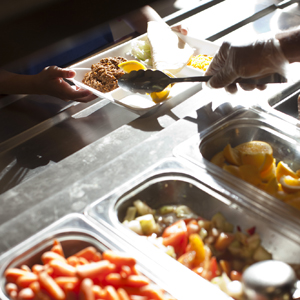 Students in Maine School Administrative District No. 52 thought it was uncool to eat school meals. In high school in particular, meals that were nutritious enough to meet the federal government's reimbursement standards bore the stigma of being for poor kids who couldn't afford to bring their food or buy the more expensive a la carte options. The result: Few students ate complete, balanced meals with fruits and vegetables, and the school food service program was awash in red ink and losing $100,000 a year.
Solutions
The district took action. Schools eliminated a la carte entrees and made sure that all meals met federal guidelines for reimbursement. Gone was the two-tiered system that had, in effect, labeled students by family income, replaced with what the district called "value meals" served in an inviting food-court environment. Students could choose from a large selection of healthy entrees, many of which were cooked from scratch in the cafeteria, as well as fruits and vegetables and fat-free or low-fat milk. Breaded, deep-fried chicken patties and whoopie pies were out; homemade chicken teriyaki (with peppers and onions) and fruit and vegetable bars were in. Other menu options included whole-wheat rotini with meat sauce, roast turkey dinner, whole-wheat pizza with low-fat mozzarella and low-sodium tomato sauce, and made-to-order wraps. The schools worked with teachers, parents, and students to garner buy-in for the changes. Now the food service slogan of Leavitt Area High School in Turner, ME, home of the Hornets, is "Value meals take the sting out of lunch prices." At Tripp Middle School, which has a tiger for a mascot, the slogan is "Value meals take the bite out of lunch prices."
Measures of Success
At A Glance
District: Maine School Administrative District No. 52
Location: Greene, Leeds, and Turner, ME
Number of Schools: 6
Enrollment: 2,000
Free and reduced-price meals: 39 percent
The percentage of high school students who returned the forms qualifying them for free and reduced-price lunches skyrocketed, pushing eligibility from 9 percent in 2003-04 to nearly 37 percent today. By removing the stigma and improving the meals, participation soared. "We broke down all those barriers," says food service director David Roberts.
Rather than running at a deficit, the food service program now breaks even, feeding an average of 1,387 students a day, nearly 70 percent of the district's enrollment. It was also the first district in Maine to win the U.S. Department of Agriculture's award for healthy meals. All four elementary schools have won recognition and the middle school is expected to do so in short order.
Lessons Learned
Roberts recommends taking risks and trying new things. "Keep in mind that part of our mission is not just to feed these kids but to educate them on how to eat properly," he says. "And that takes time."
Roberts adds that, although efforts must be made to sell the program to parents and students, it is more important to provide healthy food that tastes good. No amount of public relations will get kids to eat food that they don't like.
Read more "School Food Success Stories" from school districts across the nation.