Sergio T. Ferreira, Ph.D.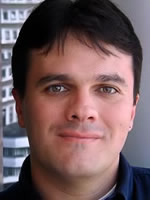 Title

Department

Institution

Address

Bloco H / 2o. andar / sala 19
CEP: 21941/590 - Ilha do Fundão

City

Country

Email

Website

http://www2.bioqmed.ufrj.br/ldn/sergio.html

Research field

Award year

Country of origin

Mentor name
Research
The main focus of our work is the study of mechanisms of pathogenesis in Alzheimer's disease and diseases caused by prions. Recent studies show that soluble oligomers of beta-amyloid peptide and prion protein may have central roles in these diseases. The program of research in this area ranges from studies of the mechanisms of aggregate formation of these proteins to the neuropathological consequences of these aggregates in vivo (in experimental models of diseases), through investigation of changes in gene expression, neurochemistry and neuronal physiology. At the same time, greater knowledge of the mechanisms of pathogenesis is applied in developing new approaches that may be incurred in therapeutic strategies for these diseases.
Recently, we have also dedicated ourselves to the study of neuronal degeneration (and the development of potential neuroprotective strategies) in experimental models of acute degeneration of the nervous system. Such studies involve the investigation of models of neurodegeneration caused by lesions of peripheral nerves and events related to excitotoxicity (trauma, ischemia) in the central nervous system.