Melissa K. Gardner, Ph.D.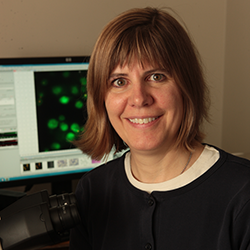 Title

Department

Institution

Address

6-160 Jackson Hall
321 Church Street SE

City, State, ZIP

Phone

(612) 626-6760

Email

Website

http://www.cbs.umn.edu/explore/departments/gcd/faculty-directory/melissagardner

Research field

Award year
Research
My research is focused on discovering the role of protein nanomechanics in regulating key cellular processes. The nanomechanical properties of cellular proteins and nucleic acids are vital for regulating key cellular processes, and a number of Phase 1 clinical trial drugs that limit the proliferation of human cancer cells work by disrupting the nanomechanics of cellular components during cell division. We will use computational modeling, genetics, and fluorescence imaging to elucidate in vivo chromatin mechanical properties inside of living cells. We will perform experiments and build mathematical models to provide a framework for understanding how these properties are regulated inside of cells and then link the measured in vivo chromatin mechanical properties to their role in regulating critical cellular processes.