William C. Sha, M.D., Ph.D.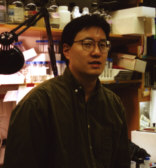 Title

Department

Institution

Address

142 Life Sciences Addition #3200

City, State, ZIP

Phone

(510) 643-2783

Email

Website

http://mcb.berkeley.edu/index.php?option=com_mcbfaculty&name=shab

Research field

Award year
Research
We are interested in understanding the molecular control of antibody responses by B cells. We previously identified a novel costimulatory molecule, B7h, expressed on B cells and other antigen-presenting cells that is the sole in vivo ligand for the ICOS costimulatory receptor expressed on activated T cells. B7h is highly regulated and appears to be a critical control point on B cells for controlling the magnitude of antibody responses. We have identified two potent mechanisms, ectodomain shedding and transcriptional regulation, that severely limit B7h expression on activated B cells. We are currently studying how these molecular mechanisms are regulated and control antibody responses using both in vitro tissue culture assays and transgenic/knockout mouse models.