Charles K. Barlowe, Ph.D.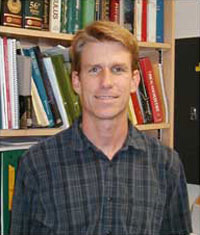 Title

Department

Institution

Address

Hinman Box 7200

City, State, ZIP

Phone

(603) 650-6516

Email

Website

http://dms.dartmouth.edu/barlowe/

Research field

Award year
Research
My research program is focused on understanding protein and lipid transport through the early secretory pathway in eukaryotic cells. This is an essential process that initiates the delivery of proteins to intracellular organelles and to the cell surface for secretion. Because of the advantage for genetic analyses, we investigate this process mainly in the yeast Saccharomyces cerevisiae. Our primary interest is elucidating the molecular mechanisms that underlie vesicular transport between the endoplasmic reticulum (ER) and Golgi complex. Transport between these compartments is mediated by membrane vesicles, termed COPII vesicles, that bud from the ER and fuse with and/or form the golgi complex. Our studies combine molecular genetics, proteomics and microscopy with cell free assays that measure COPII-dependent transport.