Athan Kuliopulos, M.D., Ph.D.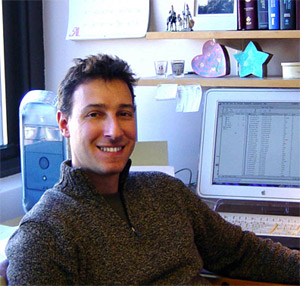 Title

Department

Institution

Address

Department of Medicine
750 Washington Street, Box 7510

City, State, ZIP

Phone

(617) 636-8482

Email

Website

http://sackler.tufts.edu/Faculty-and-Research/Faculty-Research-Pages/Athan-Kuliopulos

Research field

Award year
Research
Protease-activated receptors (PARs) are a unique class of G protein-coupled receptors that play critical roles in thrombosis, inflammation, and vascular biology. The PARs are cleaved by thrombin and other proteases at a specific peptide bond to expose a new N-terminus that binds to the body of the receptor in an unusual intramolecular mode. A major interest of our research group is to study the molecular mechanism of protease activation of the PARs and the subsequent signaling in vascular cells and in cancer. We have established a new technology based on cell-penetrating peptides known as pepducins as a novel approach of activating or inhibiting signaling between selected receptors and G proteins. These cell-penetrating pepducins are powerful tools to evaluate PARs, chemokines, and other receptors as potential therapeutic targets in both in vitro and mouse model systems.