Miguel C. Seabra, M.D., Ph.D.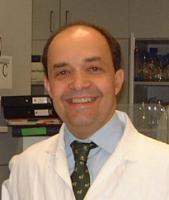 Title

Department

Institution

Address

Sir Alexander Fleming Building
Office 259 South Kensington Campus

City, ZIP

Phone

+44 (0)20 7594-3024

Email

Website

http://www1.ic.ac.uk/medicine/people/m.seabra/

Research field

Award year
Research
Our research interests include fundamental cell and molecular biology topics such as protein prenylation, membrane identity and traffic, function of Rab GTPases in organelle biogenesis, motility, secretion and phagocytosis. We are also interested in the cellular and molecular basis of diseases involving perturbations of membrane traffic and is currently involved in retinal degenerations (Choroideremia and AMD), pigmentation and hematopoietic dysfunction syndromes (Hermansky-Pudlak and Griscelli Syndromes), allergy and host-pathogen interactions (Malaria).