Baltimore-Washington Rail Intermodal Facility HIA
Location

Baltimore

,

Maryland

Organization(s)

National Center for Healthy Housing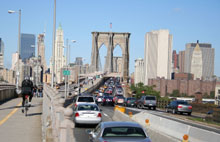 This HIA determined the impacts of the proposed Baltimore-Washington Rail Intermodal Facility at CSX's existing Mount Clare Yard in southwest Baltimore City. The facility would transfer freight cargo between trains and trucks, and operate twenty-four hours per day, seven days per week. The facility poses potential health concerns that include air and noise pollution and substantial increases in local truck traffic leading to safety risks. Its construction and operation may also benefit health by creating local jobs and generating community tax revenue that supports services essential to health. The communities surrounding the site have a higher proportion of people of color than the rest of the state and suffer from disproportionate rates of infant mortality, heart disease, cancer, and diabetes-related deaths.
The National Center for Healthy Housing (NCHH) aims to use the findings and recommendations of the HIA to improve both the consideration of health and the implementation of specific mitigation measures to protect health in the final project decisions. NCHH partnered with key decision-makers and stakeholders, including the Maryland Department of Transportation and the Maryland Department of Health and Mental Hygiene, to conduct the HIA.
The HIA found that the proposed facility would likely worsen air quality and lead to other health issues for residents in the surrounding neighborhoods. Additionally, the HIA screening process, uncovered a lack of clarity among the residents regarding the decision-making process, particularly how to resolve their concerns about the proposed facility.
The HIA made several recommendations to protect health and mitigate potential negative health impacts including conducting additional studies and long-term monitoring of air and noise pollution around the facility; installing barriers to help reduce air, light, and noise emissions from the facility; improving and installing sidewalks to help protect pedestrians; and making jobs provisions that prioritize unemployed residents in the communities surrounding the facility.
Supported by The Kresge Foundation.
More Information
HIA Website:

Organization Web Site:

HIA Report:

See also: