Dazzling Sea Life of Remote Mexican Isles Needs Protection Now
Planned reserve in Revillagigedo Islands would safeguard biodiversity and boost climate resilience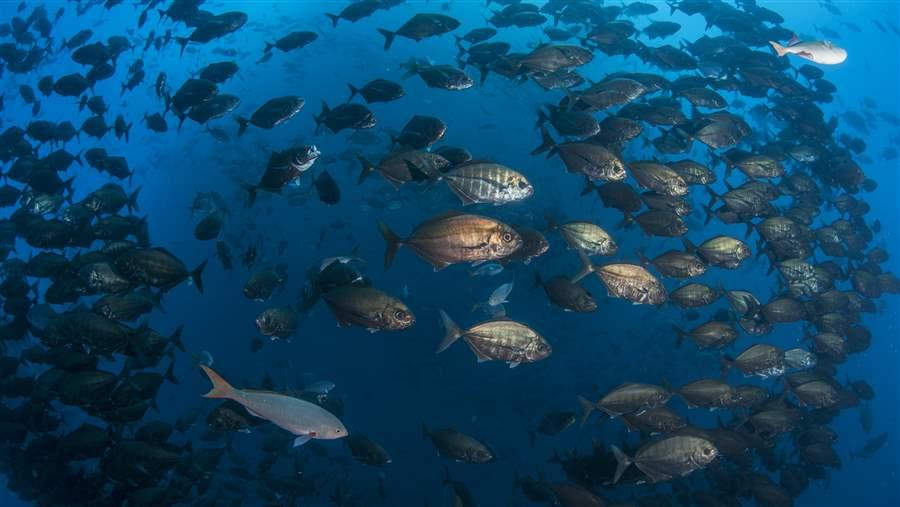 The waters surrounding the Revillagigedo Archipelago host 366 species of fish, including 26 found nowhere else.
© Getty Images
This blog was changed on November 28, 2017, to reflect the official name of the park.
In the Pacific Ocean, a few hundred miles south of the Mexican resort town of Cabo San Lucas, four volcanic islands peak above the ocean surface to form the Revillagigedo Archipelago. The uninhabited islands—Socorro, Claríon, San Benedicto, and Roca Partida—and their neighboring seamounts (underwater mountains) together form a critical waypoint on a superhighway of marine life in the Pacific.
The islands straddle two tectonic plates and rise through waters where the cool California Current and warmer North Equatorial Current intersect, creating ideal conditions for the upwelling of nutrients from the ocean's depths. This in turn supports marine life, including more than 360 species of fish, thriving coral colonies, and four species of sea turtle; and attracts a multitude of migratory animals, including humpback whales; and numerous types of billfish, tuna, and sharks. At least 37 species of shark and ray have been documented in the archipelago.
Despite the archipelago's remoteness, it is still vulnerable to fishing pressure, so much so that the government of Mexico is poised to create a marine reserve here. In addition to protecting tremendous biodiversity, the reserve would also help connect marine ecosystems across the Pacific and help Mexico strengthen its ocean territory's resilience to the impacts of climate change.
Mexican officials have committed to create a 57,176-square-mile (148,087-square-kilometer) Revillagigedo Archipelago National Park, which would be protected from all extractive activity, including fishing. To fulfil that commitment, Mexican President Enrique Peña Nieto would need to sign a decree officially creating the marine protected area (MPA), which would be the country's largest.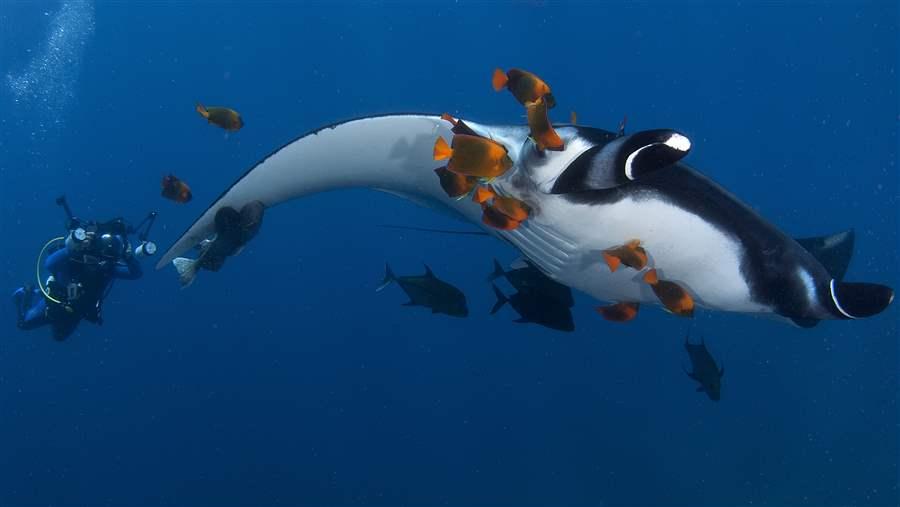 The manta ray (Manta birostris), which is listed as Vulnerable on the International Union for Conservation of Nature's Red List, is also one of the biggest attractions for diving tourism in the Revillagigedo area.
© Getty Images
With our ocean increasingly threatened by human activities, MPAs have become critical refuges for sea life, including large migratory species. Yet less than 1.6 percent of the global ocean is fully protected, far short of the 30 percent that the International Union for Conservation of Nature says is needed to ensure a fully sustainable ocean.
Reserves such as Revillagigedo also can build resilience against the effects of climate change, according to a study published in the Proceedings of the National Academy of Sciences in June. The study's authors showed that when marine reserves are large, remote, highly protected, and well-enforced, they offer resilience to climate change and promote increased well-being for coastal communities. Marine reserves also provide refuges for species as they struggle to adapt to a changing environment.
This point is particularly critical now as countries gather in Bonn, Germany, from Nov. 6-17 for a conference of the parties of the U.N. Framework Convention on Climate Change to further define how they will meet their commitments under the 2016 Paris climate agreement. By creating a national marine park in Revillagigedo, Mexican officials can provide a cost-effective tactic for the country to better adapt to climate change.
And by doing so, Mexico would join the growing list of countries—including Palau, the United States, and the United Kingdom—that have protected huge areas of our seas for the benefit not only of marine life but also of future generations that will need a healthy, productive ocean to survive.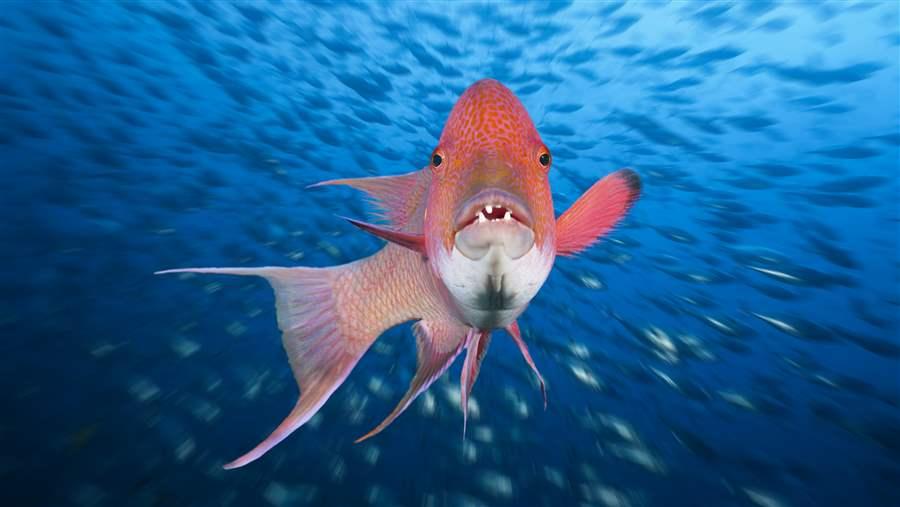 The Mexican hogfish, a species of wrasse endemic to the eastern Pacific Ocean, is found in the Revillagigedo Archipelago.
© Getty Images
Maximiliano Bello is a principal officer with The Pew Charitable Trusts' international conservation unit.