Analysis
How States Can Use Digital Tools to Mitigate Weather Events This Election Season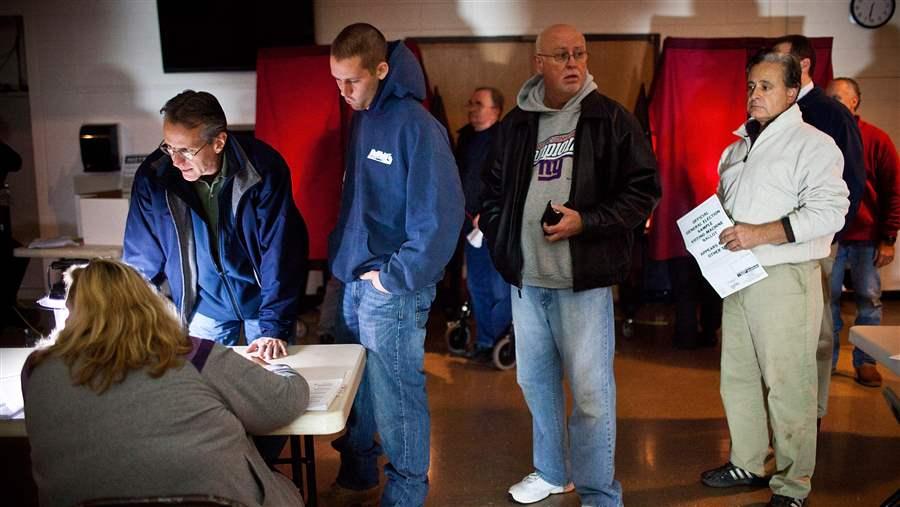 People affected by Superstorm Sandy wait in line by the light of generators to vote Nov. 6, 2012, at Silver Bay Elementary School in Toms River, New Jersey. The school, which usually hosts voting for two districts, accommodated voters from seven districts because of damage caused by the storm.
© Andrew Burton/Getty Images
Over the past few months, some of the strongest Atlantic hurricanes ever recorded have hit the United States, and hurricane season doesn't end until Nov. 30. But even in parts of the country that aren't subject to hurricanes, it's important for states to be prepared for large-scale weather events that could impede voters' ability to cast ballots on Election Day.
Extreme weather can have a big impact on elections, especially if it necessitates changes to polling locations. The Voting Information Project's (VIP's) ability to quickly publish official changes can help election officials get new, accurate information out to voters quickly. States can direct them via websites and other resources to the VIP's tools to help them find their polling places.
For example, five years ago, New Jersey used VIP successfully in the aftermath of Superstorm Sandy, which left 6.3 million New Jerseyans without electricity just over a week before Election Day. About 600,000 people in the state were still without power two days before the election. Bob Giles, director of New Jersey's Division of Elections, coordinated with VIP to ensure that voters could access updated polling place information through VIP's SMS texting tool, which is accessible on any mobile phone even when Wi-Fi service is compromised.
"Just days before the election, 900 of 3,500 polling places in the state were not available due to loss of power or damage. We were facing a dilemma of how to notify voters of where their polling places would be on Nov. 6," said Giles. "So many things were changing. In some cases, we didn't know until the day before where people would be voting."
The Division of Elections was able to publish polling place changes to VIP as they happened, and the websites of the secretary of state and governor pointed voters to VIP's texting tool. As a result of these efforts, use of the tool in New Jersey accounted for half of total nationwide usage in 2012, with 138,710 texts sent in the state in the days leading up to the election.
Thanks to its partnership with VIP, New Jersey was able to keep voters up to date, and "Election Day went well," said Giles.
Alexis Schuler is the senior director and Monica Leibovitz is an officer for election initiatives at The Pew Charitable Trusts.
Collection

Election administration by the numbers