Analysis
U.S. Agriculture Secretary Promises Support but Weaker Standards for School Meals
Announcement sends mixed message to parents, nutrition programs, and students
Healthier national standards have helped kitchen staff in Kittery, Maine, and across the country to improve the nutritional quality and public perception of school meals. Moves to weaken the standards threaten this progress and could resurrect negative impressions that schools have worked hard to overcome.
© The Pew Charitable Trusts
U.S. Department of Agriculture (USDA) Secretary Sonny Perdue released a proclamation May 1 that praised the nation's schools for serving nutritious meals and committed to "provide significant technical assistance to schools as they continue to develop menus that are healthy and appealing to students," but the statement also announced plans to undermine key standards that support child nutrition.
The first part of Perdue's message was encouraging news for school nutrition professionals and the more than 30 million children who eat school lunches each day. However, the secretary's intent to halt planned reductions in the amount of salt in student meals and to allow schools to serve more flavored milk with added sugar and fewer heart-healthy whole grains raised widespread concern among nutrition experts and parents. These proposed changes run counter to schools' progress in helping children establish healthy habits and boosting the reputation of meal programs.
The agency's pledge of technical assistance comes on the heels of a $25 million congressional allocation for school kitchen grants, which the USDA will distribute to states. For many schools, the ability to buy a new oven or freezer can be a game-changing opportunity; past grants have helped school districts to better support children's health and to run financially sound meal programs. Kitchen upgrades are often part of a larger plan to make the cafeteria environment healthier and ensure that students are well-nourished and ready to learn. Although no two schools manage their kitchens, plan their menus, or balance their budgets in exactly the same way, many face common challenges. That is why the USDA's technical and financial support is so valuable.
The USDA is also a critical partner in promoting the dramatic nutritional gains that schools have made in recent years. In 2012, the department began strengthening the guidelines for all food and drinks sold in schools, some of which had not been updated in 30 years. By September 2016, nearly all districts were meeting the healthier meal standards, which require that students be offered more fruits, vegetables, lean proteins, and whole grain-rich items and that their food options be low in saturated fat, sugar, and salt. Schools are also finding growing financial success in the transition to healthier menus. In a nationally representative survey of the country's school meal programs, 84 percent reported rising or stable revenue from meal reimbursements and snack sales in the 2014-15 school year compared with a year earlier.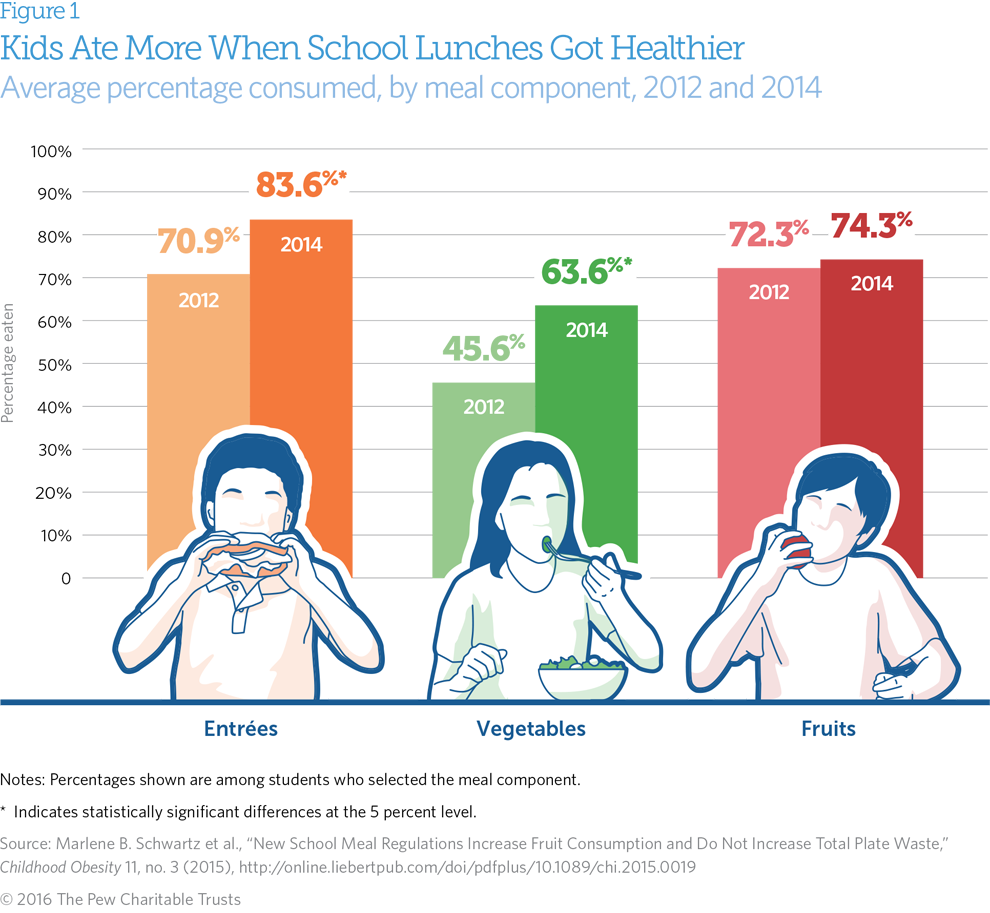 Under the updated standards, students of all ages are choosing more nutritious lunches and consuming more fruits and larger shares of the entrees and vegetables they take. Studies have shown considerable improvements in children's eating habits under the stronger standards. Some of these same analyses also measured plate waste—the food taken and later discarded by kids—and found that it either stayed the same or declined after the transition to healthier menus.
Unfortunately, the secretary's statement on school nutrition standards does not reflect this strong evidence of success and instead has the potential to undermine schools' efforts to promote the healthfulness of their menus. Slowing or undoing nutritional improvements jeopardizes student health and the trust schools have built with families that now see schools as partners in teaching kids healthy habits. To truly support school nutrition programs and students, the department should follow through on its commitment to help all districts serve healthy, appealing food and drinks.
Stephanie Scarmo leads research on school nutrition programs and policies for the Kids' Safe and Healthful Foods Project.