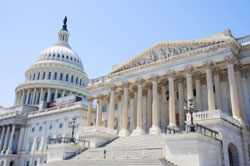 2013 promises to be a busy year when it comes to antibiotic policies. The Food and Drug Administration (FDA) and Congress will be pursuing multiple paths to curb the overuse of these life-saving drugs in meat and poultry production, and we are going to need your help every step of the way to ensure we cross the finish line!

Here's a primer to help you keep all of the proposed policies straight.

Eliminating the Use of Antibiotics as a Substitute for Good Animal Husbandry
Industrial meat and poultry producers often rely on antibiotics to make their food animals grow faster and to compensate for overcrowded and unsanitary conditions—and these practices are breeding superbugs that can infect us.

Last April, the FDA issued a pair of "guidances" designed to eliminate these practices. The first, known as Guidance #209, is a final document that declared antibiotic use for growth promotion and other economic purposes are inappropriate and should be ended. The second, known as Guidance #213, is a draft document that proposed to the drug industry how to comply with #209.

Nearly 220,000 people submitted comments to the FDA last summer, urging the agency to strengthen these measures. We have identified two major concerns that FDA should address:
First, the FDA must clarify the policy so that it eliminates the use of antibiotics not just to make animals grow faster but also to compensate for overcrowded and unsanitary conditions. In practice, these uses can be very similar, and both threaten human health.

Second, the agency must lay out a plan to monitor whether its policies are actually reducing antibiotic overuse. It should accomplish this by collecting and reporting more antibiotic sales and use data.
Be on the lookout for action alerts in 2013 to help us urge the FDA to strengthen Guidance #213 and finalize it as soon as possible.

Putting Veterinarians in the Driver's Seat
While you cannot walk into a pharmacy and pick up antibiotics without a prescription, you can buy these drugs over the counter for use on farms. This lack of oversight is a big reason why antibiotics are so overused. Fortunately, the FDA took initial steps last year to increase veterinarian involvement of antibiotic use in meat and poultry production.
In 2013, we will be urging the FDA to take the next step in this process: issuing a draft
Veterinary Feed Directive
 (VFD) regulation.
Reporting More Antibiotic Sales Data
Since 2009, the FDA has
reported annually
how many antibiotics are sold for use on industrial farms. While the reports have been enlightening—for the first time, we discovered that more than 70 percent of medically important antibiotics sold in the United States were intended for food animals—they are missing some critical data. And as noted, most of those antibiotics are available as over-the-counter drugs for livestock and poultry.
In 2013, we will work to broaden the agency's ability to answer more key questions: How many antibiotics are being used just to make animals grow faster and to compensate for unsanitary conditions? How many drugs are sold over the counter versus by prescription? What types of animals are getting which antibiotics?   
Fortunately, on Feb. 26, 2013, Representatives Henry Waxman (D-Calif.) and Louise Slaughter (D-N.Y.) introduced the Delivering Antimicrobial Transparency in Animals (DATA) Act (H.R. 820) in the U.S. House of Representatives. On May 8, 2013, Senators Kirsten Gillibrand (D-NY), Dianne Feinstein (D-CA) and Susan Collins (R-ME) introduced the Antimicrobial Data Collection Act (S. 895). The bills would authorize the FDA to collect and report data that would shed light on how antibiotics are being used on industrial farms.
Comprehensive Legislation to Curb Antibiotic Overuse  
Introduced by Representative Louise Slaughter (D-NY) on March 14, the Preservation of Antibiotics for Medical Treatment Act (PAMTA) (H.R. 1150) would protect eight classes of antibiotics important for treating sick people. It would withdraw their use from food animal production unless animals or herds are sick with disease or unless drug companies can prove that their use does not harm human health. This bill is co-sponsored by 47 members of Congress.
On June 27, Senator Dianne Feinstein (D-CA) introduced the Preventing Antibiotic Resistance Act (S. 1256), a bipartisan bill that would also eliminate certain antibiotic-related practices that contribute to the rise of drug-resistant bacteria and endanger human health. Senators Susan Collins (R-ME), Kirsten Gillibrand (D-NY), Jack Reed (D-RI), Barbara Boxer (D-CA) and Maria Cantwell (D-WA) are original co-sponsors of the bill. 
Getting all of these policies adopted by Congress or the FDA will take hard work, but you can help! Please stay tuned for more news from us and action alerts asking you to write to your members of Congress and the administration in support of these bills and agency actions.