Data Visualization
How States Raise Their Tax Dollars
Taxes make up about half of state government revenue, with the bulk coming from levies on personal income and general sales of goods and services. Broad-based personal income taxes are the greatest source of tax dollars in 28 of the 41 states that impose them, with the highest share—69.6 percent—in Oregon. General sales taxes are the largest source in 17 of the 45 states that collect them. Texas is the most reliant on these taxes at 61.6 percent.
In fiscal year 2016, the share of total state tax revenue from personal income taxes grew to its largest percentage in at least 65 years. The share from general sales taxes also increased from the previous year, while those from corporate and severance taxes edged down.
This infographic illustrates the sources of each state's tax revenue, showing percentages for the two largest streams. See downloadable data for other percentages.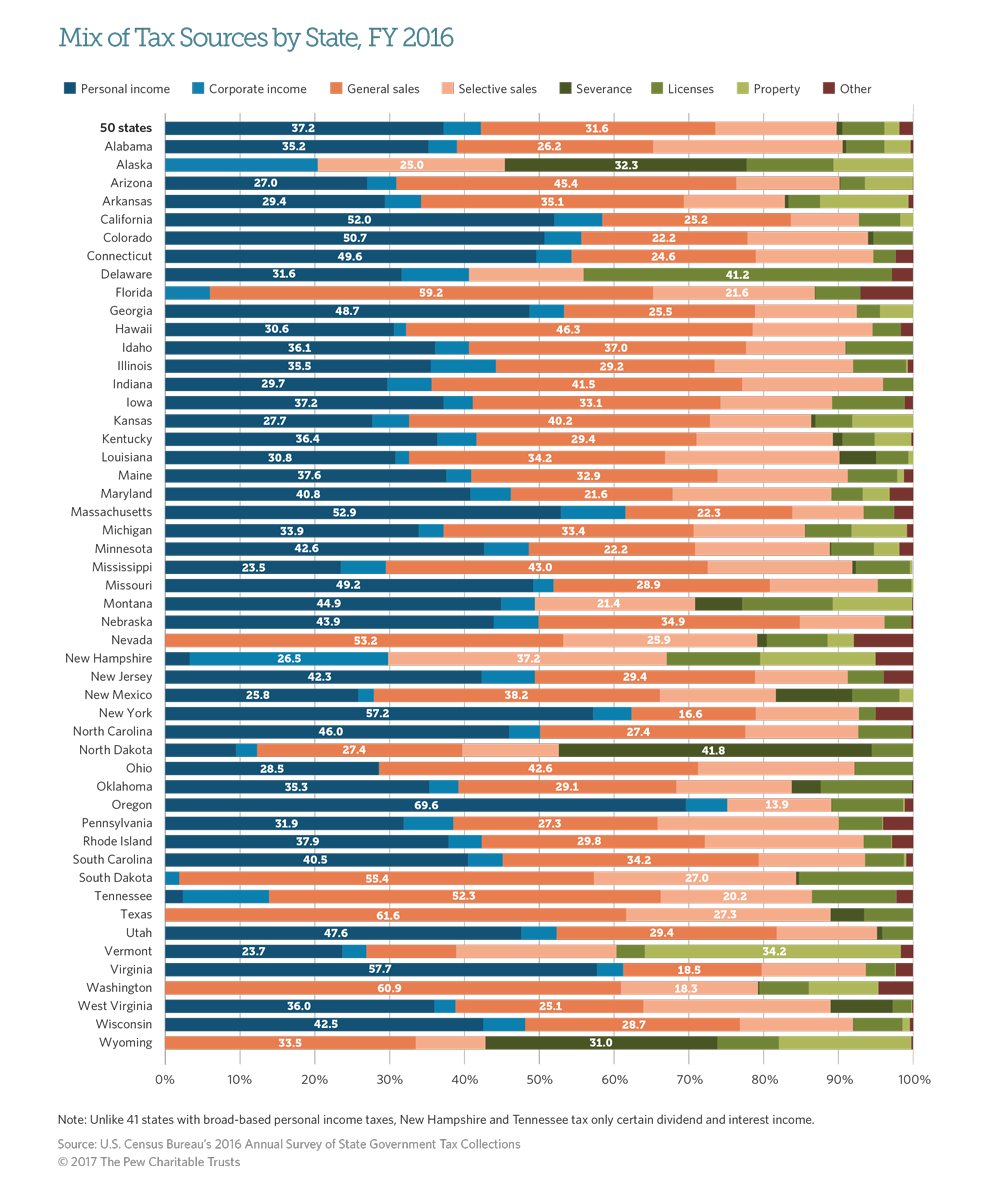 Recent Work
View All
A new law in Utah will strengthen state efforts to ensure fiscal stability. The measure creates new requirements to identify and manage the effects of potential economic and policy changes on long-term spending and revenue. Read More

The health care that prisons provide affects more than simply the well-being of incarcerated people. Inadequate treatment for infectious diseases and behavioral health conditions, for example, can undermine efforts to strengthen public health and safety in the communities to which individuals return. Assessments of what taxpayers are getting for their prison health care dollars and how that... Read More

During Pittsburgh's years under state supervision, officials adopted a series of practices intended to ensure that the city does not slip back into financial distress in what turned out to be a successful strategy to end state control. Read More
Explore Fiscal 50 Interactive
Sort and chart data about key fiscal and economic trends in the 50 states, and read Pew's insights.