Data Visualization
How States Raise Their Tax Dollars
Taxes make up about half of state government revenue, with the bulk coming from levies on personal income and general sales of goods and services. Broad-based personal income taxes are the greatest source of tax dollars in 28 of the 41 states that impose them, with the highest share—69.6 percent—in Oregon. General sales taxes are the largest source in 17 of the 45 states that collect them. Texas is the most reliant on these taxes at 61.6 percent.
In fiscal year 2016, the share of total state tax revenue from personal income taxes grew to its largest percentage in at least 65 years. The share from general sales taxes also increased from the previous year, while those from corporate and severance taxes edged down.
This infographic illustrates the sources of each state's tax revenue, showing percentages for the two largest streams. See downloadable data for other percentages.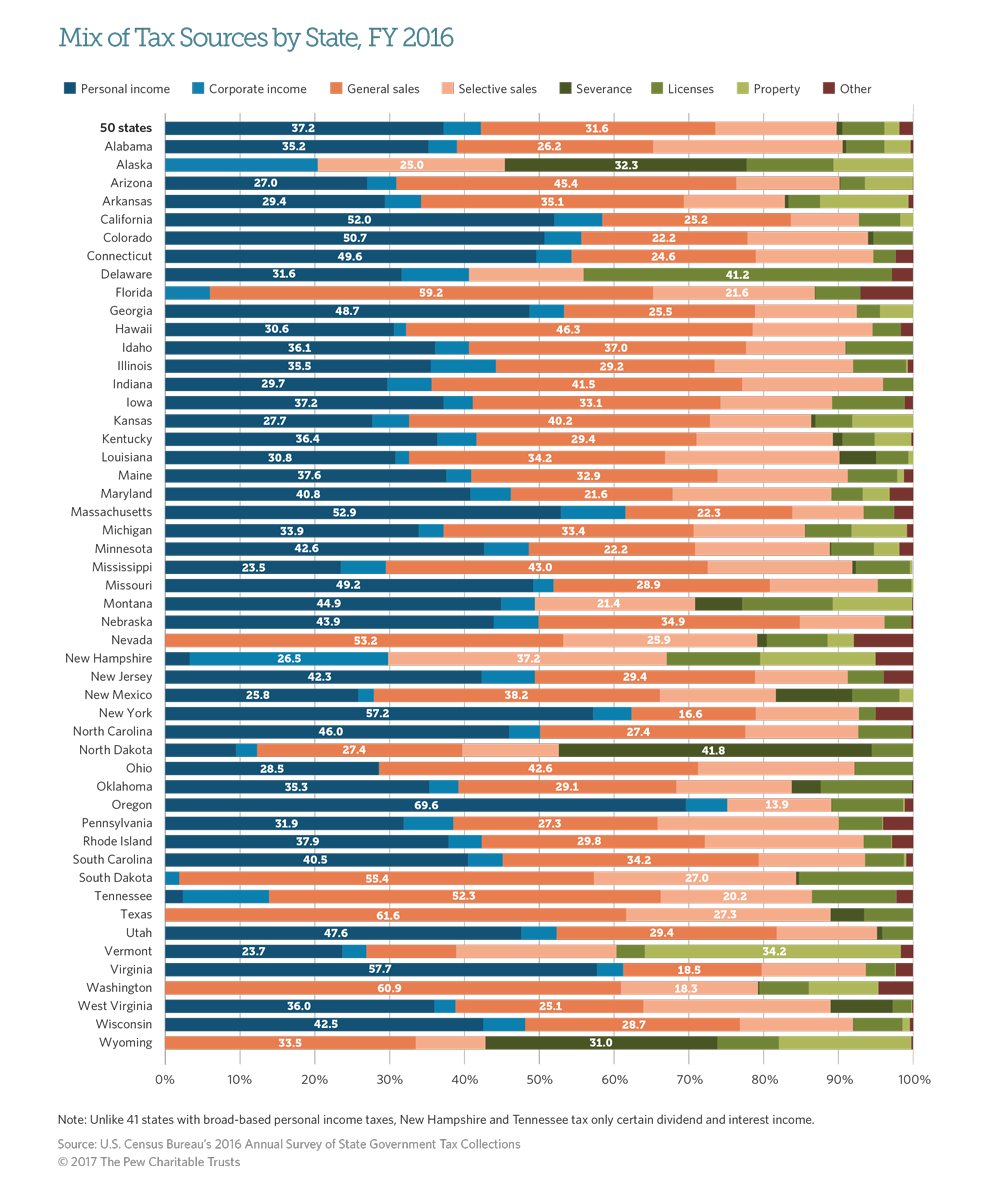 Recent Work
View All
The Pew Charitable Trusts' states' fiscal health project studies the budget and economic challenges facing states and helps them design targeted, evidence-based solutions. The project addresses four policy areas: strengthening economic development tax incentives; building effective budget reserves; ensuring that debt is affordable; and evaluating municipal finances. Read More

To accompany its October 2017 report "Prison Health Care: Costs and Quality—How and Why States Strive for High-Performing Systems," The Pew Charitable Trusts has published a series of analyses that explain key findings and themes on how health care is funded and delivered in state-run prisons, as well as how care continuity is facilitated upon release of those who have been... Read More

Prison health care spending varies dramatically among states even though they have common goals, such as meeting constitutional obligations to provide "reasonably adequate" health care, strengthening public health, protecting public safety, and practicing fiscal prudence. This variation in spending among states raises questions about what causes the variation and what it... Read More
Explore Fiscal 50 Interactive
Sort and chart data about key fiscal and economic trends in the 50 states, and read Pew's insights.