Press Release
Palau Signs International Treaty to Protect Marine Sanctuary From Illegal Fishing
Port standards agreement will improve nation's enforcement capabilities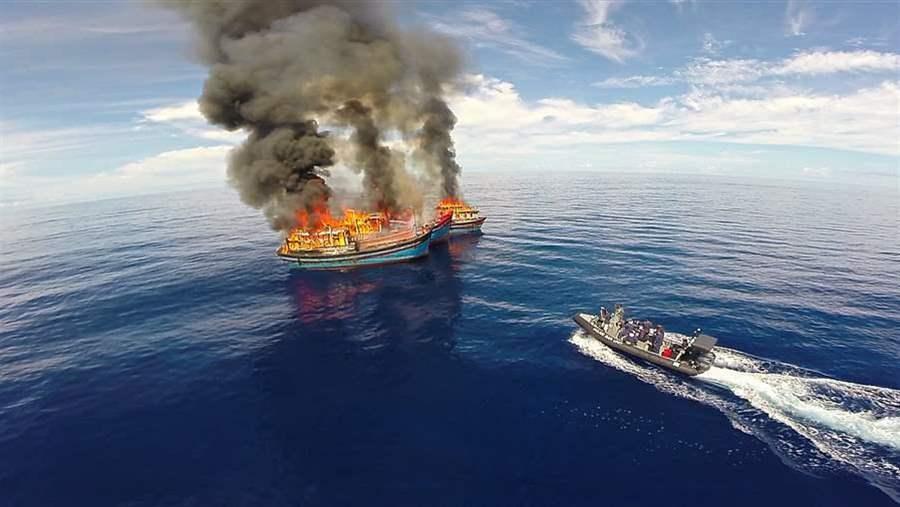 Richard Brooks for The Pew Charitable Trusts
Ratification of the Port State Measures Agreement is the Palau government's latest move to combat illegal fishing. Past efforts include the June burning of four illegal-fishing vessels.
KOROR, Palau—The Palau Congress voted unanimously today to ratify the Port State Measures Agreement (PSMA), an international treaty designed to help stop illegally caught fish from entering the market. Once implemented, the legislation will bolster the island nation's ability to protect its new marine sanctuary from illegal, unreported, and unregulated (IUU) fishing.
"Palau will not tolerate poachers in our ocean," said Tommy E. Remengesau Jr., president of the Republic of Palau. "We are getting tough on illegal fishing at home, and today we are signing up for the global fight."
Located amid some of the world's richest fishing grounds, the Pacific island nation has been combatting illegal fishing by foreign vessels for years. In June, the government burned four Vietnamese vessels caught engaging in illicit fishing off Palau's Kayangel Island.
"Palau continues to lead in the global fight to end illegal fishing, and ratification of this agreement underscores the country's commitment to preventing thieves from operating in Pacific ports," said Tony Long, director of ending illegal fishing at The Pew Charitable Trusts. "There is significant momentum building to use these port state agreements to counter the trade in illegal fish.
"It is now time for governments to get on board and make this agreement a reality," Long added.
There are currently 14 parties to the PSMA and Palau will become the 15th country to sign on to the agreement, which will become legally binding once it is ratified by 25 governments.
The treaty, adopted by the United Nations in 2009, requires signatories to strengthen and harmonize port controls for foreign-flagged vessels. It also obligates them to take action against, or deny entry to, vessels suspected of IUU fishing activity. The PSMA sets up an information-sharing regime that requires countries that have turned away illicit catch to alert neighboring countries that a vessel may be seeking to land fish taken illegally. The agreement's reporting and information-exchange provisions are expected to help improve port level data on fish landings and vessel activity.
Palau's endorsement of the port standards agreement follows the creation of the Palau National Marine Sanctuary, the sixth-largest fully protected area of ocean in the world, which was signed into law on Oct. 28 by Remengesau. Under the terms governing the sanctuary, commercial fishing will be prohibited throughout much of Palau's maritime territory—which will make it easier to identify and stop poaching. The sanctuary law also strengthens efforts to prevent illegal fishing by significantly tightening rules for vessels passing through Palau's waters: It requires expeditious passage of nonlicensed fishing boats through the nation's exclusive economic zone, appropriate vessel monitoring systems (VMS) on all ships, stowage of fishing gear while in Palau's waters, and strengthened reporting standards.
"The Palau sanctuary law is more than a conservation policy. It is also enhances our capabilities to combat pirate fishing," Remengesau said.
"IUU fishing is a global problem that requires global solutions, which is why Palau is joining the port standards agreement," the president said. "I encourage other nations to do the same."