Pew Highlights Weaknesses in Poultry Safety System
New Report Offers Solutions to Better Protect Consumers from Foodborne Illness
The Pew Charitable Trusts released a report that examines how two recent outbreaks of foodborne salmonella infections exemplify flaws in the federal food safety program. The report, "Weaknesses in FSIS's Salmonella Regulation," also makes seven recommendations to improve the Food Safety and Inspection Service's (FSIS) control of salmonella in poultry and strengthen its response to outbreaks caused by these bacteria.
Update: New Cases Identified in 2014
Between December 2013 and July 2014, more than 200 additional people were reported as having salmonella infections linked to chicken produced by Foster Farms, according to CDC data (updated 7/2/2014).
This outbreak—the second traced back to Foster Farms chicken—began in March 2013 and has sickened at least 621 people in 29 states and Puerto Rico. The first outbreak (June 2012-April 2013) caused a reported 134 salmonella infections in 13 states.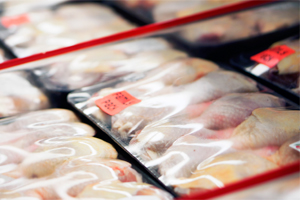 "When more than 500 people get sick from two outbreaks associated with chicken that meets federal safety standards, it is clear that those standards are not effectively protecting public health," said Sandra Eskin, director of Pew's safe food project. "The Food Safety and Inspection Service should go beyond what it is proposing in its recently released 'Salmonella Action Plan' and do more to target salmonella, which is responsible for more hospitalizations and deaths than any other bacterium or virus."
Among the report's recommendations, FSIS—an agency within the U.S. Department of Agriculture—should:
Change its approach to developing and implementing limits on salmonella contamination for chicken, known as performance standards, so they are updated regularly, enforceable, and linked to public health outcomes.
Consider establishing limits on salmonella contamination for chickens when they enter the slaughterhouse.
Conduct unannounced salmonella testing in chicken processing facilities.
Communicate outbreaks to consumers via public health alerts as early as possible.
Close facilities under investigation for failing to produce safe food, and keep them closed until adequate control measures are in place.
In addition, the report recommends that Congress should grant FSIS the authority to mandate recalls.
Background information
According to the Centers for Disease Control and Prevention, two multistate outbreaks of salmonella infections—the first lasted from June 2012 to April 2013, and the second started on March 2013 and is ongoing—were linked to chicken produced by Livingston, CA-based Foster Farms, the sixth- largest chicken producer in the United States. At least 621 people in 29 states and Puerto Rico were reported to public health authorities as having been sickened. Based on estimates by CDC, however, these outbreaks may have sickened as many as 22,000 people1 nationally owing to the underdiagnosis of salmonella.
It is estimated that salmonella causes more than 1 million foodborne illnesses every year.2 A recent review of scientific articles has identified several long-term consequences of salmonella infections, ranging from reactive arthritis to inflammatory bowel disease.3 The health-related costs of salmonella to the nation run as high as $11 billion a year.4 And about 90 percent of salmonella infections are foodborne, with contaminated poultry believed to be a primary cause.5
---
Previous Media Coverage
---
Endnotes
1 According to CDC, for every case of salmonella reported to public health authorities, 29.3 others are underdiagnosed. The estimate was obtained by multiplying the total number of cases reported in the two outbreaks (n=755) by 29.3.
2 Elaine Scallan, et al., "Foodborne illness acquired in the United States--major pathogens," Emerging Infectious Diseases 17 (2011): 7-15.
3 Michael B. Batz, Evan Henke, Barbara Kowalcyk, editors David Acheson et al., "Long-term consequences of foodborne infections," Clinics Review Articles, Infectious Disease Clinics of North America, Foodborne Illness: latest threats and emerging issues September 2013. 27 (2013) 599-616.
4 Robert L. Scharff, "Economic burden from health losses due to foodborne illness in the United States," Journal of Food Protection 75 (2012): 123-131.
5 Shua J. Chai et al., "Salmonella enterica Serotype Enteritidis: Increasing Incidence of Domestically Acquired Infections," Clinical Infectious Diseases 54(2012): S488-97. Michael B. Batz, Sandra Hoffman, and J. Glenn Morris, "Ranking the Risks: The 10 Pathogen-Food Combinations with the Greatest Burden on Public Health," 2011, accessed Oct. 17, 2013, https://folio.iupui.edu/bitstream/handle/10244/1022/72267report.pdf.