Robust Protections Offer French Polynesia Best Path to Protecting Ocean and Culture
As threats to marine life grow, Austral and Marquesas islanders support safeguarding species and traditions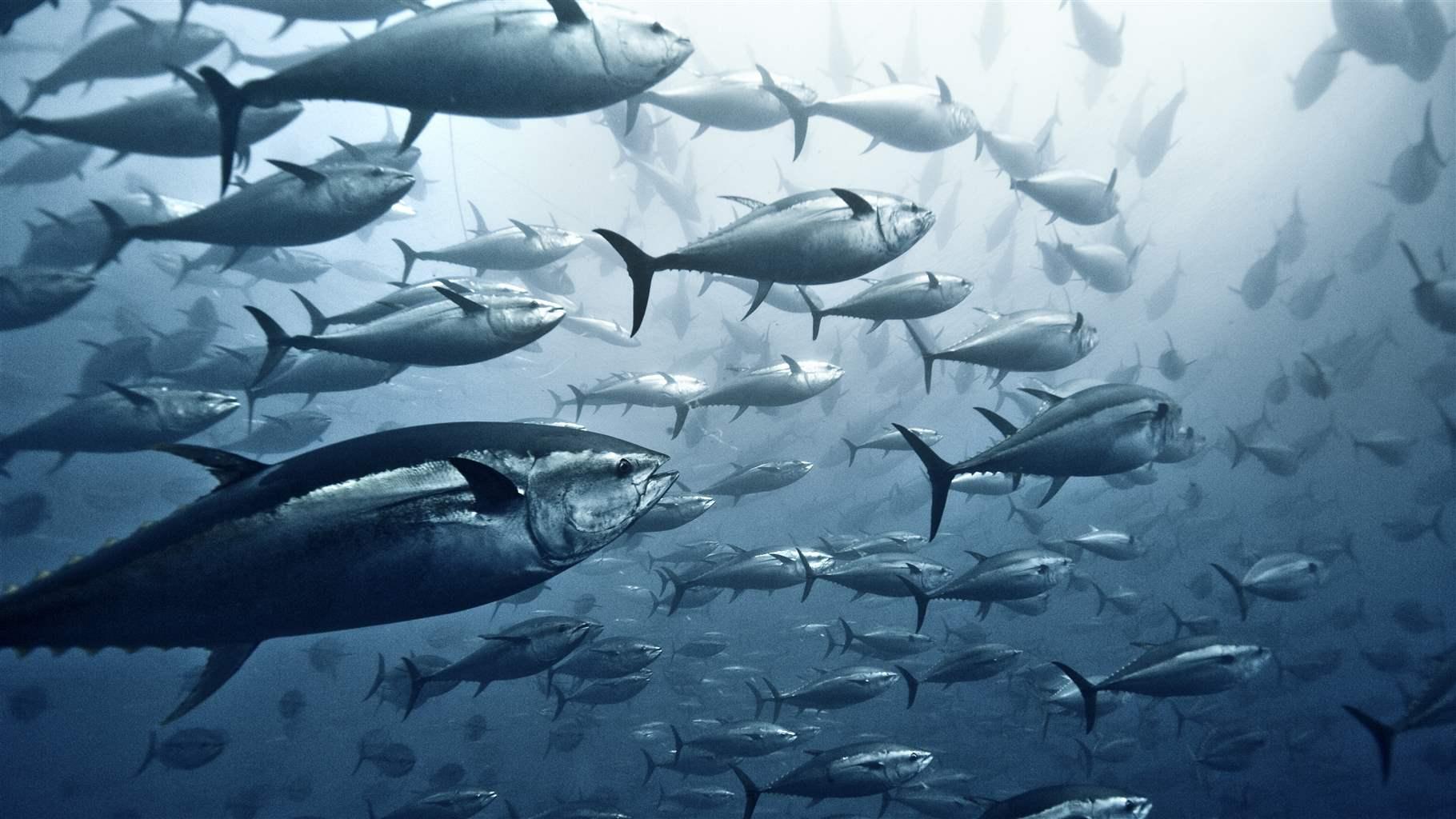 French Polynesia's diverse marine ecosystem harbors more than 20 species of sharks and an exceptionally healthy coral reef system that supports 176 coral and 1,024 fish species—including some found nowhere else. The people of this French overseas territory have a deep connection to—and reliance on—this environment. But the seas surrounding these Pacific islands face a range of threats, from habitat destruction, overfishing, and coral bleaching to ocean acidification, marine pollution, and the impacts of coastal development.
Those are some of the top reasons that the territory's community leaders are pushing for marine protections to protect declining commercial fish stocks and biologically significant areas of French Polynesia's exclusive economic zone (EEZ). Specifically, locals want to safeguard the waters around the Marquesas and Austral islands as marine protected areas (MPAs) where all large-scale extractive activities, such as industrial fishing and mining, would be prohibited.
Numerous scientific studies have shown that large, fully protected marine reserves boost ocean health. They offer wildlife refuges in which to feed and reproduce free from the threat of fishing, seabed mining, and other extractive activity; help conserve and enrich biodiversity; and safeguard traditional cultures closely linked to the sea. In French Polynesia, MPAs would bolster artisanal fishing zones around the islands, populated in part by fish that safely breed and grow within the protected area. Further, experts say that protecting large areas also helps the marine ecosystem build resilience to climate change.
For those reasons, the International Union for Conservation of Nature has called for protecting 30% of the world's ocean in a network of highly protected MPAs and other conserved areas. Right now, less than 3% of the ocean has such protection.
Throughout their history, French Polynesians have practiced "rāhui," a tradition of periodically restricting fishing and other activity in an area to allow the life there to recover. However, today the development of intensive fishing throughout the Pacific is putting pressure on these remote islands and threatening the ocean-based Polynesian way of life. That's one reason why a 2019 survey found that nearly 80% of people in French Polynesia think that their waters are in poor health and insufficiently protected, while 75% percent believe that the number of fish in their waters is decreasing.
Marquesas Islands
The waters around the Marquesas Islands support more than 550 fish species, including 26 species of sharks and rays, and serve as a major spawning area for bigeye tuna, which is listed as threatened on the International Union for Conservation of Nature red list.
In June 2018, the council of Marquesas mayors (CODIM) formally proposed that the French Polynesian government create a 430,000-square-kilometer (166,000-square-mile) MPA around the archipelago. Under the proposal, commercial fishing, industrial mining, and other large-scale extractive activities would be prohibited within the MPA, but artisanal fishing would be allowed within 50 nautical miles of each island to encourage continued economic development. The proposed Te Tai Nui a Hau MPA would also allow an emerging longline tuna fishery to continue operations outside the protected area.
Austral Islands
Because of their isolation—midway between Australia and South America—and widely varying topography, the Austral Islands boast rich biodiversity and are home to numerous species found nowhere else. The island of Rapa supports 112 species of corals, 250 species of mollusks, and 383 species of fish while the crystal waters off Rurutu are among the best places on the planet to see humpback whales.
In 2016, mayors from the five inhabited islands of the Austral archipelago came together to propose that the central government in Tahiti create a large, highly protected MPA in their waters. The proposal includes allowing artisanal fishing within 20 nautical miles of each island. The Rāhui Nui nō Tuha'a Pae reserve would be one of the largest in the world, stretching as much as 1 million square kilometers (386,000 square miles) across South Pacific waters.
In June 2020, French Polynesia's Council of Ministers announced plans to seek a UNESCO biosphere reserve designation for these waters by 2023. Such reserves must include some strictly protected zones that promote conservation and can be designed to meet international scientific standards for MPAs.
Opportunity for effective protection
The Pew Bertarelli Ocean Legacy Project has supported communities promoting the establishment of fully protected, large-scale MPAs around these islands for the benefit of the Polynesian people as part of the worldwide network of protected areas. The project has been working with governments, communities, Indigenous groups, and other partners, and has backed research examining economic and ecologic impacts of large MPAs.
Several of those studies show that full protection is the most effective way to preserve marine ecosystems and the only way to maximize the ecological benefits of an ocean area. By establishing MPAs in the waters surrounding the Austral and Marquesas, France and French Polynesia have an opportunity to help lead in the global effort to protect and restore ocean health while preserving Polynesians' traditional—and present-day—way of life.
Jérôme Petit is a senior manager and Donatien Tanret is an officer with the Pew Bertarelli Ocean Legacy Project in French Polynesia.