How a New Flood Strategy Helped a Colorado City Skirt Disaster
Fort Collins created a model of preparedness by examining its history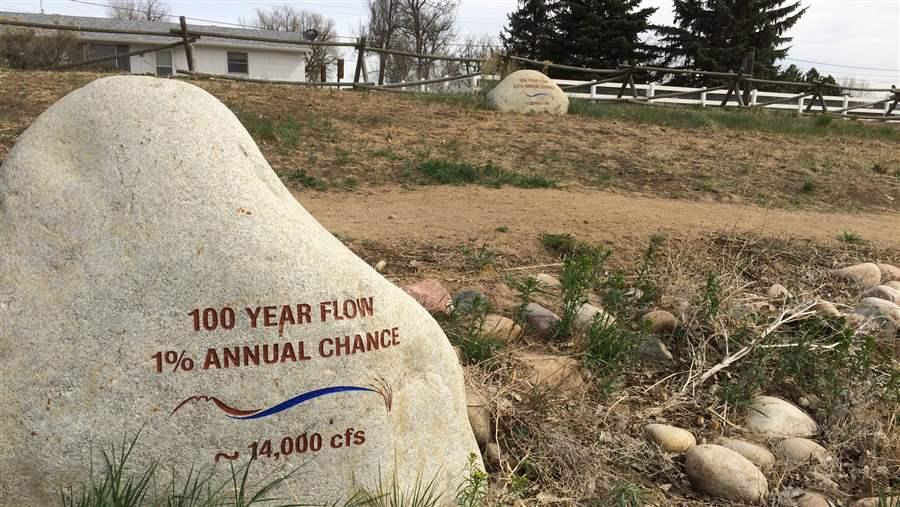 In a restored flood plain in Fort Collins, Colorado, a rock indicates where a 100-year flood would reach, with the 500-year marker in the background. Through investment in flood mitigation, the city now owns almost 70 percent of the 100-year flood plain.
The Pew Charitable Trusts
In a single week in September 2013, areas in and upstream of Fort Collins, Colorado, received up to a foot of rain—three-quarters of the city's annual average—pushing the Cache la Poudre River to levels not seen since 1930 and threatening the city's 157,000 residents. Across the state, the deluge killed 10 people, displaced 18,000, and destroyed over 2,000 structures, causing nearly $4 billion in damage.
But Fort Collins escaped with minimal destruction, due in large part to flood mitigation efforts the city had undertaken in the preceding two decades, especially after a 1997 flash flood that poured from Spring Creek, killing five people and causing widespread devastation.
The city, which lies 65 miles north of Denver, upgraded its building codes in 2000 to prohibit residential construction within the Cache la Poudre's 100-year flood plain and require new nonresidential development to be built at least 2 feet above the flood plain. Even stronger codes have been imposed on critical facilities such as schools and police stations, barring their development even in the 500-year flood plain. These provisions spared numerous structures, including a business park, during the 2013 flood. Of the nearly 14,000 structures built in Fort Collins since the 1997 Spring Creek Flood, only eight were damaged in 2013.
Over the years, officials have also preserved more than 66 percent of city land within the Cache la Poudre's 100-year flood plain. That land, now occupied by parks and other open spaces, gave the 2013 floodwaters room to spread out, slow down, and be absorbed without threatening structures or lives—protecting residents and businesses while providing new recreation areas.
Fort Collins Mayor Wade Troxell (R), who is in his second two-year term, is committed to ensuring that his city is prepared when waters rise again. His administration has invested in flood-risk reduction measures, such as integrating a comprehensive flood plain management program with existing building codes. Mayor Troxell is also prioritizing the use of nature-based mitigation, including continued preservation of open space and buyouts of flood-prone properties. "We've invested in mitigation for the health of the river, safety of our citizens, and vibrant future for our community," he said.
The Federal Emergency Management Agency has recognized Fort Collins as a "best of the best" community for its flood plain management. The city has also earned accolades from the National Oceanic and Atmospheric Administration and the National Institute of Standards and Technology for the city's resilience efforts and flood plain management. And most recently, Mayor Troxell joined a bipartisan group of more than 250 mayors, state legislators, and governors from all 50 states in signing a Flood-Ready Infrastructure Statement of Principles.
Across the U.S., 2017 was a year of record-breaking losses from flood disasters. As cities, states, and the federal government look for ways to prepare for these increasingly common extreme events, Fort Collins shows that proactive measures can help communities weather—and possibly avoid—the devastating impacts of flooding.
Laura Lightbody directs and Forbes Tompkins is an officer with The Pew Charitable Trusts' flood-prepared communities initiative.