New Leadership, Same Crucial Election Administration Mission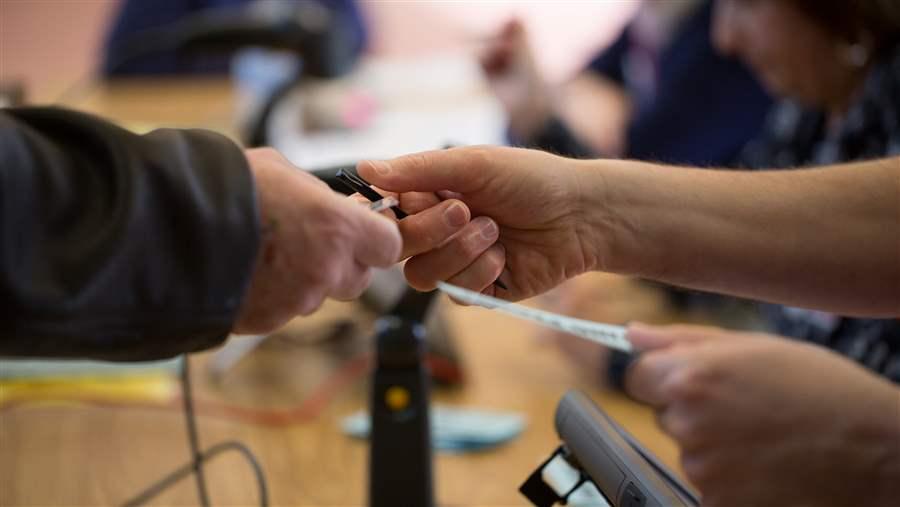 Twenty states plus the District of Columbia participate in the Electronic Registration Information Center.
© The Pew Charitable Trusts
The Electronic Registration Information Center (ERIC) has announced that Shane Hamlin, former co-director of elections for the state of Washington, will replace John Lindback as the center's executive director when Lindback retires in June.
In his former position, Hamlin was deeply involved in the early development of ERIC and served as the inaugural chair of its Board of Directors. Hamlin's return to ERIC underscores the center's emphasis on placing day-to-day administration in experienced and capable hands.
"I know firsthand the internal work a state needs to do to join the organization," Hamlin said of his time with the Washington Secretary of State's office. "While each state has a slightly different path to membership, I hope my experience proves valuable in helping states navigate their path more effectively."
Hamlin will assume the reins of an organization that continues to expand its impact and has become a vital component of state election systems. To date, ERIC states have identified and contacted more than 25 million eligible citizens who are not registered to vote—of which nearly 14 million were contacted in 2016 alone—to encourage them to register and educate them about the easiest path onto the voter rolls in their states. Additionally, ERIC has informed states about more than 4.5 million voters who have moved from the addresses in their voter records but haven't updated that information with election officials.
"Shane's enthusiasm and background with ERIC will enable him to grab the baton and run with the job," said Lindback. "No on-the-job training will be necessary as he promotes expansion of ERIC to more states and effectively manages service to our members."
Twenty states plus the District of Columbia participate in ERIC, and with large states such as Florida in the process of joining, Hamlin will lead the center through a period of significant growth as it covers an ever-larger share of the nation's voting population.
Hamlin said he looks forward to exploring new ways in which ERIC can create value for states while enhancing its core function. "ERIC's mission is to improve the accuracy, efficiency, and integrity of voter registration while expanding access to registration for all eligible citizens," he said.
Pew looks forward to work with Hamlin and the ERIC board to continue to expand the center's membership. Over the past two years, Pew has provided assistance grants to states to help defray the initial costs of joining the center and expects to offer a final round of funding this spring.
Alexis Schuler is the senior director and Samuel Derheimer is a senior manager for election initiatives at The Pew Charitable Trusts.
Follow us on Twitter using #electiondata and get the latest data dispatches, research, and news by subscribing today.