U.S. Military Could Save Over $1 Billion and Boost Energy Security, New Research Finds
Using microgrids on bases and improving energy efficiency would advance mission with little downside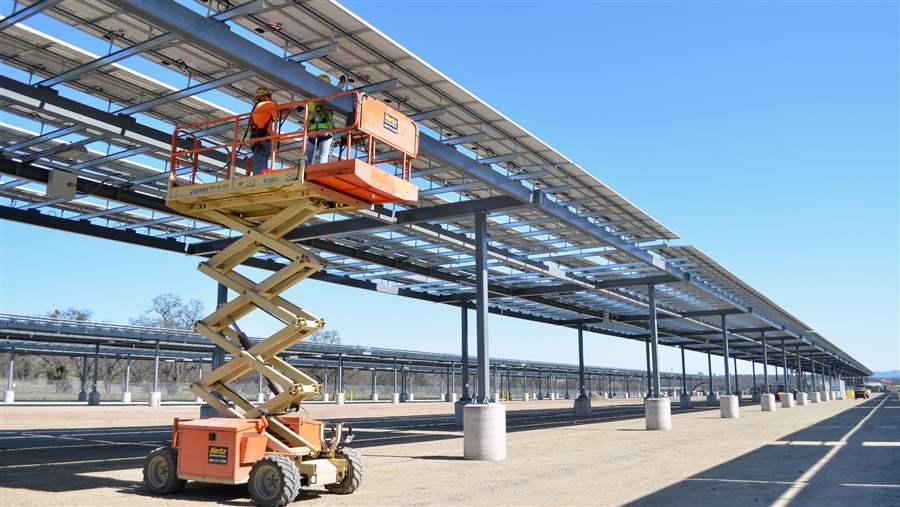 Construction workers finish installing a solar microgrid at Fort Hunter Liggett, Calif., one of several U.S. Army installations selected to be "net zero energy"—that is, create as much energy as it uses—by 2020.
© John Prettyman / U.S. Army
The U.S. Defense Department (DOD) could save hundreds of millions of dollars annually and boost energy security by installing more microgrids and renewable power systems, and increasing energy efficiency on military bases, according to new research conducted by Noblis Inc. and commissioned by The Pew Charitable Trusts.
The DOD's annual energy bill is $4 billion across its 523 installations, which span more than 280,000 buildings and 2 billion square feet, nearly three times the combined area of all Wal-Mart stores in the United States. Those military bases provide space for training and housing soldiers, and for research and development facilities and support for overseas operations such as remote piloting of drones, surveillance, and communications—mission-critical functions that are increasingly jeopardized by major power outages, which are growing in number and severity across the United States.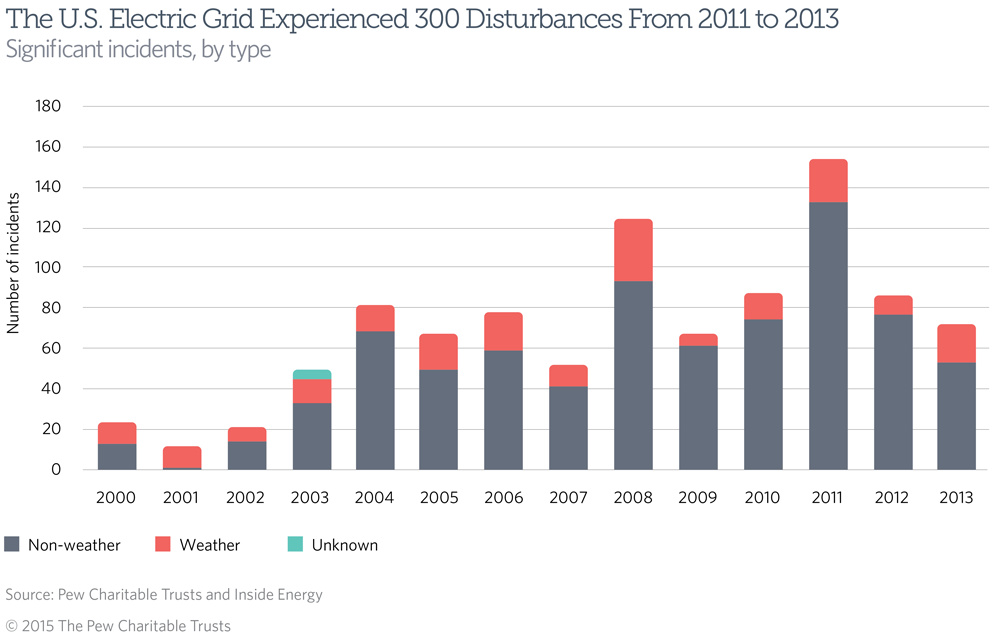 This trend is particularly troubling for U.S. military bases, which are almost entirely reliant on an aging, antiquated commercial electric grid for power. In fact, Noblis found that the Navy experienced more than 900 outages at its installations in fiscal year 2015, ranging from an average of 15 hours per outage in the Atlantic region to more than 30 hours in the Pacific. Bolstering energy security at military bases would help the Defense Department avoid costly and critical interruptions to some of its most important missions.
The military's primary strategy for maintaining power on its installations during an outage is to use a collection of stand-alone diesel generators—a large base typically has 100 to 200 units—and short-term fuel stockpiles. That approach presents challenges, according to the Noblis paper, because the generators are not interlinked and are oversized, hard to maintain, and reliant on fuel supplies that may run out during long-term outages.
In contrast, the research found that advanced microgrids—on-site systems that harness and direct energy from various locally available sources and that can run independently of the grid—could provide the military more reliable, flexible, and easily maintained backup power. And a base that replaces its stand-alone generators with a large-scale microgrid, which is cheaper to operate and maintain, can save $8 million to $20 million over the 20-year life of the system, Noblis concluded.
In recent years, the military has initiated more than 20 advanced microgrid pilot projects on bases and several larger-scale systems that can support an entire base's energy needs, operated by the Navy and Marine Corps. To promote broader adoption of microgrids, Noblis found that the DOD must update its directives on backup power capabilities, some of which have not been revised in over 20 years; clarify that its energy security requirements prioritize reliability and flexibility; and do more to encourage private sector financing of these systems.
Separately, the research found that the department could save up to another $1 billion annually and further enhance security by making DOD buildings as energy-efficient as those in other federal agencies and the commercial sector.
To boost energy efficiency and save money, Noblis concluded, the DOD must increase its use of advanced meters—systems that regularly measure a building's energy use over a long period of time—from a current level of 23 percent to more than 90 percent across its facilities. The data that those meters capture can be analyzed to identify new efficiency upgrades and spur even more significant energy and cost savings.
Further, modifying existing policy to allow the DOD to pay for individual efficiency projects through a combination of third-party financing and congressionally funded dollars for military construction could help unlock new energy efficiency improvement opportunities that are not currently viable, according to the report.
This research reinforces the importance of harnessing advanced energy technologies that can provide triple dividends for the military—cost savings, improved energy services, and enhanced energy security.
Tom Swanson is project director with the clean energy initiative and oversees The Pew Charitable Trusts' project on national security, energy, and climate.