Driver's Licenses for Unauthorized Immigrants: 2016 Highlights
An update on states' latest policies and implementation efforts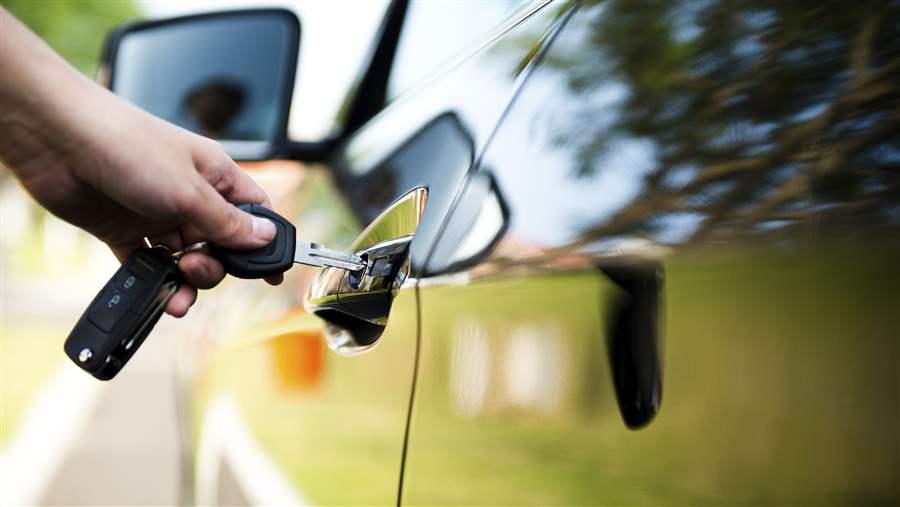 As of November 2016, 12 states—California, Colorado, Connecticut, Delaware, Hawaii, Illinois, Maryland, Nevada, New Mexico, Utah, Vermont, and Washington—and the District of Columbia issue driver's licenses to unauthorized immigrants.
© iStock
In August 2015, The Pew Charitable Trusts produced a first-of-its-kind report examining the experiences of states that issue alternative driver's licenses to unauthorized immigrants. The analysis explored the choices these jurisdictions made on scope, eligibility standards, issuance procedures, and outreach and education as they designed and implemented their laws. Although Pew takes no position on federal, state, or local laws or policies related to immigration and driver's licenses, these data and insights can help other states make informed choices about whether and how to enact and implement similar laws, and they can better position those that have already implemented driver's license policies to evaluate their processes and make adjustments.
Pew has continued to examine this issue, looking at available research on the impact of these laws and the factors influencing how many alternative driver's licenses states ultimately issue. When Delaware and Hawaii passed legislation in 2015, Pew analyzed the legislative language and provisions in both states, highlighting the key design and implementation decisions.
This update looks at the developments of 2016 to investigate how states consider new driver's license laws, re-examine Delaware and Hawaii post-implementation, and explore how jurisdictions make changes to their driver's license programs. The findings demonstrate continued activity on driver's license issues and how states can learn from each other's experiences.
Background
Until the 1990s, unauthorized immigrants were able to obtain driver's licenses anywhere in the United States. California became the first state to enact a restriction on that access in 1993, followed by Arizona in 1996. Forty-five states followed suit, altering their laws to require that driver's license applicants prove legal immigration status. By 2011, unauthorized immigrants could obtain licenses only in New Mexico, Utah, and Washington state.
In 2013, the trend began to shift. Eight states—California, Colorado, Connecticut, Illinois, Maryland, Nevada, Oregon, and Vermont—and the District of Columbia enacted laws establishing eligibility requirements that would allow many unauthorized immigrants to obtain driver's licenses. Those jurisdictions considered their legislation in the context of the federal REAL ID Act, the 2005 law that created national standards for state driver's licenses that can be used for federal identification purposes, such as to board a commercial aircraft. The REAL ID law allows states to extend driving privileges to unauthorized immigrants, but only if the licenses issued for this purpose are distinct from regular ones in specific ways. In that context, the eight states opted to issue "driving privilege cards," "driver authorization cards," or other alternative licenses. As of November 2016, 12 states—California, Colorado, Connecticut, Delaware, Hawaii, Illinois, Maryland, Nevada, New Mexico, Utah, Vermont, and Washington—and the District of Columbia issue such driver's licenses to unauthorized immigrants.
2016 highlights
State policy updates
Several states considered legislation in 2016 that would have allowed unauthorized immigrants to obtain alternative driver's licenses provided they met certain requirements, but most states did not enact their bills. For example:

The Massachusetts Legislature considered H. 2985, which would have allowed unauthorized immigrants to obtain driver's licenses, as well as a competing bill, H. 3814, that would require driver's license applicants to demonstrate proof of lawful status. Ultimately, H. 2985 was not enacted, and language from H. 3814 was enacted in the 2017 budget bill, effectively prohibiting unauthorized immigrants from obtaining driver's licenses.
In Rhode Island, legislation was introduced in both chambers of the Legislature that would have allowed alternative driver's licenses for unauthorized immigrants, but the bills, H. 7610 and S.B. 2333, were held for further study and not enacted.

On March 8, New Mexico Governor Susana Martinez signed into law H.B. 99, creating a two-tiered, REAL ID-compliant driver's license system that allows certain unauthorized immigrants to obtain alternative licenses if they provide fingerprints and pass a background check. Before this law, New Mexico and Washington were the only states that provided the same driver's license to all individuals, regardless of status.
The policy change was largely prompted by the federal government's finalizing of the timeline for REAL ID Act enforcement in January 2016. When announcing the deadline, Jeh Johnson, secretary of homeland security, stated that airline passengers would need to present REAL ID-compliant driver's licenses beginning Jan. 22, 2018, unless a state had received an extension or an individual had an alternative form of identification, such as a passport, that the Transportation Security Administration deemed acceptable to board a commercial domestic flight. Absent such identification, passengers would be subject to additional screening.
New Mexico submitted a plan to the Department of Homeland Security outlining how the new driver's license system will be implemented and received an extension through October 2016. On Nov. 14, the state began issuing driver authorization cards to eligible unauthorized immigrants and is now compliant with the REAL ID law.
Colorado lawmakers considered, but ultimately did not enact, H.B. 16-1274, which would have made changes to the state's driver's license law and provided funding to support application processing and appointments at additional Division of Motor Vehicles (DMV) sites. When Colorado launched its program to provide alternative licenses in 2014, the DMV accepted appointments for applications at five of its 55 facilities. Although the number of facilities where the licenses could be obtained fluctuated in early 2015, the state eventually settled on just three locations, where applicants reported prolonged waits for an appointment.
The District of Columbia Department of Motor Vehicles modified the appointment and documentation requirements for alternative licenses. Effective Aug. 2, 2016, the agency no longer requires appointments as part of the application process, instead allowing walk-ins and appointments. It also indefinitely suspended implementation of a rule that would have required all individuals seeking a first-time driver's license—not only unauthorized immigrants—to complete a private driver education course before being eligible to obtain a license, in part to allow further review of the likely impact of the provision. This removes a step in the process and decreases the expense required to apply for a license in the District, though the DMV reports that the primary barrier to obtaining a driver's license for unauthorized immigrants is passing the knowledge test.
Delaware and Hawaii began issuing driver's licenses
On June 30, 2015, Governor Jack Markell signed Delaware's driver's license bill into law. To be eligible for an alternative license, the law requires, among other things, that unauthorized immigrants provide fingerprints, have filed a state income tax return or been claimed as a dependent for the preceding two years, and pass a criminal background check. According to Scott Vien, director of the Division of Motor Vehicles, as of Aug. 19, 2016, more than 1,900 unauthorized immigrants obtained a driving permit or privilege card. Among the implementation challenges he mentioned is educating applicants about eligibility requirements and documentation. He also noted that to facilitate the new multiagency process required under the Delaware law, the DMV, state police, and the Division of Revenue had to build a new electronic interface.
Governor David Ige signed Hawaii's driver's license bill into law on the same day that Delaware enacted its law. Under H.B. 1007, applicants who are ineligible to receive a Social Security number are required to provide a letter from the Social Security Administration demonstrating that ineligibility, along with either a government-issued photo ID or other documents designated by the director. Hawaii's Department of Transportation began accepting applications for alternative driver's licenses on Jan. 4, 2016. According to the chief licensing examiner and inspector for the city and county of Honolulu, Ricky S. Akase, limited-purpose driver's licenses are now issued at all Hawaii DMV locations, except the four satellite DMV sites.
As the federal REAL ID Act enforcement deadlines approach, 14 states have extensions through Oct. 10, 2017; four have limited extensions through June 6, 2017; one state is under review; and eight are noncompliant. States are going to be making changes to their driver's licenses and may consider whether to allow unauthorized immigrants to obtain them. As states make these choices, they can learn from the experiences and approaches of other states through Pew's driver's license research and analyses.
Adam Hunter directs and Angelo Mathay is a senior associate for The Pew Charitable Trusts' immigration and the states project.