Palau Authorities Target Illegal Vietnamese Fishing Vessel
Island nation shows zero tolerance for unlawful practices
On May 26, authorities in Palau set fire to a Vietnamese vessel engaged in illegal fishing near Tobi Island, in the southwest of the Pacific nation's exclusive economic zone (EEZ). A number of similar vessels carrying sea cucumbers, shellfish, turtles, and protected fish have been seized by Palau's Division of Marine Law Enforcement in recent years. This latest enforcement action found black coral and shark fins, along with other unlawfully caught marine life.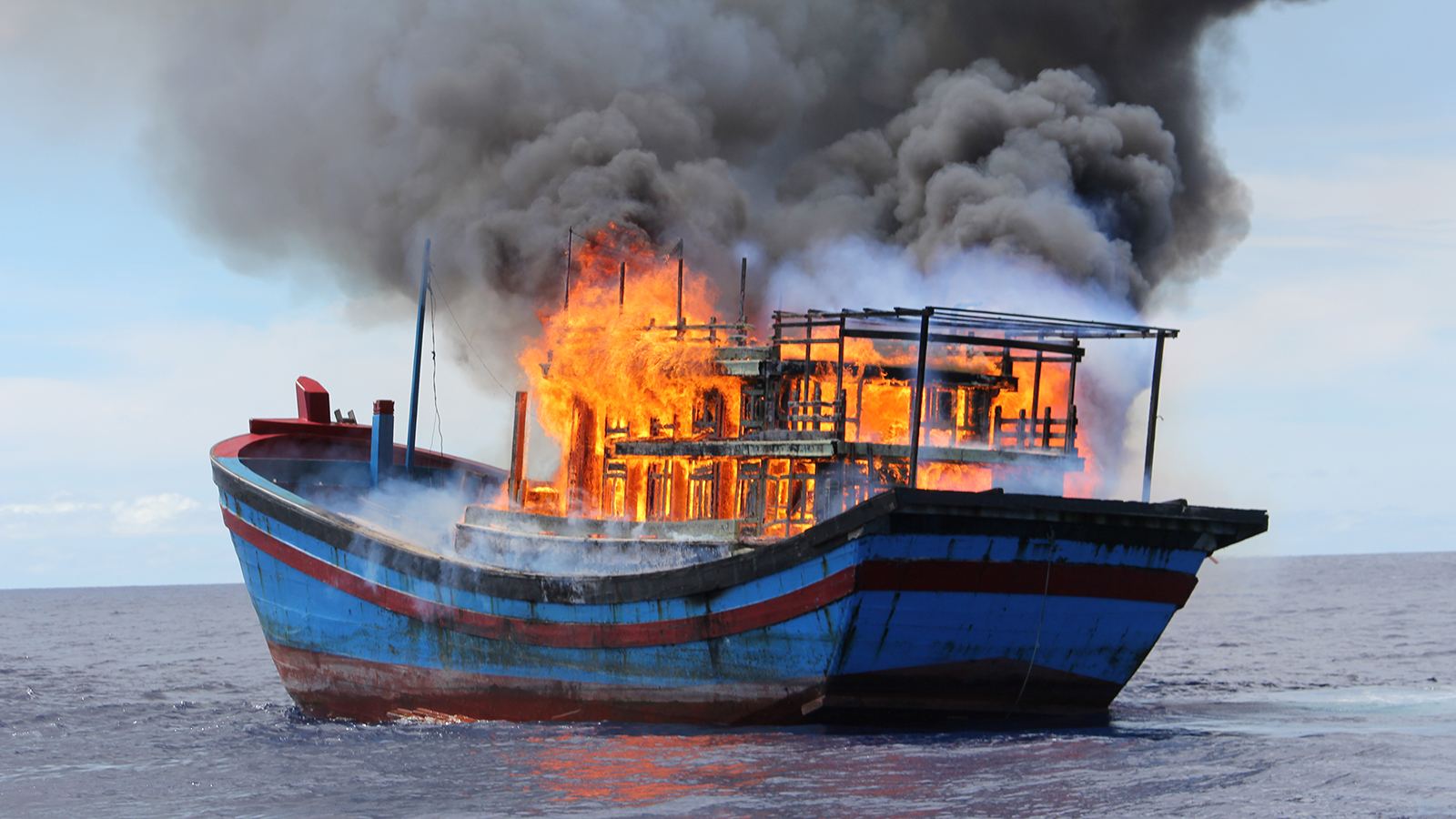 © The Pew Charitable Trusts
Palau has warned that poachers will not be tolerated in its waters. This boat-burning represents the island nation's ongoing commitment to strengthen protection of its national marine sanctuary.
The aggressive response reinforces Palau's established zero-tolerance policy just weeks after the country released its five-year monitoring, control, and surveillance plan. The report includes 25 detailed recommendations to help Palau fight illegal activities and manage emergency responses in the Pacific.
The fight against illegal fishing recently made headlines worldwide when the United Nations Food and Agriculture Organization announced the passage of the Port State Measures Agreement (PSMA)—an international treaty designed to combat illegal fishing—which will enter into force on June 5, 2016. Palau ratified the agreement in 2015, further demonstrating its commitment to protect the marine sanctuary from illegal fishing, which is estimated to cost as much as $23.5 billion in stolen seafood globally each year.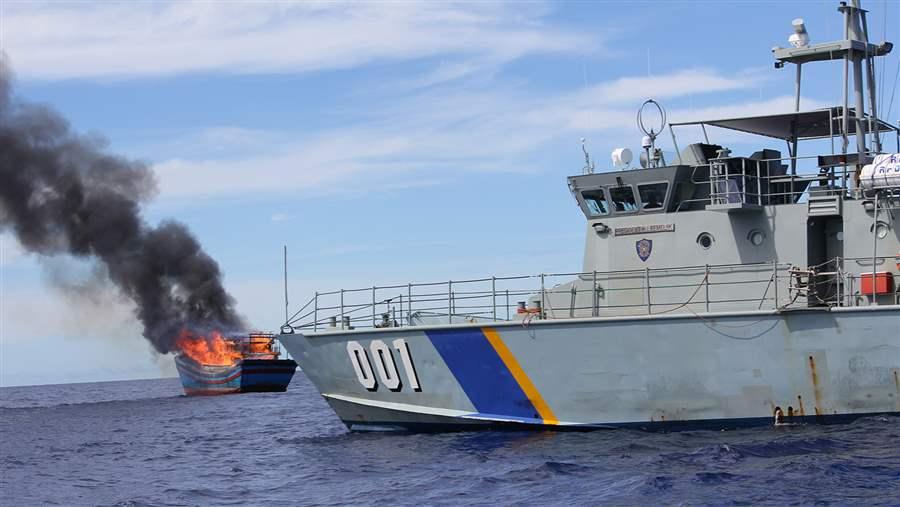 © The Pew Charitable Trusts
Officials oversee the burning of a Vietnamese boat from a Palau Marine Law Enforcement vessel (right). Since 2014, authorities have worked diligently to stop illegal fishing in the nation's waters.
The Palau National Marine Sanctuary Act, signed into law by Palau President Tommy E. Remengesau on Oct. 28, 2015, fully protects an area of about 193,100 square miles (500,000 square kilometers), or 80 percent of the country's EEZ. To strengthen the monitoring and enforcement capacity provided by the Pacific Islands Forum Fisheries Agency, Australia, the United States, and other partners, Palau is working with Pew and the U.K.-based Satellite Applications Catapult to begin using Project Eyes on the Seas—a state-of-the-art technology platform that integrates layers of satellite tracking data with fishing vessel databases and oceanographic information—to monitor the country's waters.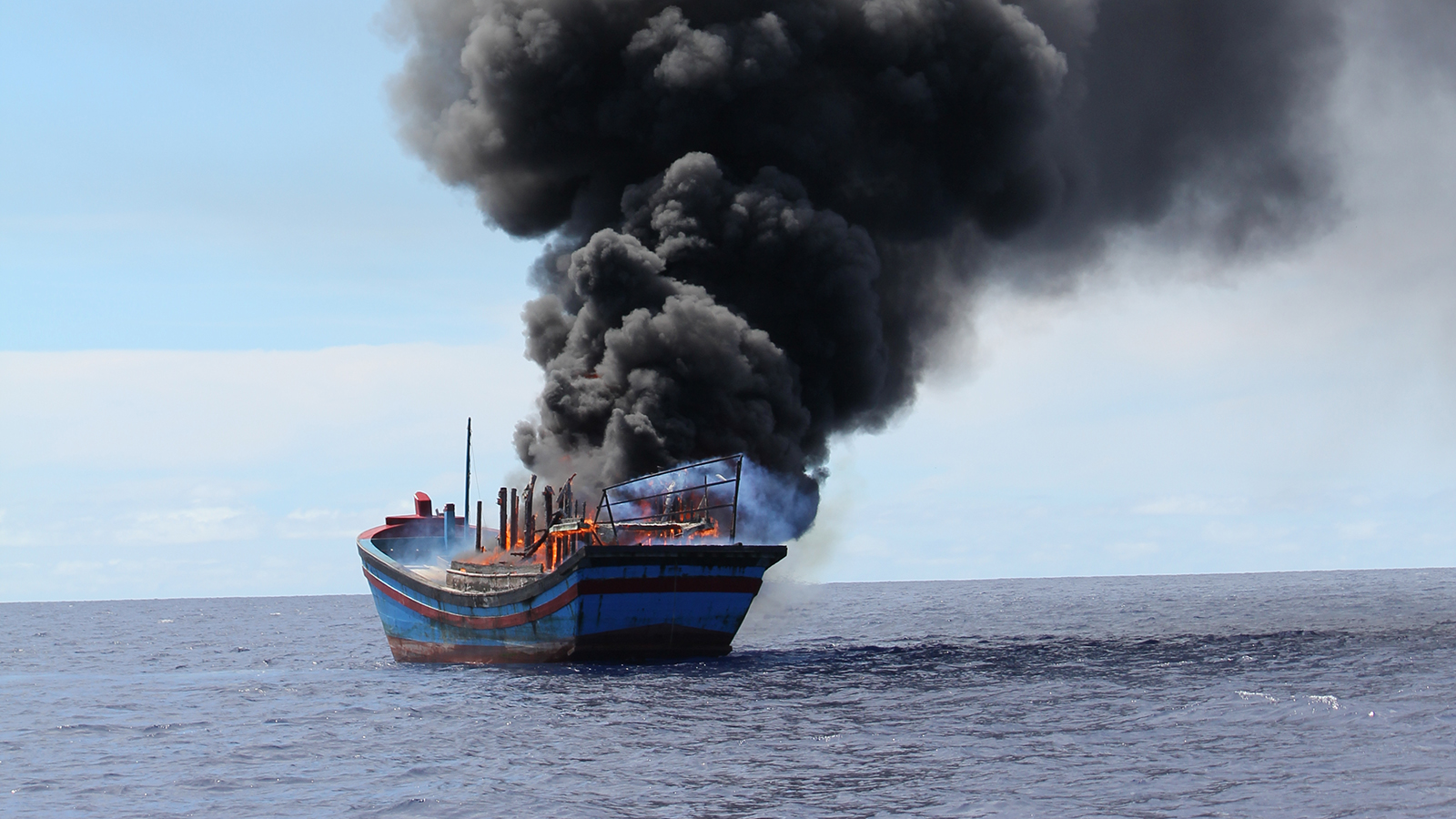 © The Pew Charitable Trusts
Palau has burned several vessels in recent years to show poachers that they will be prosecuted if found illegally fishing in the island nation's waters.
In a statement, President Remengesau said:
By monitoring our ocean from land, on the sea, in the air, and from space, we can fight illegal fishing as well as other crimes and make Palau more secure. The Palau National Marine Sanctuary is not just a conservation policy; it is also a national security policy.
Seth Horstmeyer is a director with The Pew Charitable Trusts' Global Ocean Legacy project.