Springtime Momentum for Safeguarding Wild Landscapes
Positive steps for conserving land on both coasts for future generations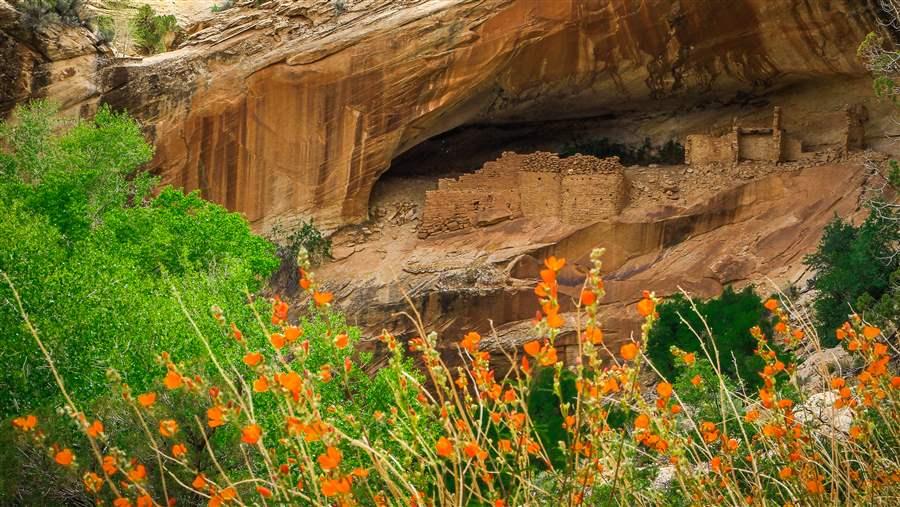 Josh Ewing
Bears Ears, Utah
Interior Secretary Sally Jewell plans to visit the Bears Ears region of southeastern Utah to hear about the importance of preserving the area.
As winter grudgingly gives way to spring, both the Obama administration and the U.S. Congress have been planting seeds for growing significant public lands protections across the country.
For starters, on April 19, during National Park Week, Interior Secretary Sally Jewell outlined the need for a "course correction" in the conservation of the nation's resources. Her vision includes smarter landscape-level planning, renewed investment in national parks and public lands, and ensuring that the perspectives of constituencies from diverse backgrounds and interests are included when tackling public lands issues. She also announced a pioneering study to examine the impact that outdoor recreation has on our nation's economy; the data collected will be used to educate decision-makers and inform the planning and management of public lands.
The secretary plans to visit the Bears Ears region of southeastern Utah to meet with Tribal Nations and local advocates and hear about the importance of preserving San Juan County's multitude of cultural sites, archaeological treasures, and unspoiled landscapes. The Pew Charitable Trusts has long supported action to protect these threatened areas and is encouraged by the secretary's intention to soon travel there.
Next, on April 20, the U.S. Senate approved the Energy Policy Modernization Act, which included an amendment to safeguard as wilderness 21,420 acres within the Río Grande del Norte National Monument. The provision, sponsored by Senators Tom Udall (D-NM) and Martin Heinrich (D-NM), would establish the Cerro del Yuta and Río San Antonio wilderness areas, preserving one of the world's great avian migratory routes, as well as important habitat for elk, deer, turkeys, golden eagles, and other wildlife. The Senate bill will have to be reconciled with an energy bill, passed in the U.S. House of Representatives, that does not include wilderness protections for New Mexico. Pew supports the wilderness protections and will work to see them included in the final bill signed into law by President Barack Obama.
The following day, the Senate Energy and Natural Resources Subcommittee on Public Lands, Forests, and Mining held a hearing on three bills that would conserve thousands of wilderness acres in California, Oregon, and Washington. The Central Coast Heritage Protection Act (S. 1423) would expand eight existing wilderness areas and designate one new area, preserving about 245,000 acres in total. The bill, introduced by Senator Barbara Boxer (D-CA), also protects 160 miles of our nation's rivers. Also discussed were the Wild Olympics Wilderness and Wild and Scenic Rivers Act (S. 1510)—introduced by Senator Patty Murray (D-WA)—which would preserve 126,500 acres of the Olympic National Forest as wilderness, while designating 464 miles of wild and scenic river; as well as the Oregon Wildlands Act (S. 1699), introduced by Senator Ron Wyden (D-OR), which would add 56,100 acres to the Wild Rogue Wilderness.
Pew supported these worthy measures. Additionally, we opposed Title III of the Utah Test and Training Range Encroachment Prevention and Temporary Closure Act (S. 2383)—introduced by Senator Orrin Hatch (R-UT)—which would pre-empt court proceedings currently underway to resolve right-of-way claims on nearly 6,000 miles across federal lands and which includes other provisions that threaten protected lands. Pew will continue to monitor this legislation as it makes its way through the Senate.
On May 12, the House Natural Resources Committee heard testimony on several lands bills, including the California Coastal National Monument Expansion Act, introduced by Rep. Lois Capps (D-CA). This legislation would protect approximately 6,000 acres of ecologically important and scenic public lands along the California coast as new units within the existing monument.
Efforts to safeguard eastern wild lands also took a key step forward on May 16, when Senator Angus King (I-ME) and Jon Jarvis, director of the National Park Service, held a public meeting in Orono, Maine, to discuss transferring more than 87,000 acres of privately owned forest along the East Branch of the Penobscot River to the U.S. government to be permanently protected as the Maine Woods National Monument. A large and supportive group of over 1,000 citizens was in attendance and expressed the belief that such a designation would conserve critical wildlife habitat, honor traditional recreation uses, and encourage economic growth in the Katahdin region of Maine.