5 Reasons to Protect Cerro del Yuta and Río San Antonio
In March 2013, President Barack Obama designated the Río Grande del Norte National Monument in northern New Mexico, safeguarding 242,555 acres for the enjoyment of future generations. Within the monument's boundaries are two areas, Cerro del Yuta and Río San Antonio, that together comprise roughly 21,500 acres. In May 2015, Senators Martin Heinrich (D-NM) and Tom Udall (D-NM) introduced the Cerros del Norte Conservation Act, a bill that would afford these two areas an even greater level of protection: wilderness status.
1. To protect a wildlife haven.
Along one of the world's great avian migratory routes, these areas provide an important stopover for eagles, hawks, and falcons. The areas are also important habitat for bears, deer, elk, antelope, and bighorn sheep. Additionally, the spectacular Rio Grande, which cuts through the monument, is home to both the Rio Grande cutthroat trout and river otters.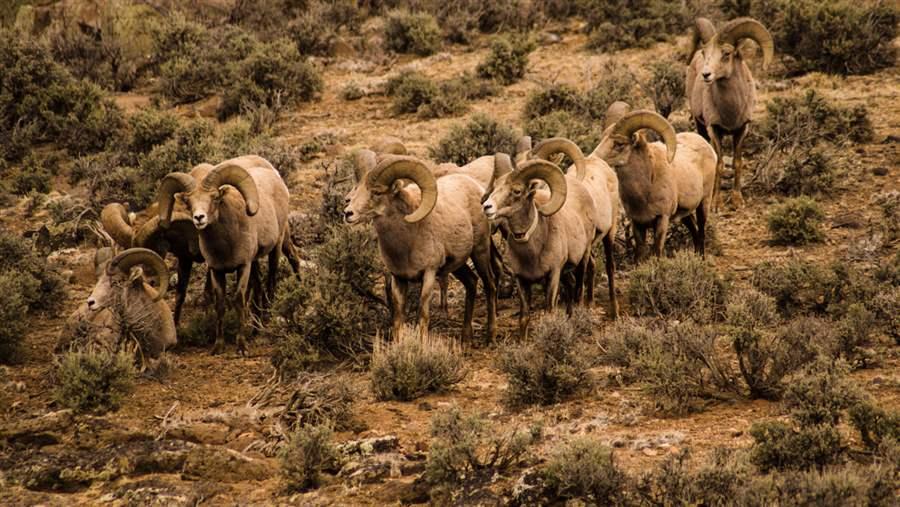 © Bureau of Land Management
Bighorn sheep are a familiar sight in the Río Grande del Norte National Monument.
2. To conserve pristine vistas.
Rising nearly 3,000 feet above the surrounding plains, Ute Mountain's 10,093-foot peak is the highest point on lands managed by the Bureau of Land Management (BLM) in New Mexico. As an isolated, free-standing former volcano, Ute serves as a dramatic focal point for a scenic landscape that borders the Rio Grande Gorge. At the mountain's higher elevations, the pinyon pine covering its base is joined by pockets of ponderosa, aspen, white pine, and Douglas fir.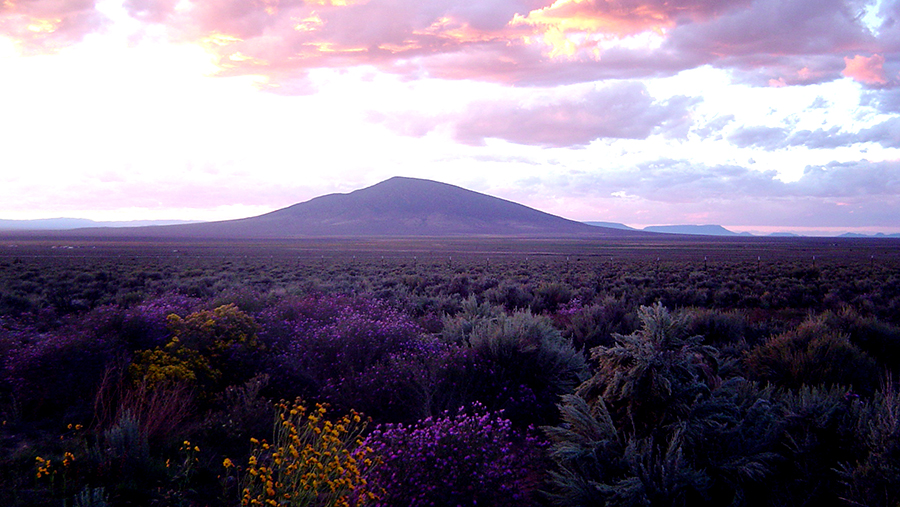 © Leah Wilde
Ute Mountain has no designated trails and is vast enough for visitors to easily find solitude.
3. To take advantage of economic opportunities.
Many local businesses, especially in the outdoor recreation and tourism industries, depend on Río Grande del Norte and the wild areas within it. One year after the national monument's designation, there was a 40 percent increase in visitors and a 21 percent increase in the lodgers' tax revenue in Taos. A recent EcoNorthwest study has found that quiet recreation on BLM lands generated $173 million in 2014 and supported 1,712 jobs across the state.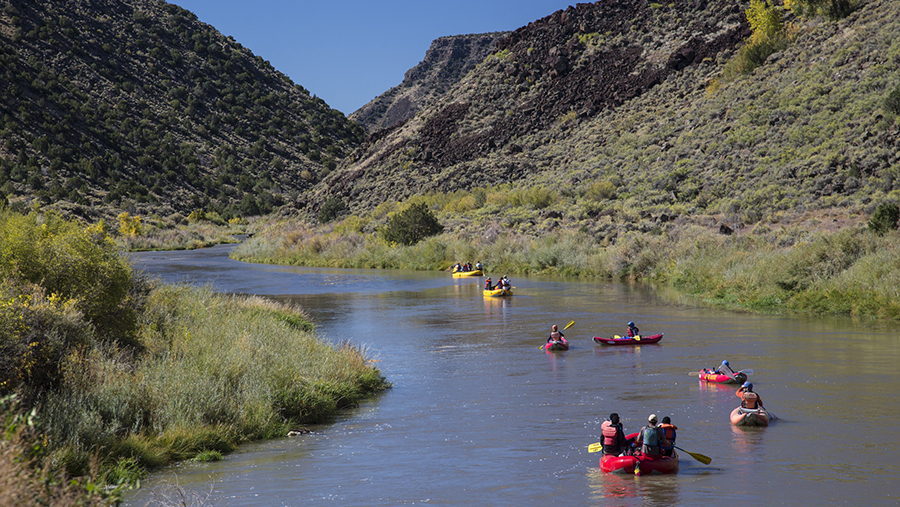 © Bureau of Land Management
Businesses have historically chosen to operate in beautiful, scenic—and safeguarded—places, such as New Mexico. In fact, total employment in counties with protected wilderness grew 65 percent faster than it did in places not near protected public lands.
4. To preserve outstanding outdoor recreational opportunities.
Located just miles from Taos, the Río Grande del Norte National Monument is a major outdoor recreation destination. People come from near and far to hike, ride horseback, raft, fish, hunt, camp, bird-watch, and more; such nonmotorized recreation would continue in the Cerro del Yuta and Río San Antonio wilderness areas. In addition to incredible hikes up Ute Mountain, the rolling grasslands that encompass Río San Antonio provide excellent opportunities for viewing wildlife.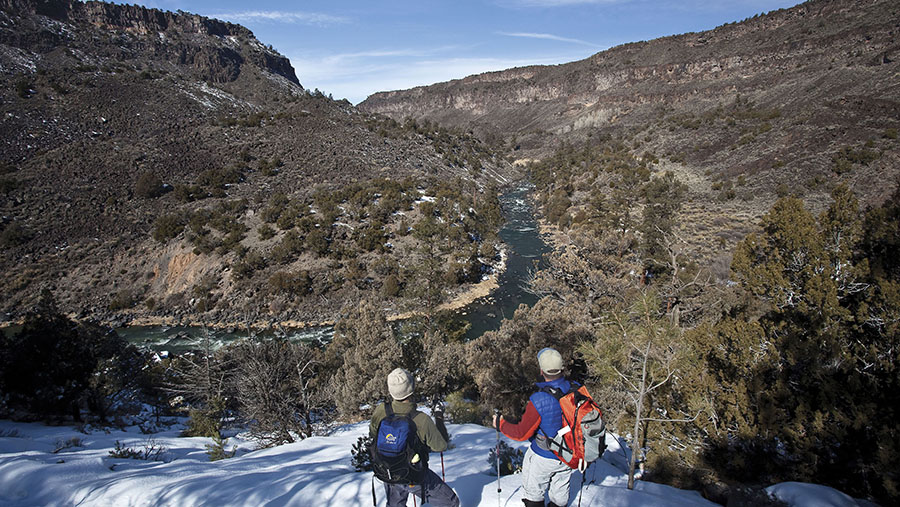 © Bureau of Land Management
The Cerros del Norte Conservation Act would ensure that outdoor recreation, as well as traditional activities, such as gathering firewood and pinyon nuts, would continue.
5. To protect clean drinking water.
The Rio Grande cuts through the national monument and sustains the wildlife living within it. The river is one of the major sources of water throughout the state, providing clean drinking water to downstream communities, and it also serves as a key source of irrigation in northern New Mexico. Wilderness safeguards watersheds, ensuring that clean water continues to flow freely to tributaries and rivers. These additional protections will help to ensure that outdoor recreation activities such as rafting, paddling, swimming, and fishing will continue for future generations.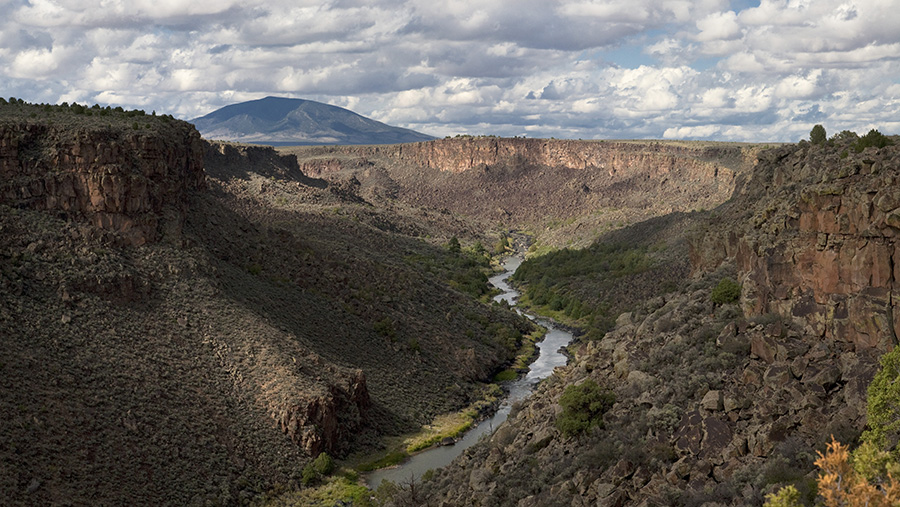 © Geraint Smith
The Rio Grande's 150-foot-wide gorge is shouldered by cliffs up to 900 feet tall. Ute Mountain towers in the background.