Innovation Drives Shift to a 21st-Century Power Grid
Policy and investment fuel growth of clean and advanced energy technologies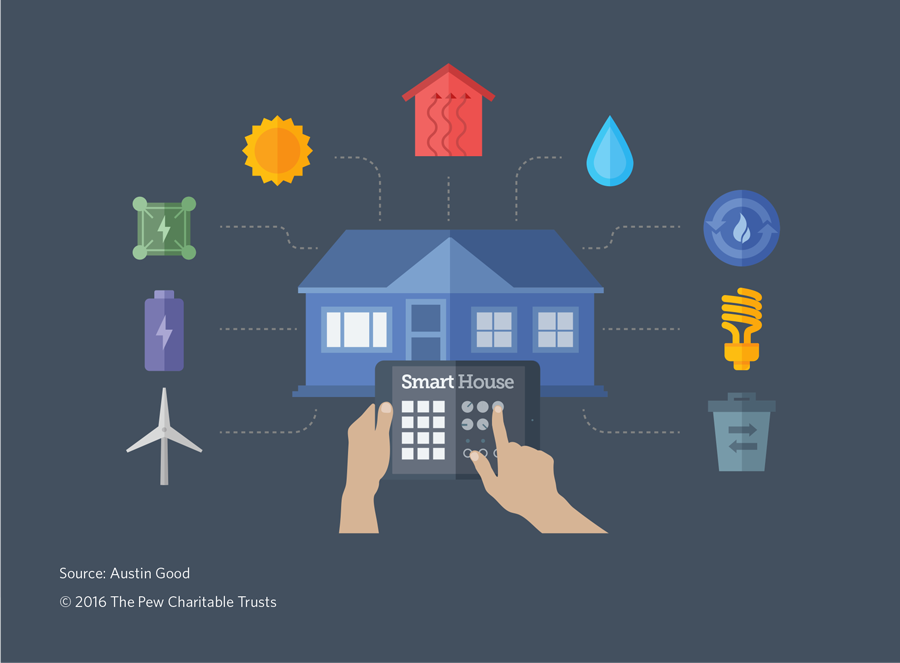 The American power sector is being modernized by advanced technologies that foster a decentralized, dispersed system of generating electricity and delivering it to consumers. These distributed resources make the system secure and resilient by producing power closer to where it is used and protecting businesses and institutions from unexpected outages caused by natural disasters and other disruptions.
A new collection of briefs from The Pew Charitable Trusts examines how federal support for microgrids, energy storage, and energy smart tools—much of which is provided to businesses and researchers through the U.S. national laboratories and public-private partnerships—is transforming the power sector from a 100-year-old centralized system to one that incorporates a range of distributed renewable and efficient innovations that can decrease costs, improve grid reliability, reduce emissions, and expand consumer choice. It also outlines the policy changes—such as improving how system and social benefits are valued and monetized, grid integration standards, technical assistance programs, and financial and planning incentives—that can further break down barriers to achieving the full promise of distributed energy systems.
The U.S. national laboratories as well as public-private partnerships provide financial resources and access to research facilities that foster innovation in three key areas:
Microgrids. Small groupings of interconnected power generation and control technologies that can operate within or independent of a central grid, mitigating disturbances and increasing system reliability. By facilitating the integration of distributed resources such as wind and solar, these systems can be more flexible than traditional grids.
Energy storage technologies. Systems that capture energy as it is produced and store it until it is needed. These products enable utilities to better match fixed power generating capacity with variable consumer needs so that more reliable, secure, and affordable service can be provided.
Energy smart technologies. Products and services that enable advanced digital communication for the benefit of electricity producers and end users. These technologies are the heart of a smart grid that accounts for consumer behavior and needs in real time. By increasing the analytical data available to grid operators and energy users, smart technologies create an information bridge linking generation, transmission, and distribution with consumers.
These advances offer new and important opportunities for end users and generators to save energy and prevent outages, while also fostering economic growth, promoting further investment, and creating jobs for the nation. Devoting more federal dollars to distributed energy generation research and deployment creates a cleaner, cheaper, and stronger grid for consumers and helps to ensure that the U.S. remains a leader in the clean energy arena.
Phyllis Cuttino directs The Pew Charitable Trusts' clean energy initiative.