French Polynesia Conference Focuses on Austral Islands Marine Environment
Scientists and experts gathered in February in Papeete, French Polynesia's capital city, to present the first results of research for the Austral Islands Science Compendium, a compilation of work that will show the exceptional biodiversity in the waters surrounding the archipelago in the South Pacific.
The 25 experts who presented their findings come from a variety of backgrounds, including research centers, government offices, universities, and environmental associations. They conducted the work at the invitation of the government of French Polynesia. The projects were supported by The Pew Charitable Trusts and coordinated by the Center for Island Research and Observatory of the Environment of French Polynesia (CRIOBE) and the Institute for Pacific Coral Reefs (IRCP). The findings will be compiled to create a science compendium on the marine biodiversity and culture of the Austral archipelago, the southernmost island group in French Polynesia.
Over 70 people took part in the conference, which began with remarks by Maina Sage, a member of the French National Assembly, and Georges Hatitio, the mayor of Rimatara, one of the Austral islands. The research shows the extent of marine biodiversity and its preservation in the waters surrounding the islands.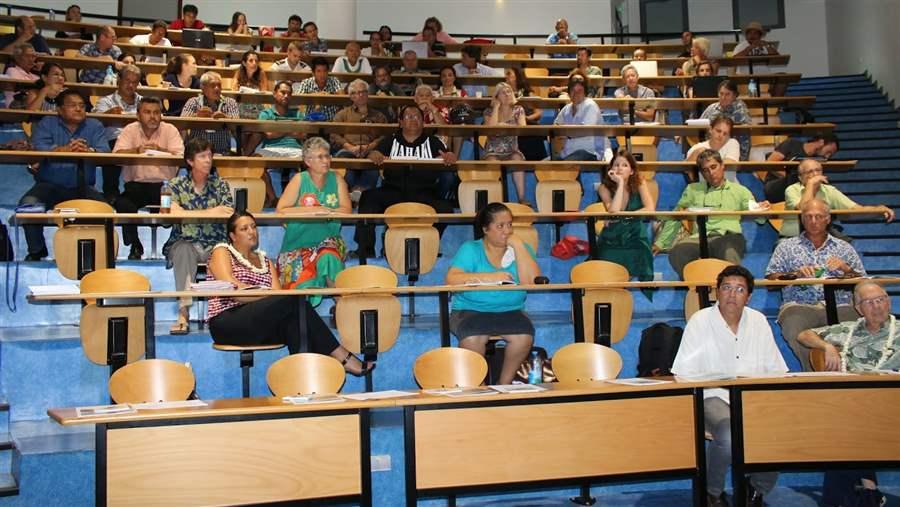 © Jerome Petit
The findings highlight how the islands' unusual climate, which ranges from tropical to temperate, and their diversified geological history have led to a remarkable number of native species inhabiting the archipelago. The Austral's isolation offers a particularly high rate of endemism for species such as certain types of algae, corals, and mollusks.
Other researchers noted that iconic species such as whales have a central place in the culture and tradition of the islands and also play important roles in current economic activities, such as ecotourism. In addition, residents still practice Rāhui, a traditional marine resource management system that restricts access to particular fishing areas. A recent expedition led by National Geographic, in collaboration with Pew, produced research that was also presented at the conference. This research helped prove the effectiveness of the Rāhui in Rapa, the southernmost inhabited island in the archipelago. Together, the findings provide insight into the richness of French Polynesia's marine ecosystem and its connection to island cultures and practices.
The 200-page compendium of research will be released in June 2015. This multidisciplinary, collaborative study will provide a solid knowledge base for the government and people of the Austral Islands as they consider a strategy to protect the waters surrounding the archipelago.
Pew is working with local communities to identify strategies for ocean conservation that honor traditional Polynesian ways such as Rāhui. Mayors from all five of the inhabited Austral Islands have expressed a willingness to create a large marine park in their waters.