New Caledonia Aquarium Exhibit Focuses on Marine Reserves
New Caledonia is spotlighting the importance of large and highly protected marine reserves for conserving the world's oceans. Starting Dec. 5, the New Caledonia Aquarium ("Aquarium des Lagons") and The Pew Charitable Trusts are presenting an exhibition titled "Oceans at Risk: Very Large (XXL) Reserves" ("Océans en Danger: Les Réserves XXL").
The exhibition provides an educational and entertaining look at how marine reserves can help keep oceans—including New Caledonia's South Pacific waters—healthy. It also offers an alternate view of what they might look like without the protections provided by these long-term conservation tools.
The aquarium is one of the island's most popular destinations for residents and tourists. This exhibition, which runs through June 2015, features beautiful photographs of marine life and fact-filled interactive activities.
"Marine reserves are essential for ocean health, especially right here in New Caledonia where there is an incredible array of marine life," said Christophe Chevillon, director of Pew's Global Ocean Legacy project in New Caledonia. "We are excited to partner with the New Caledonia Aquarium on this exhibition that will spark the public's imagination on how large and highly protected marine reserves can protect our ocean waters for generations to come."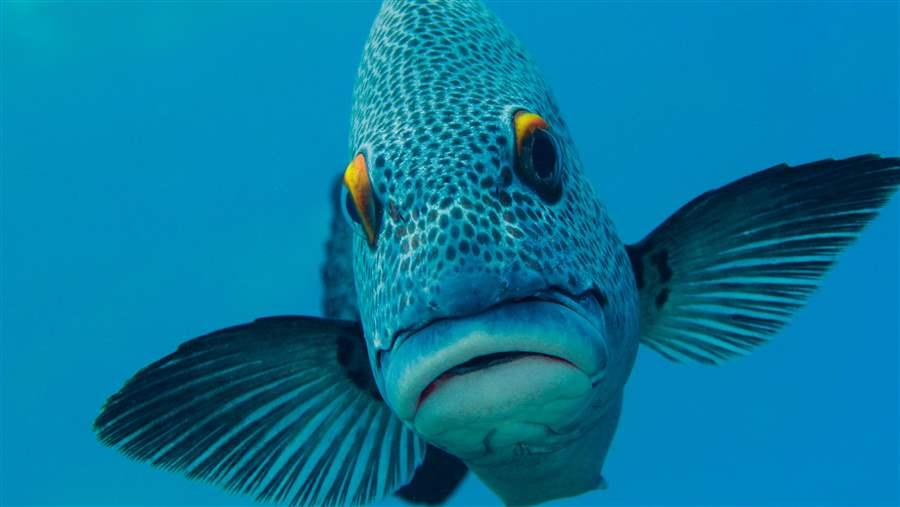 © Jean Re Reve
New Caledonia, a French overseas territory, is home to a rich variety of underwater life, including more than 1,700 fish and 473 coral species. Its waters span 1.3 million square kilometers (463,323 square miles) and include one of the world's largest lagoons.
In April 2014, the government of New Caledonia took an important step toward protecting these vast waters by creating the Coral Sea Natural Park. That action provided a framework for safeguarding and managing the territory's exclusive economic zone.
Pew is working to establish highly protected large reserves within the park, areas where fishing and extractive activities would be prohibited. Protection at this level would allow for the recovery of depleted fish populations, help to preserve New Caledonia's exceptional marine environment, and protect the migratory routes of large marine mammals and turtles.