Sampling Begins in the Waters Off Rapa Iti Island
We arrived at French Polynesia's Rapa Iti Island, part of the Austral archipelago. After many days at sea, it was strange to see land again.
Rapa is majestic, and its landscape has an almost eerie quality as it rises steeply out of the ocean with jagged cliffs and sharply pointed mountain peaks.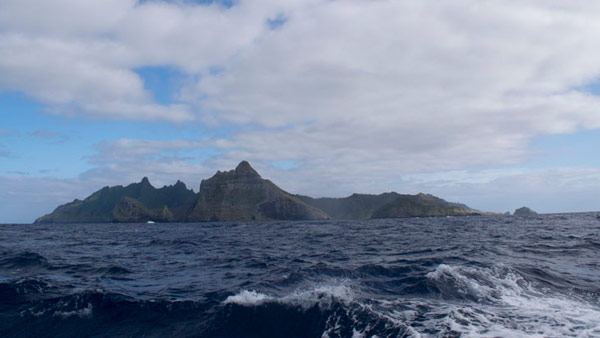 © Amelia Connell
Our first stop was the main harbor so we could clear customs. Then our team got down to work documenting life in French Polynesia's most southern waters. We completed our first two dives within the shelter of the harbor.
The water was a bit choppy, which meant diving beyond these protected waters would be too treacherous. Some guidebooks describe Rapa as temperate with no coral reefs, but we discovered, once in the water, that this was not exactly the case.
Diving conditions were okay, although the visibility here could not compare to the clear oceanic blue waters we had experienced in our mid-ocean swim. We discovered large reefs of coral and a lot of silt, a result of runoff from the surrounding land. The coral was all branching staghorn, named for its resemblance to deer antlers, and very fragile. We came across a number of fish, including the colorful black axil cromis.
© Ian Skipworth
The black axil cromis and staghorn coral in Rapa's main harbor.
On the second day of diving, we left the harbor for the other side of the island and the bottom of a stunning cliff face known as Baie Puoro. We spent most of the day watching red-tailed tropical birds flying around the cliff and calling out to each other.
The water here differed greatly from the harbor: clear, a variety of corals, and no silt. We have also seen more types of fish, including the bicolored butterfly, which is found only here, in the waters of the French Polynesian islands of Marotiri, and at Pitcairn and Easter islands. We hope to dive near Marotiri later in the trip.
© Ian Skipworth
Bicolored butterfly fish near Rapa.
Our crew has been diving as two teams, one targeting invertebrates and the other fish. Both increased their collections during the second day of dives. We look forward to our next dives and seeing what else we will find.
Amelia Connell is based in Wellington, New Zealand, and works on Pew's Global Ocean Legacy campaign to create a marine reserve in the Kermadec Islands.