Combined Heat and Power System Doubles Efficiency at Crayne Compression Station in PA
Industrial energy efficiency technologies can deliver thousands of dollars in savings on monthly energy costs for manufacturers and businesses. Combined heat and power, or CHP, systems capture waste heat from manufacturing and other industrial processes and use it to generate electricity. The waste heat also can be used to heat or cool nearby buildings, providing significant efficiency benefits and cost savings and helping to enhance economic competitiveness. CHP systems can also ensure continued power during utility outages caused by extreme weather events or blackouts.

Dominion Transmission Inc., a natural gas pipeline operator serving the eastern United States, illustrates the benefits of CHP. Seeking to improve the efficiency of its Crayne Compression Station in Waynesburg, Pa., Dominion Transmission deployed a CHP system in 2004 using three Capstone microturbines. The Crayne station now operates at 85 percent efficiency, twice the previous level.

This summer, U.S. Rep. Tim Murphy (PA-18) toured the plant, which is in his district.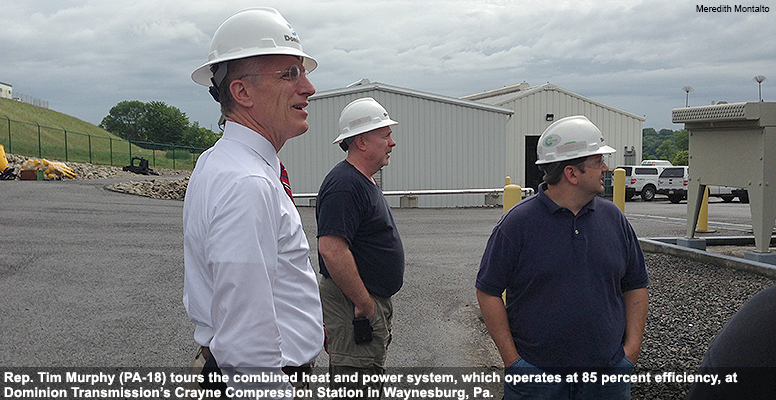 "Combined heat and power systems are another example of how our homegrown natural resources are being utilized in new and innovative ways," Murphy said. "Southwestern Pennsylvania consistently demonstrates that it's a national leader in energy exploration but now can claim the same title for energy efficiency as well."

The microturbines provide electricity and heat to two buildings and are powered by the same natural gas already flowing through the pipelines at the compression station. Capturing the excess heat from the microturbines eliminates the need for a boiler. And producing its own electricity allows the Crayne station to operate even if there is a power outage in the area.

"This CHP system uses less natural gas and produces more energy than a traditional boiler," said Dan Donovan, Dominion Transmission spokesman. "The station is generating its own electricity—there are no power lines to our facility—and heat. In essence, the hot water is free."

The return on the investment took about five years. Dominion Transmission saved $1 million initially because it did not need new power lines and grid connections. Now the Crayne compression station saves more than $3,000 each month, because the CHP system is not dependent on an external power supply. The facility also reduced its greenhouse gas emissions, a benefit equivalent to removing nearly 20,000 cars from the road annually. In 2011, the station received the Energy Star Combined Heat and Power award from the U.S. Environmental Protection Agency.

The CHP system at Crayne is one of 149 such installations in Pennsylvania, 60 of which use natural gas, according to the American Gas Association. CHP provides 2 gigawatts of power statewide, and the association estimates that an additional 2.9 GW could be added in the industrial sector alone.
CHP at Dominion Transmission: Fast facts 
750 million cubic feet of raw natural gas pass through the Crayne compression station daily.
Three Capston microturbines generate electricity and heat for the station, acting as a zero-fuels, zero-emission, 1 million British thermal unit boiler.
The system provides more than $3,000 in energy savings monthly.
The microturbines produce 130 kW of electricity using the natural gas that flows through the station.
The CHP system operates at 85 percent efficiency, compared with 30 to 40 percent for the previous boiler system.
The Crayne Compression Station is 100 percent self-sufficient and can generate electricity and heat during a power outage in the region.