Fernando Peña Ortega, Ph.D.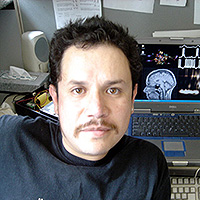 Title

Department

Institution

Address

Boulevard Juriquilla 3001

City

Country

Phone

+52 (442) 23 81 057

Email

Website

http://132.248.142.23/web_site/home_pages/122

Research field

Award year

Country of origin

Mentor name
Research
We are interested in revealing the cellular mechanisms involved in the generation of network activity and the changes in these mechanisms under "pathological" conditions. Currently we are studying the generation of oscillatory activity in the forebrain and its modulation by the amyloid beta protein. We are also interested in the reconfiguration of the respiratory rhythm generator under hypoxic conditions.