Jorge González Cortés, Ph.D.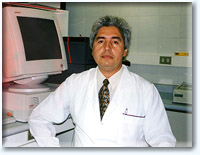 Title

Department

Institution

Address

Avenida Universidad de Antofagata 02800

City

Country

Email

Website

http://www.uantof.cl/fac_salud/

Research field

Award year

Country of origin

Mentor name
Research
My lab interests are focused on 1) Remodeling protozoan parasites; 2) Isolation and characterization of proteolytic enzymes of protozoa. In addition, I am interested in Trypanosoma cruzi virulence and signals involved in Trichomonas vaginalis attachment and proliferation.