Paul T. Matsudaira, Ph.D.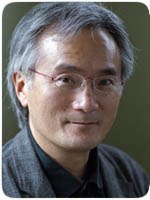 Title

Department

Institution

Address

14 Science Drive 4

ZIP

Phone

65 65162692

Email

Website

http://www.dbs.nus.edu.sg/staff/paul.html

Research field

Award year
Research
In current research, the lab is studying two main problems: epithelial cell migration on 2D surfaces and mesenchymal/amoeboid cell migration in 3D matrices. We are studying how epithelial cells move in cell culture and in vivo and are characterizing the mechanical factors that control movement and the type of motility. One project is developing a non-computational method for imaging the sites and magnitude of force transduction with a fluorescent force sensor (139). Measurements of force from these and other studies feed into a force-based computational model that simulates single cell migration in 3D matrices (130,133). This computational model is one of a very few that is capable of capturing the mechanics and sterics of complex migration processes. The new directions of research in the lab is devoted to imaging cell migration ex vivo as well as studying embryonic stem cells as a model for basic mechanobiology of cells.