George M. Shaw, M.D., Ph.D.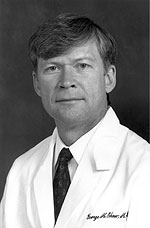 Title

Department

Institution

Address

409 Johnson Pavilion
3610 Hamilton Walk

City, State, ZIP

Phone

(215) 746-8514

Email

Website

http://www.med.upenn.edu/apps/faculty/index.php/g275/p8419054

Research field

Award year
Research
Our laboratory is studying the molecular biology and pathogenesis of human retroviruses, including HIV-1, HIV-2, HTLV-I, and HTLV-II. Using oligonucleotide-directed site-specific mutagenesis, we are examining the structure-function properties of conserved gene products of the HIV-1/2 family involved in viral attachment, entry, and replication. Using a combination of viral culture and PCR-mediated gene amplification techniques, we are also examining viral properties including genotypic variation, viral burden, and replication that affect viral pathogenesis in vivo. The overall goal of these studies is to elucidate viral pathogenesis at the molecular level and to develop novel approaches to disease prevention and treatment.