Report
Inaccurate, Costly, and Inefficient
Evidence That America's Voter Registration System Needs an Upgrade
Quick Summary
Research in Pew's report underscores the need for registration systems that better maintain voter records, save money, and streamline processes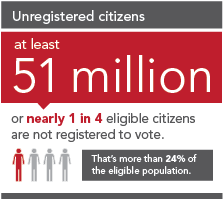 Approximately 24 million voter registrations in the United States are no longer valid or have significant inaccuracies, according to the Pew Center on the States.
Research in Pew's report, Inaccurate, Costly, and Inefficient, underscores the need for registration systems that better maintain voter records, save money, and streamline processes. This is an effort that eight states are spearheading with Pew's support.
The report highlights the challenges nationwide:
At least 51 million eligible citizens remain unregistered—more than 24 percent of the eligible population.
More than 1.8 million deceased individuals are listed as voters.
Approximately 2.75 million people have registrations in more than one state.
About 12 million records have incorrect addresses, meaning either the voters moved, or errors in the information make it unlikely any mailings can reach them.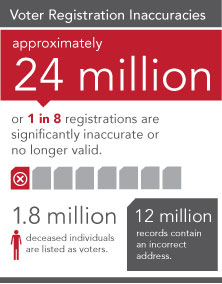 Since 2010, election officials from several states have been working with Pew on plans to upgrade their voter registration systems using advanced technology. This new approach consists of three elements:
Comparing registration lists with other data sources, such as motor vehicle and National Change of Address records.
Implementing proven techniques and security protocols that use those data sources to better track and identify both inaccurate records.
Minimizing manual data entry by establishing ways voters can submit information online.