Collection
Modern, Flood-Ready Approach Needed for Building and Rebuilding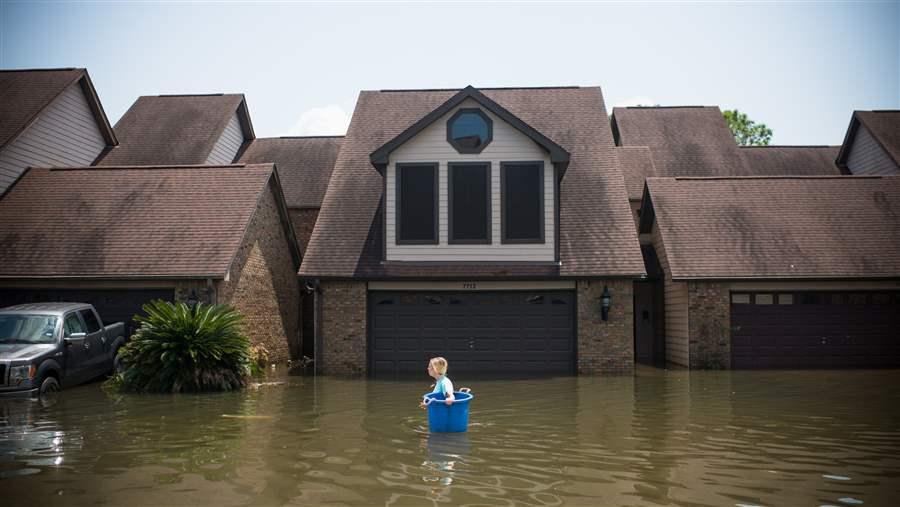 Jenna Fountain carries a bucket down Regency Drive to try to recover items from her flooded home in Port Arthur, Texas, Sept. 1, 2017.
© Emily Kask/AFP/Getty Images
Note: This page was updated on April 17, 2018 to reflect new poll data.
The most common and expensive natural disasters in the United States involve flooding, costing an estimated $768 billion in losses since 2000, according to the National Oceanic and Atmospheric Administration. Last year, the devastation caused by inland flooding and powerful hurricanes was compounded by aging infrastructure that suffers from years of neglect.
Outdated development guidelines also leave communities vulnerable to extreme weather. In too many instances, structures and infrastructure are built without serious thought given to risk and potential damage from future storms. This leads to a costly cycle of damage and repair following repeat flooding.
This cycle can be broken without jeopardizing or slowing down recovery. Multiple states and thousands of localities have already strengthened their building requirements in vulnerable areas. Americans support such actions by a wide margin: A poll released in January 2018 by The Pew Charitable Trusts found that 89 percent of registered voters support requiring that all federally funded infrastructure in flood-prone areas be constructed to better withstand the impacts of flooding.
It's long overdue for the federal government to adopt this modern, flood-ready approach. Doing so can better protect infrastructure, homes, and businesses, and save taxpayer dollars.