Podcast
Rising Spirituality in America
Episode 23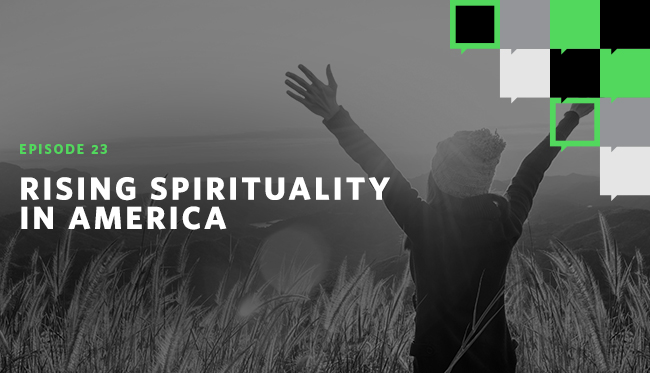 In this episode
Americans have become less religious but more spiritual over time, with 59 percent saying they regularly feel a deep sense of spiritual peace and well-being. Host Dan LeDuc interviews the Pew Research Center's Greg Smith about these trends. We also turn to Patty Van Cappellen of Duke University to discuss why people turn to religion and spirituality.
Related Resources
Belief, Affect & Behavior Lab at Duke University
U.S. Public Becoming Less Religious
Americans may be getting less religious, but feelings of spirituality are on the rise
More Americans now say they're spiritual but not religious
Meditation is common across many religious groups in the U.S.
Latest Episodes
Move aside, baby boomers. Millennials are one of the largest living generations, and they are not kids anymore. The oldest millennials are now 37, and they are making their mark on the workplace, politics, and America's public opinion landscape. We discuss this changing demographic with Alec Tyson, a senior researcher at the Pew Research Center, who digs into the data on who millennials... Read More

Money makes policy. As states plan for the future, tax revenue helps them decide what it can be. And nearly half the states still don't have the revenue they did before the Great Recession. Host Dan LeDuc interviews Pew's Kil Huh about this and then goes deep with Chris Hoene of the California Budget & Policy Center about how one of the nation's largest states is dealing... Read More

Today, six distinct generations are living simultaneously: the greatest generation, the silent generation, baby boomers, Gen Xers, millennials, and the newest group born starting in 1995. In this episode, our guest discusses this group she calls "iGen," as the first to grow up with smartphones from birth. Host Dan LeDuc interviews Jean Twenge, a professor of psychology at San Diego... Read More
Subscribe to 'After the Fact'