Podcast
Technology Today and Tomorrow
Episode 18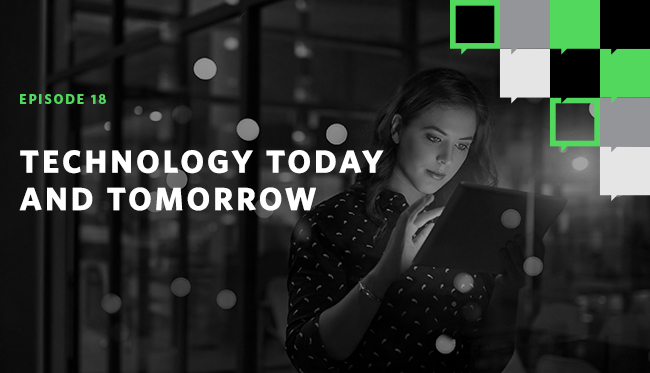 In this episode
Data and digital technologies are shaping our lives more than ever before. In fact, 88 percent of Americans are connected online, according to the Pew Research Center, and nearly half of adults use voice assistants. Growing connectivity makes our world safer, more efficient, and more convenient, but it also leaves us vulnerable to security and privacy threats. In this episode, host Dan LeDuc talks with Lee Rainie, director of the center's internet and technology research, about trends in technology and data, and how digital advances affect our lives.
Related Resources
The reckoning for social media and the internet: 7 warning signs
Nearly half of Americans use digital voice assistants, mostly on their smartphones
8% of Americans say they own a drone, while more than half have seen one in operation
The Internet of Things Connectivity Binge: What Are the Implications?
Latest Episodes
What do the number 70 and nonpartisanship have in common? For Pew, the combination is a special one, marking our 70th year of serving the public by using nonpartisan data to make a difference. To commemorate the anniversary, we invited Pew's president and CEO, Rebecca Rimel, into the studio to share her thoughts on the value of nonpartisanship and civil dialogue. Then we traveled to... Read More

How can states use data to make government work better? Known as a national leader for his efforts to make state government more efficient, Tennessee Governor Bill Haslam shares what he's learned over two terms about tripling the state's rainy day fund, creating jobs, reforming the state's juvenile justice system, and more. In this episode, we hear from the governor on how he... Read More

Americans have become less religious but more spiritual over time, with 59 percent saying they regularly feel a deep sense of spiritual peace and well-being. Host Dan LeDuc interviews the Pew Research Center's Greg Smith about these trends. We also turn to Patty Van Cappellen of Duke University to discuss why people turn to religion and spirituality. To learn more, visit... Read More
Subscribe to 'After the Fact'