Los Expertos Observan Progreso en la Lucha Para Terminar la Pesca Ilegal
Un evento organizado por Pew ofrece un anticipo de la conferencia global sobre los océanos
Aunque la pesca ilegal continúa presentando amenazas considerables para los océanos del mundo, las flotas pesqueras que respetan las leyes y las comunidades costeras, están surgiendo soluciones reales para el problema. Ese fue el mensaje general del debate del panel de expertos del 2 de septiembre sobre la pesca ilegal a larga escala y los beneficios de los áreas marinos protegidos.
El evento, organizado por The Pew Charitable Trusts en Washington, también incluyó un adelanto de la Conferencia "Nuestro Océano" del 5 y 6 de octubre en Valparaíso, Chile, en la que funcionarios de todo el mundo conversarán sobre soluciones a las principales amenazas a las que se enfrentan los océanos. Será la segunda de tres cumbres programadas de Nuestro Océano; la conferencia inaugural tuvo lugar en Washington, en noviembre de 2014.
Juan Gabriel Valdés, embajador chileno en los Estados Unidos, informó a la audiencia que sus principales objetivos para la reunión de Valparaíso son llegar a un acuerdo sobre cómo regular la alta mar, las áreas que se encuentran entre la jurisdicción de cualquier nación; ayudar a los pequeños estados isleños a trabajar estrechamente junto a las islas vecinas para aportar coherencia con los esfuerzos de conservación marina; y explorar el mejor modo de aprovechar la filantropía para la conservación. Manifestó que los líderes de las sociedades civiles, incluidas organizaciones no gubernamentales, fundaciones y otros organismos comprometidos con el medioambiente, "deben desempeñar un papel más importante" en la conservación marina.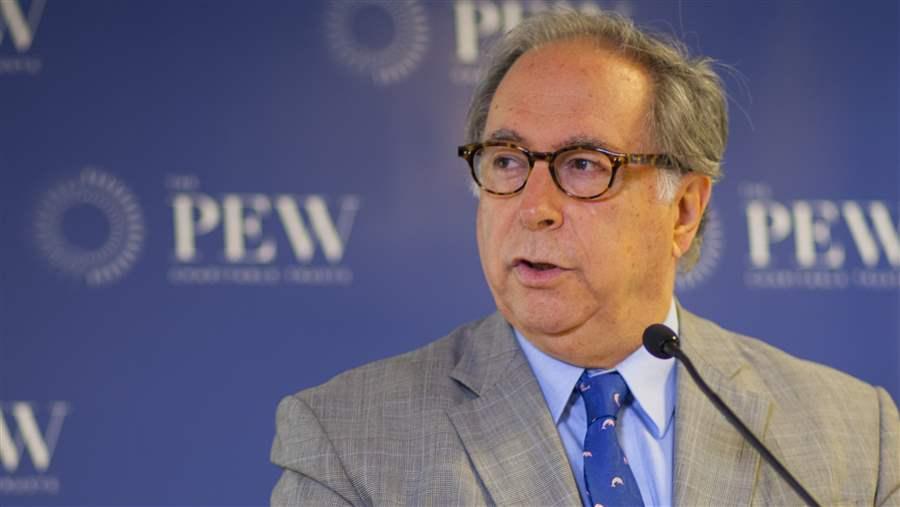 © The Pew Charitable Trusts
Embajador Juan Gabriel Valdés discutió la conservación de los océanos y la próxima conferencia "Nuestro Océano" en Valparaíso el 5 y 6 de octubre.
Para ello, Pew está trabajando junto a los gobiernos de Chile y los EE. UU. en la planificación de la conferencia de octubre, y con funcionarios de la Isla de Pascua en la posible designación de un parque marino completamente protegido allí, según la propuesta de los Rapa Nui, la comunidad indígena de la Isla de Pascua.
El alcalde de la Isla de Pascua, Pedro Edmunds Paoa, habló en el evento y propuso un estudio más científico del mar que rodea su hogar. "El océano es el futuro del planeta", declaró Paoa. "Debemos dejarnos de hablar. Es hora de que comencemos a hacer".
A escala global, dicha acción debe incluir esfuerzos para detener la pesca ilegal, que los expertos calculan que representa unos USD 23,5 mil millones en mariscos por año, o 1 de cada 5 peces marinos capturados en el medio silvestre. Si bien el problema afecta a la mayoría de los países costeros, es especialmente grave en naciones en vía de desarrollo, que dependen de un sector pesquero sustentable que genere alimentos y puestos de trabajo, pero no tienen los recursos necesarios para vigilar adecuadamente sus aguas.
Ian Urbina, periodista de investigación del New York Times cuya serie del verano de 2015, The Outlaw Ocean (El océano ilegal), detalla una amplia gama de delitos en el mar, declaró a la audiencia que observa "un buen impulso" hacia el tratamiento de la pesca ilegal. Con todo, Urbina aseguró que se "horrorizó" con el grado de ilegalidad que presenció en el mar, así como con la complejidad de los problemas a los que se debe hacer frente para reducir los delitos.
En el panel también se encontraban Russell F. Smith III, subsecretario adjunto para el sector pesquero internacional de la Administración Nacional Oceánica y Atmosférica; Kristín von Kistowski, asesora principal de Pew que trabaja junto a los ministros del sector pesquero en el sudeste de África; y Daniel Schaeffer, funcionario superior de Pew cuyo trabajo se centra en el aspecto legislativo de la pesca. Matt Rand, que dirige el proyecto de Pew Global Ocean Legacy (Legado global para los océanos), moderó el debate.
Smith puso énfasis en la necesidad de soluciones que bloqueen a flotas pesqueras y proveedores a fin de que no ingresen al mercado productos capturados ilegalmente. Declaró que los Estados Unidos deben ratificar e implementar el Acuerdo sobre medidas del Estado rector del puerto, tratado de las Naciones Unidas que fortalece y armoniza las normas de inspección de los buques pesqueros con banderas extranjeras que llegan al puerto.
Von Kistowski explicó cómo está ayudando el programa FISH-i Africa a países con bajos recursos a combatir la pesca ilegal. El proyecto reúne a ministros del sector pesquero de siete países del sudeste de África, que comparten recursos de seguimiento, control y legislación, junto con datos de pesquería y otra información.
Esto ha permitido a los socios "aumentar sus recursos de… modo rentable", aseguró. Y el esfuerzo ha dado sus frutos, entre los que se incluye el pago de una multa de un millón de dólares en 2013 por parte del propietario de una flota coreana después de que uno de sus buques intentara desembarcar 1100 toneladas de atún capturado ilegalmente en Mauricio, uno de los países miembros de FISH-i.
Seis países de África Occidental lanzaron el año pasado un esfuerzo similar a FISH-i y el modelo está despertando interés en América Latina y el Sudeste Asiático, afirmó von Kistowski.
Schaeffer, que se sumó a Pew recientemente tras 27 años en la Guardia Costera de los EE.UU., destacó el valor de las reservas marinas para preservar áreas especiales de los océanos para su biodiversidad, hábitats, zonas de desove y otros atributos.
Si bien una nación costera puede carecer de los recursos para tomar medidas directas (por ejemplo, con buques, aeronaves o incluso un sistema de adjudicación funcional), su gobierno puede solicitar a estados más poderosos, como los EE. UU., o a la Unión Europea que coloque al buque en una lista negra o imponga sanciones a su país de registro, expresó Schaeffer.
Pero eso no soluciona el problema de cómo saber cuando un buque viola las leyes en una reserva o más allá de los límites de una reserva. La solución emergente más prometedora a ese dilema son los sistemas de seguimiento satelital, como el Proyecto Eyes on the Seas (Ojos sobre los mares), una plataforma desarrollada por Pew y Satellite Applications Catapult, del Reino Unido.
Para ver una transmisión por la Web del evento del 2 de septiembre en inglés, haga clic aquí.