Pew y Bertarelli alaban la creación del Parque Marino de Isla de Pascua por parte de Chile
La propuesta de la comunidad Rapanui lleva a la creación de una de las áreas marinas protegidas más grandes del mundo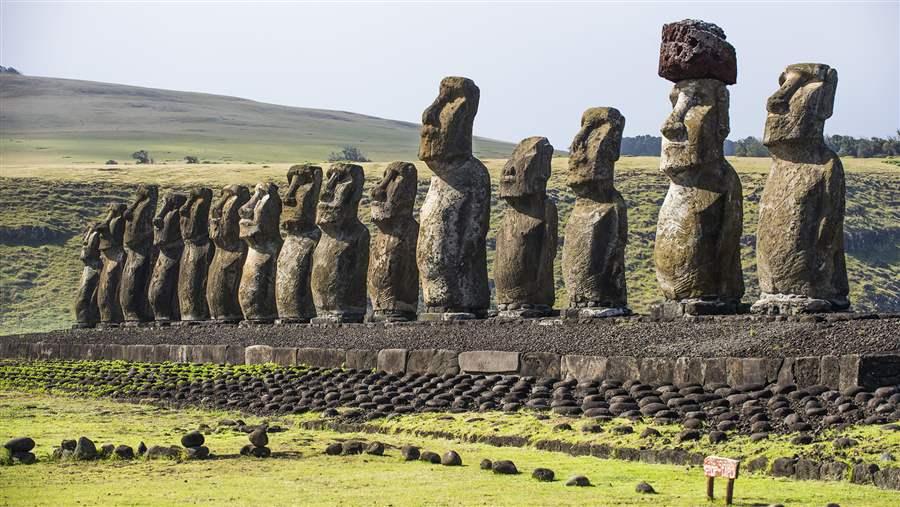 © The Pew Charitable Trusts
Valparaíso, Chile—The Pew Charitable Trusts y la Fundación Bertarelli han aplaudido hoy la decisión del Gobierno chileno de crear uno de las áreas completamente protegidas más grandes del mundo en las aguas que rodean la Isla de Pascua, un territorio chileno situado en el Océano Pacífico Sur. La creación del parque marino ha sido anunciada por la Presidenta de Chile, Michelle Bachelet.
Con sus 631.368 kilómetros cuadrados, el nuevo parque marino será la tercera área oceánica totalmente protegida más grande del mundo. La comunidad indígena de Isla de Pascua organizada en torno a una mesa de trabajo denominada Mesa del Mar propuso el parque con el fin de proteger la biodiversidad de las aguas que rodean la isla, que albergan 142 especies endémicas, 27 de las cuales se encuentran amenazadas o en peligro de extinción. El parque también permitirá que los Rapanui continúen realizando sus prácticas centenarias de pesca de subsistencia en una zona que se extiende hasta una distancia de 50 millas náuticas del litoral.
El programa Global Ocean Legacy (Legado Global para los Océanos) de Pew, en colaboración con la Fundación Bertarelli, ha respaldado desde el año 2012 los esfuerzos de los Rapanui por proteger sus aguas oceánicas. Los Rapa Nui ahora completarán su propuesta a través de un proceso de consulta con la totalidad de su comunidad.
"Famosa mundialmente por sus estatuas de moai, la Isla de Pascua será ahora conocida como líder mundial en el ámbito de la conservación del océano", afirmó Joshua S. Reichert, encargado de dirigir las iniciativas medioambientales de Pew. "Este anuncio público constituye un importante paso hacia el establecimiento de la primera generación mundial de grandes parques en el mar".
En palabras del Sr. Reichert: "La creación del parque en las aguas de Isla de Pascua permite proteger uno de los últimos espacios casi vírgenes de la Tierra, un espacio que reviste una enorme importancia cultural, religiosa y económica para el pueblo Rapanui. Esta noticia constituye un triunfo tanto para el pueblo Rapanui como para el Gobierno de la Presidenta Bachelet".
La investigación y el progreso hacia la creación del parque ha sido posibles gracias al respaldo de la Fundación Bertarelli, que ha contribuido en hacer realidad otras áreas protegidas a gran escala en el planeta. Para apoyar los esfuerzos de los Rapanui, la Fundación Bertarelli ha conducido la mayor recopilación científica jamás realizada sobre el entorno marino de la isla, sumado a un análisis económico del impacto de un parque marino, la implementación de un programa de educación y formación para la población local, la facilitación de intercambios culturales con otros pueblos indígenas polinesios y la asistencia en la labor de seguimiento de las actividades de pesca ilegal.
"Este es un emocionante avance y estoy muy orgullosa del papel que la fundación ha podido desempeñar a la hora de apoyar la campaña del pueblo Rapanui y hacer realidad el proyecto", afirmó Dona Bertarelli, Presidenta de la fundación. "Restablecer la resiliencia del océano a través de la creación de áreas protegidas constituye una contribución fundamental de cara a mejorar el estado de salud general del océano y proteger los hábitats únicos que posee la Isla de Pascua para las generaciones futuras".
La Isla de Pascua se encuentra a unos 4.000 kilómetros (2.500 millas) al oeste del territorio continental chileno, y sus aguas, en gran parte aún sin explorar, son un verdadero "oasis" en una zona del Océano Pacífico muy pobre en nutrientes; se conoce la existencia de zonas biológicas de gran importancia, incluyendo los únicos respiraderos hidrotermales presentes en aguas chilenas.
Asimismo, es una zona de desove de vital importancia para muchas especies, incluyendo atunes, tiburones, agujas y peces espada.
"Este parque marino o zona de rahui conservará no sólo las muchas especies que tienen su hogar en las aguas de la Isla de Pascua, sino también las tradiciones de nuestros ancestros polinesios y del pueblo Rapanui", declaró Pedro Edmunds Paoa, alcalde de la Isla de Pascua. "El parque se completará con una zona de pesca que permitirá que perdure nuestra ancestral práctica del tapu, o gestión pesquera sustentable.
"El océano es la base de nuestra cultura y nuestro sustento", añadió el alcalde. "La comunidad Rapanui está enormemente orgullosa de este parque marino, que protegerá nuestras aguas para las generaciones venideras".
La creación del parque marino ayudará a combatir la pesca ilegal, un problema detectado durante el seguimiento por satélite de las actividades en aguas chilenas que se ha realizado como parte de un proyecto conjunto que cuenta con el apoyo de Pew y la Fundación Bertarelli. Como se va a prohibir toda actividad extractiva en el nuevo parque marino, será más fácil identificar los buques implicados en actividades ilegales.
En enero de 2015, Chile participó en el lanzamiento del proyecto de Pew Eyes on the Seas ("Ojos en los mares"). Esta innovadora tecnología por satélite, desarrollada en asociación con la organización Satellite Applications Catapult, con sede en el Reino Unido, puede utilizarse para monitorizar de forma remota las reservas marinas y detectar actividades sospechosas en tiempo casi real. Aún tiene que establecerse un plan de aplicación para el nuevo parque.
El programa Global Ocean Legacy de Pew trabaja con las comunidades locales, los Gobiernos y la comunidad científica para contribuir a la creación de la primera generación mundial de grandes parques marinos. Hasta la fecha, la asociación ha contribuido a duplicar la cantidad de superficie oceánica protegida en todo el planeta. El reconocimiento internacional de la importancia de las grandes reservas marinas totalmente protegidas ha ido creciendo desde que EE.UU. estableció el Monumento Marino Nacional de Papahānaumokuākea (Papahānaumokuākea Marine National Monument), al noroeste de la isla de Hawai, hace casi 10 años. Durante el mes de marzo de este año, el Gobierno británico anunció la creación de la reserva marina de las islas Pitcairn (Pitcairn Islands Marine Reserve), propuesto en 2013 por Pew en asociación con el Pitcairn Island Council; y el 28 de septiembre, el Primer Ministro neozelandés, John Key, anunció la creación de un santuario marino totalmente protegido en las Islas Kermadec, situadas a unos 1.000 km al noreste de la Isla Norte, en Nueva Zelanda.
###
Acerca de The Pew Charitable Trusts
The Pew Charitable Trusts se inspira en la capacidad del conocimiento para resolver los problemas de mayor desafío en la actualidad. Encontrará más información en www.pewtrusts.org.
Acerca de la Fundación Bertarelli
La Fundación Bertarelli consigue efectos duraderos en el ámbito de la conservación marina a través de un enfoque que va "del primer paso hasta el tramo final" y que se sirve de la investigación para identificar problemas y de asociaciones para poner en práctica soluciones, así como del firme compromiso de hacer un seguimiento de la implementación del proyecto hasta su finalización. La fundación ha participado directamente en la creación de áreas marinas protegidas en el Territorio Británico del Océano Índico (Chagos) y en el Arrecife Mesoamericano frente a la costa de Belice.
Acerca de Global Ocean Legacy
Global Ocean Legacy (Legado Global para los Océanos) constituye un proyecto de asociación creado en 2006 con el fin de promover la creación de reservas marinas en los océanos del mundo. Entre los socios actuales figuran The Pew Charitable Trusts, Bloomberg Philanthropies, The Lyda Hill Foundation, Oak Foundation, The Robertson Foundation, The Tiffany & Co. Foundation y the Waitt Foundation. Encontrará más información en www.globaloceanlegacy.org.