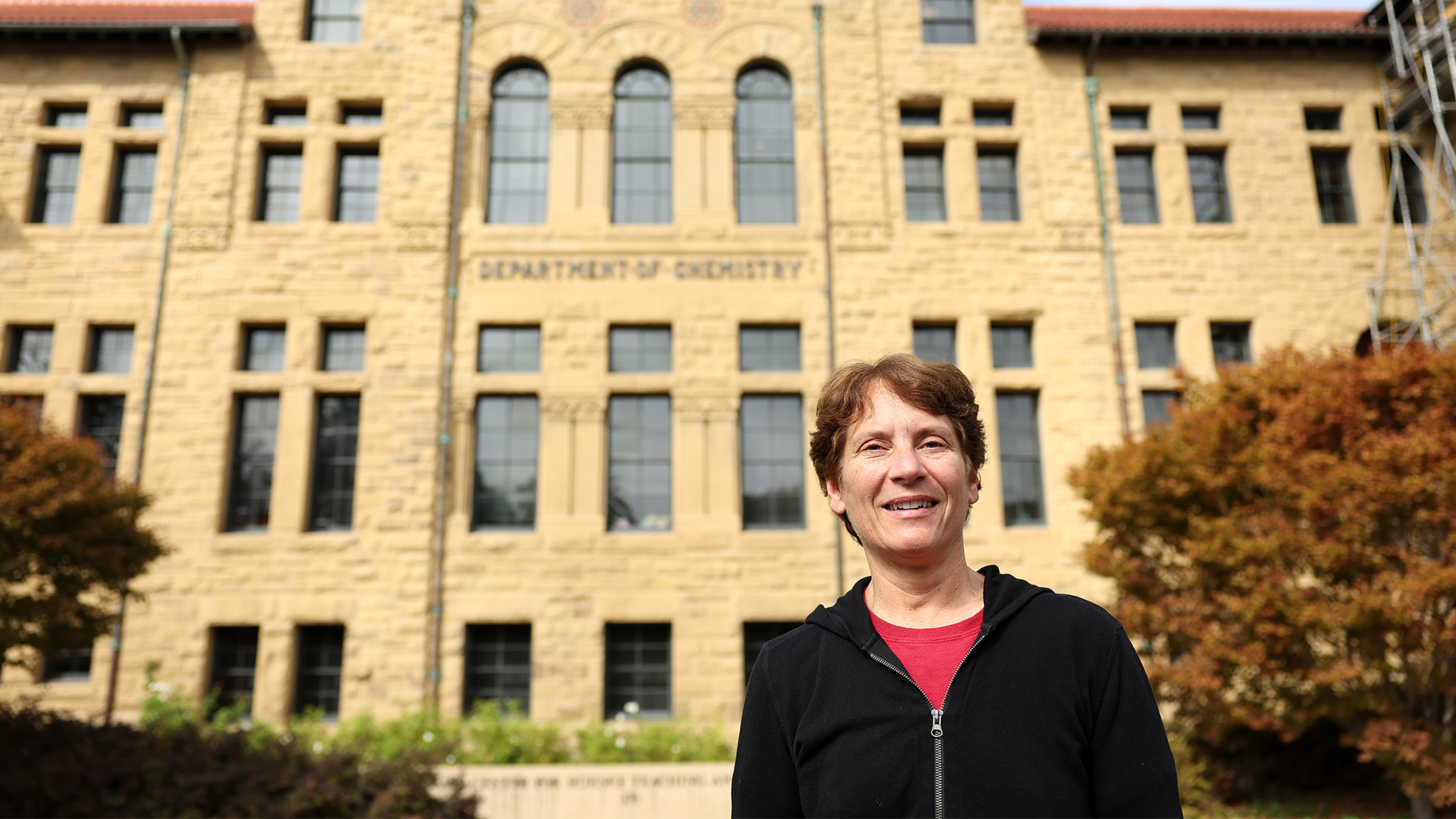 Pew Scholar Wins Nobel Prize
On Oct. 4, the Royal Swedish Academy of Sciences announced that Carolyn R. Bertozzi, Morten Meldal, and K. Barry Sharpless were awarded the 2022 Nobel Prize in Chemistry.
The academy cited the scientists' "development of click chemistry and bioorthogonal chemistry" as their standout contributions to the chemical sciences, and a great benefit to humankind. Their developments are "about making difficult processes easier," the academy said.
Sharpless and Meldal discovered a method that makes it possible for scientists to build complex molecules using simple, dependable reactions. It has been likened to the design of Lego pieces, which snap together in predictable ways, simplifying the process for building complicated chemical compounds. Bertozzi provided new functionality to click chemistry by pioneering a development known as bioorthogonal chemistry.
Bertozzi was named a Pew scholar in the biomedical sciences in 1996, a time when she was researching glycans—complex sugar molecules that play a central role in allowing cells to "talk" to one another and in regulating the immune system. The molecules are difficult to track inside living organisms, so Bertozzi set out to visualize them. Her work led to a new technique to attach glycans to imaging molecules using chemical reactions that can be done within living systems without disrupting normal processes. The method takes its name from its success in avoiding interference with normal cell behavior—bio-orthogonal, as she described it. The knowledge derived from her research is helping investigators explore how cancers and other illnesses develop, and is providing novel approaches for creating therapeutics.
"Like all of us, I've had family members and close friends who suffered from ailments that were so untreatable," Bertozzi said in an interview following the announcement. "It was always my hope that, as a scientist, I could make some contributions that might benefit human health, either in the near term or the long term, or not even necessarily in my lifetime. That was always my goal."
Today, Bertozzi is at Stanford University, where she is director of the school's Sarafan ChEM-H (Chemistry, Engineering and Medicine for Human Health) institute, the Anne T. and Robert M. Bass Professor in the School of Humanities and Sciences, and professor of chemical and systems biology and of radiology.
The Pew Scholars Program in the Biomedical Sciences was created in 1985. Each year, the program—the first to carry the Pew name—recognizes promising young researchers and provides them with grants, creating a community of more than 1,000 scientists. Bertozzi is the third Pew scholar to be awarded a Nobel prize in as many years, and the sixth in the program's history. Previous Nobel winners are David J. Julius in 2021 and Charles M. Rice in 2020, both for physiology or medicine; Carol Greider for physiology or medicine in 2009; Craig Mello for physiology or medicine in 2006; and Roderick MacKinnon for chemistry in 2003.
—Keith Lindblom
More Americans Support Than Oppose the #MeToo Movement
About half of Americans who have heard of the "MeToo" movement express support for it, while 21% say they oppose it, according to a Pew Research Center survey conducted last summer. There are wide partisan gaps in these views, with Democrats roughly three times as likely as Republicans to support the #MeToo movement.
The movement was founded by activist Tarana Burke, who coined the term "MeToo" in 2006, but it gained widespread attention in 2017 when actress Alyssa Milano urged victims of sexual harassment and assault to share their stories on social media and the "MeToo" hashtag went viral as millions did so. In the years that followed, hundreds of powerful men lost their jobs or roles after accusers alleged that they had been victims of harassment or assault by these men in the workplace.
The survey found that Americans see some changes in how sexual harassment and assault are handled in the workplace. Seven in 10 U.S. adults—including majorities across demographic groups and partisan lines—say that, compared with five years ago, people who commit sexual harassment or assault in the workplace are now more likely to be held responsible for their actions. And about 6 in 10 say that those who report harassment or assault at work are now more likely to be believed. These views are echoed even by a majority of those who oppose the #MeToo movement overall.
—Demetra Aposporos
Philadelphia Ponders Property Taxes
Many Philadelphians rank the city's property tax—which helps fund both city government and the school district—as being less fair than its wage and sales taxes, according to a poll undertaken last year by Pew's Philadelphia policy and research initiative. Questions of fairness aside, the city's property taxes are lower than those in nine out of 10 other large cities—Atlanta; Baltimore; Boston; Chicago; Columbus, Ohio; Houston; New York; Pittsburgh; and Washington. Only Detroit came in lower than Philadelphia.
And less of Philadelphia's general fund revenue comes from property taxes than in many other big cities—14.5% in the 2020 fiscal year, when the median for these 10 peer cities was 31.5%. Many elected officials have been opposed to increasing reliance on the tax, citing a widespread lack of confidence in it fueled by a long history of inconsistent and seemingly unfair assessments.
Philadelphia, which has one of the highest homeownership rates among lower-income households of any major city in the country, has put programs in place that reduce property taxes to assist those households.
Questions about the city's tax mix have drawn renewed attention as officials ponder how to promote economic growth and equity in the wake of the pandemic. Some business leaders and economists have urged raising property taxes and reducing the city's heavy reliance on wage and business taxes, which is relatively uncommon among major cities. Such a change, they say, might spur economic development. And property taxes, which are relatively stable from year to year, fare better during economic downturns.
"This is a key moment for Philadelphia's property tax system," said Elinor Haider, senior director of Pew's Philadelphia program. "Over the past decade, city officials have taken steps to make the tax fairer, by bolstering tax relief programs for homeowners, improving assessments' accuracy, and making the relationship between assessments and tax bills easier to understand." How well those adjustments are received, along with the new assessments, will go a long way toward determining whether Philadelphians become more accepting of the property tax.
—Demetra Aposporos