Pew Biomedical Scholar Wins Nobel Prize in Chemistry
Carolyn Bertozzi's work has helped bring chemical reactions to life to boost medical research
Pew Biomedical Scholar Wins Nobel Prize in Chemistry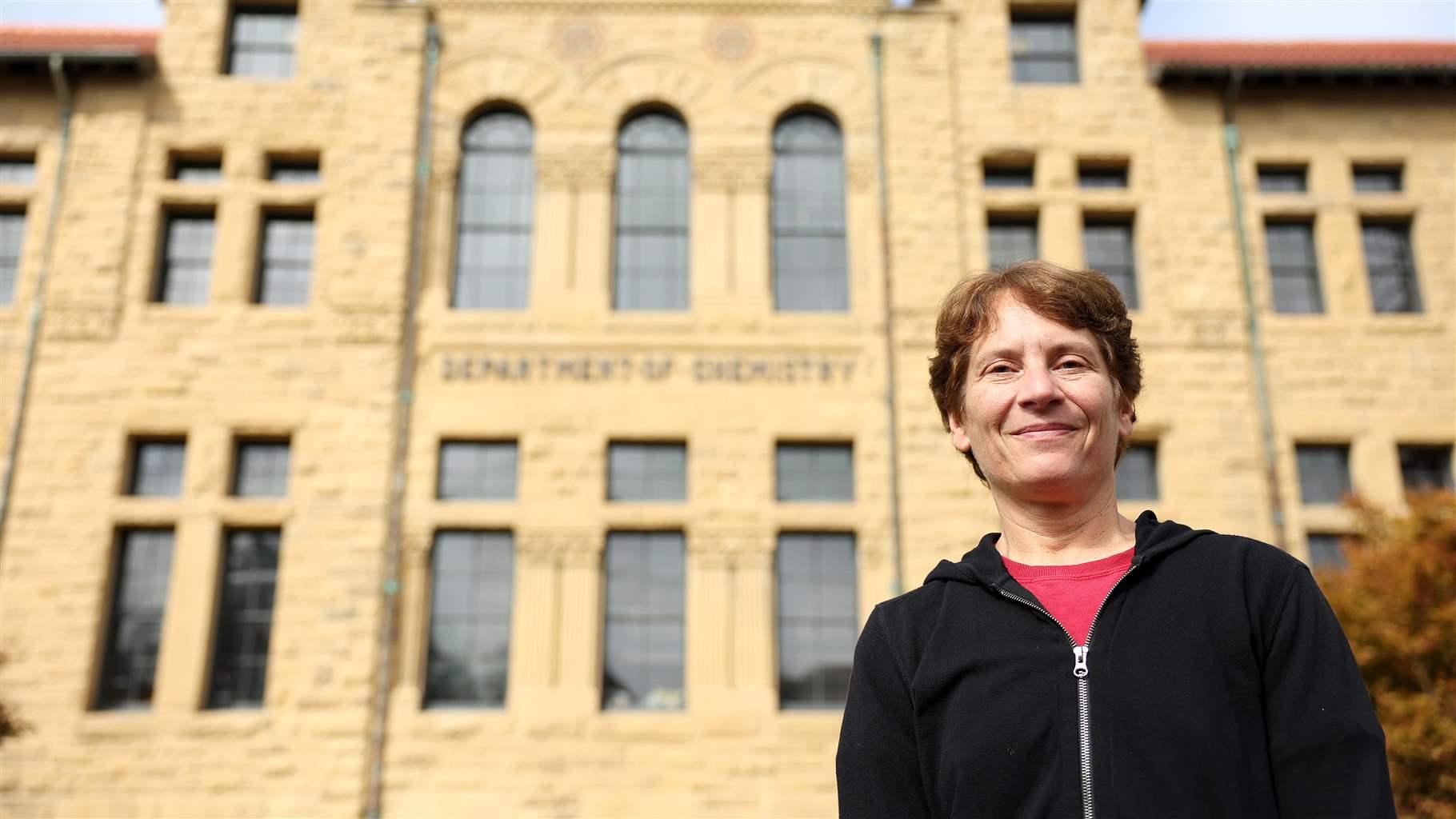 When the Royal Swedish Academy of Sciences announced the recipients of the 2022 Nobel Prize in Chemistry on Oct. 5, Carolyn R. Bertozzi, Ph.D., a professor at Stanford University and a 1996 Pew biomedical scholar, joined an elite group of globally renowned scientists and researchers. Her groundbreaking work—in which she pioneered a new field of chemistry and opened the door to a new era in medicine—made her a deserving choice for this honor.
Bertozzi was recognized for her work in "bioorthogonal chemistry," alongside fellow 2022 chemistry laureates K. Barry Sharpless of Scripps Research and Morten Meldal of the University of Copenhagen, who were recognized for developing "click chemistry"—a method that makes it possible for scientists to build complex structures using simple, dependable reactions. In an interview shortly after the announcement, Olof Ramström, a member of the Nobel Committee for Chemistry, likened the process to snapping together Legos—but at a molecular level.
The Nobel Committee acknowledged Bertozzi for bringing click chemistry to life when she pioneered a way to study—and actually see—complex sugar molecules called "glycans" in living organisms. That accomplishment led to an entirely new field: bioorthogonal chemistry, which encompasses chemical reactions that can be done within living systems without disrupting normal processes. And the knowledge developed from doing so is helping researchers explore how cancers and other illnesses develop.
Glycans play a central role in allowing cells to "talk" to one another and in regulating the immune system. Understanding how cells communicate is critical to gaining insights into the immune system and the molecular basis of diseases such as cancer. For example, glycan patterns on the surface of cancer cells differ from those on normal cells; tracking these differences may provide clues to how cancer develops and how it can be identified and treated.
Recognizing glycans' role in core biological and disease processes, Bertozzi set out to visualize sugar molecules in living organisms as opposed to studying them in a test tube. Figuring out how to do that would allow scientists to better observe how the molecules change over time and what goes wrong when diseases occur. Glycans had long been notoriously difficult to study because of their complex structures, but Bertozzi pioneered a new technique that achieved her goal.
Her method forms colorful, glowing glycans that can be seen and tracked in real time. It can be carried out in living animals, such as zebrafish and mice, providing valuable information about glycan biology in animal development.
"Chemistry is the central science …" Bertozzi said in an interview shortly after the announcement. "It's such an exciting area … for people who want to have an impact in biology and medicine and materials and climate and sustainability."
"When the world is in trouble, chemistry comes to the rescue," Bertozzi added.
Of the 189 people awarded the Nobel Prize in Chemistry between 1901 and 2022, Bertozzi is one of only eight women to be honored.
"I can't help but think about all the women who came before me who did spectacularly important work, every bit as important as anything I've done, but didn't have the opportunity to be recognized," Bertozzi said in the interview.
The Nobel Prize winner earned an undergraduate degree in chemistry from Harvard University and completed her doctorate in chemistry at the University of California (UC) Berkeley, followed by postdoctoral studies at UC San Francisco. Bertozzi was appointed to the faculty at UC Berkeley in 1996, and it was there that she carried out her seminal work. That same year she was named a Pew biomedical scholar.
Today, Bertozzi is at Stanford, where she is director of Stanford ChEM-H (Chemistry, Engineering and Medicine for Human Health), the Anne T. and Robert M. Bass Professor in the School of Humanities and Sciences, and professor of chemical and systems biology and of radiology.
She is the third former Pew biomedical scholar in as many years to receive a Nobel and the sixth to win since the inception of the scholars program in 1985. Most recently, 1990 scholar David J. Julius, Ph.D., and 1986 scholar Charles M. Rice, Ph.D., won the Nobel Prize in Physiology or Medicine in 2021 and 2020, respectively.
Kara Coleman directs The Pew Charitable Trusts' biomedical programs.