Georgia Solar Energy Looks Bright
Clean economy rising
Overview
Abundant solar and biomass resources, falling costs of materials, innovative research, and state policies have launched Georgia into the national spotlight as a clean energy leader. The state ranks No. 1 in the country in commercial timberland, making woody biomass a major component of its renewable energy sector. Its significant solar potential has been largely untapped until the past year. Research at state institutions and companies has led to innovation on a wide range of clean energy technologies such as offshore wind, electric vehicles, and microgrids (power generation independent of the electrical grid). This brief examines Georgia's success in deploying clean energy and its subsequent economic growth.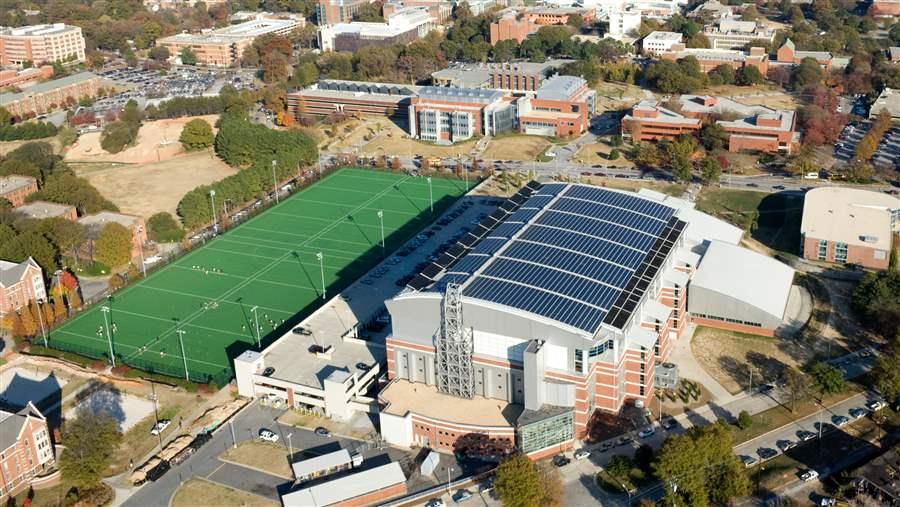 © Rob Felt/Georgia Institute of Technology
Rooftop Solar Array at Georgia Tech's Campus Recreation Center.
Clean energy policies
Georgia has prioritized clean energy because of its economic benefits and the state's population growth and significant sources of renewable energy.
Last year, the Georgia Public Service Commission directed Georgia Power, the state's largest utility, to add 525 megawatts (MW) of solar power between 2013 and 2016. This requirement prompted new initiatives to increase solar deployment in the state, positioning Georgia to become a national leader in this sector. Georgia Power has been soliciting requests for proposals for solar projects and awarding power purchase agreements—contracts in which the utility buys electricity produced from privately owned solar farms for a set period of time at a fixed rate.1
Although Georgia has not established a requirement for utilities to obtain a set amount of energy from renewable sources, known as a renewable portfolio standard, it does have other important clean energy policies that have spurred economic growth. The state's solar buyback program allows Georgia Power customers to purchase electricity from the utility's solar portfolio. Interconnection guidelines let residential customers who have installed clean energy systems such as wind or solar link to the main grid, and net metering laws allow them to generate electricity from these systems to offset bills from the power company.2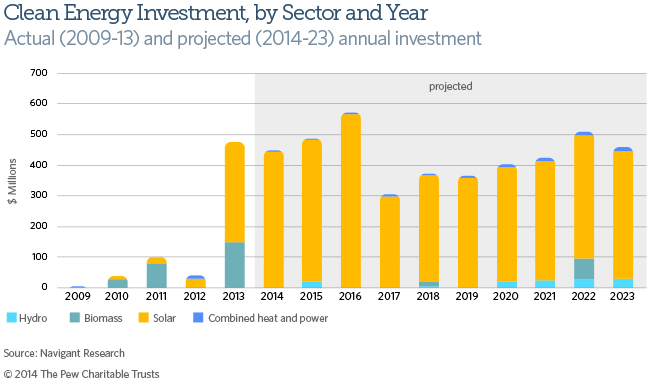 Endnotes
American Council on Renewable Energy, "Renewable Energy in Georgia," updated January 2014, http://www.acore.org/files/pdfs/states/Georgia.pdf.
Database of State Incentives for Renewables & Efficiency, "Georgia Financial Incentives," 2014, http://www.dsireusa.org/incentives/index.cfm?re=0&ee=0&spv=0&st=0&srp=1&state=GA.
Additional Resources