Expanding the Dental Workforce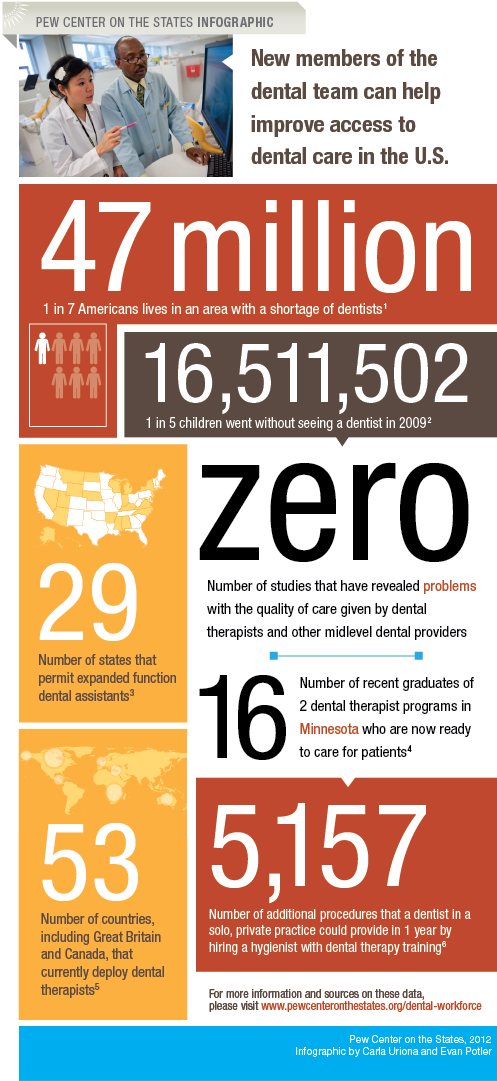 Expanding the dental workforce is one cost-effective way for states to improve access for underserved Americans. Pew is working with policymakers and advocates in several states to explore creating new types of dental providers—similar to nurse practitioners for dental care.
---
Footnotes
[1] U.S. Department of Health and Human Services, Health Resources and Services Administration, Designated HPSA Statistics Report, Table 4, "Health Professional Shortage Areas by State, Detail for Dental Care Regardless of Metropolitan/Non-Metropolitan Status as of September 1, 2011," (Accessed January 18, 2012). U.S. Census Bureau. "Table 1. Monthly Population Estimates for the United States: April 1, 2010 to December 1, 2011" (December 2011) accessed January 5, 2012.
[2] U.S. Department of Health and Human Services, Centers for Medicare and Medicaid Services, "Medicaid Early & Periodic Screening & Diagnostic Treatment Benefit – State Agency Responsibilities" (CMS-416), accessed January 10, 2011.
[3] The Dental Assisting National Board, Inc., "Dental Assisting Job Titles in the U.S.", accessed December 29, 2011. This figure was obtained by looking at DANB's "Dental Assisting Job Titles" document, which categorized many different state-based titles for expanded function dental assistants (EFDA) into one conceptually global designation. This list of states that permit EFDAs was then cross referenced with all 50 states plus the District of Columbia's state specific information on the types of dental assistants permitted.
[4] Dr. Biscupid, "First group of Minn. Dental therapists set to graduate" (accessed January 14, 2012), and University of Minnesota, School of Dentistry, (accessed January 14, 2012).
[5] Nash DA, Friedman JW, Kardos TB, Karods R, Schwarz E, Satur J, Berg DC, Nasruddin J, Davenport EG, Nagel RI, "Dental therapists a global perspective," International Dental Journal. 2001; 58: 61-70.
[6] Pew Center on the States, "It Takes a Team" (accessed December 11, 2011).