Legislation Aims to Jump Start Antibiotic Development to Battle Superbugs
Senate co-sponsors of PASTEUR Act discuss innovative approaches to fix the broken antibiotic market—and bipartisan support to address the threat of antibiotic resistance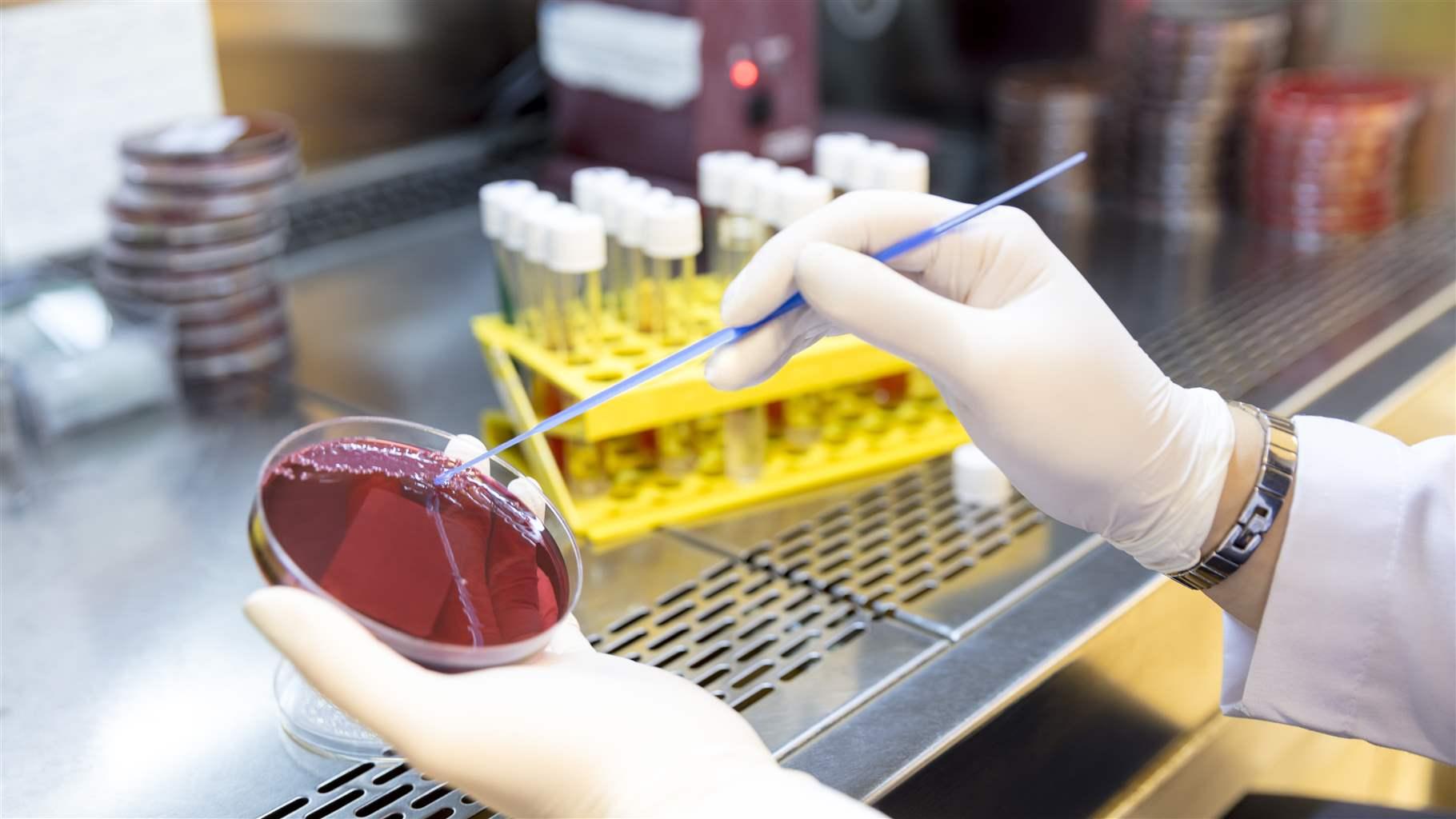 Bipartisan legislation introduced in the U.S. Senate and House of Representatives aims to jump-start the development of urgently needed new antibiotics, specifically those that can address unmet patient needs, by changing the way U.S. government programs pay for them.

Pew spoke with Senators Michael Bennet (D-CO) and Todd Young (R-IN), co-sponsors of the Pioneering Antimicrobial Subscriptions to End Upsurging Resistance (PASTEUR) Act of 2021. Sen. Bennet has represented Colorado in the Senate since 2009, and in 2016 he advanced legislation to strengthen FDA's antibiotic drug approval process for life-threatening conditions through the 21st Century Cures Act. Sen. Young has represented Indiana in the Senate since 2016; prior to that, he served for three terms in the House of Representatives. In his time in office, the senator has been a leading advocate for solutions to the growing threat of antibiotic resistance and the market failures that create barriers to needed antibiotic research and development.
This interview has been edited for length and clarity.
Q: What made you decide to introduce this legislation?
Young: The U.S. Centers for Disease Control and Prevention estimates that antibiotic resistance kills someone in the U.S. every 15 minutes—resulting in at least 35,000 lives lost annually to this growing public health threat. Yet, despite the fact that resistant infections are on the rise and deaths are projected to further skyrocket in the coming decades, the global pipeline of antibiotics in development remains woefully insufficient, with far too few drugs in development to treat the most dangerous pathogens. Without swift and comprehensive action to spur urgently needed innovation, we may soon find ourselves in a post-antibiotic era, when even a simple medical procedure could be deadly.
Bennet: As the COVID-19 pandemic has made all too clear, we must be proactive in our efforts to combat future public health threats—including that of multidrug-resistant superbugs. The past year and a half have revealed a few lessons. First, we can't sit on our hands and wait for the next crisis to arrive. Antibiotic resistance threatens modern medicine as we know it, but the U.S.'s current level of preparedness does not match the magnitude of the threat. Second, there's no national solution to an international problem. Infections don't care about borders, so we need a coordinated, international approach to protect our global health. Finally, the reality is that resistant infections will disproportionately affect underserved people who don't have access to quality care. Immediate federal action, through the PASTEUR Act, will address a fundamentally broken market for antibiotics so that patients will have access to novel antibiotics they need to treat increasingly resistant diseases.
Q: When you say the antibiotic market is "broken," what does that really mean?
Bennet: Major pharmaceutical companies and private investors have largely abandoned antibiotic development in favor of more lucrative disease areas, and the small biotech companies that remain are struggling to stay afloat. In 2019 alone, two small antibiotics companies—Achaogen and Melinta Therapeutics—filed for bankruptcy, even though each had recently received FDA approval and brought a new antibiotic to market. Another company, Tetraphase, was acquired for a small fraction of its valuation only a few years ago. The shrinking market, and lack of private investment, translates to a pipeline that is unable to produce the kinds of new antibiotics people need.
Young: The fundamental challenges associated with how we use and sell antibiotics also contribute to the "broken" market label. Since antibiotic prices are relatively low and physicians are asked to use new antibiotics sparingly to delay the onset of resistance for as long as possible, sales do not sustain commercialization. So, companies that create a drug important to public health actually lose money. Antibiotics companies incurred a net loss of $100 million from 2014 to 2016. This is not a sustainable market for producing the new types of antibiotics we need for patients fighting off infections.
Q: What would the PASTEUR Act do?
Bennet: The PASTEUR Act would help to reinvigorate the antibiotics pipeline by providing sizable, subscription-based financial incentives for broad public access to innovative, high-priority antibiotics. Although pharmaceutical revenue is typically tied to how much of a drug is sold, PASTEUR contracts would instead pay for new antibiotics based on their exceptional value to public health. This approach solves the core problem facing antibiotic drug development: the pressing need for innovative drugs that don't have high sales potential in the private drug market. As a result, PASTEUR will not only encourage the development of new types of antibiotics, but also help ensure patients have access to these drugs once they come to market.
Young: The PASTEUR Act marries the urgent need for innovation with the imperative to preserve the effectiveness of these drugs once they become available. To ensure that we carefully manage these drugs and further maximize their impact, the bill also provides additional resources to support antibiotic stewardship efforts and educating health care providers on how to avoid overuse or misuse of these life-saving medications in order to slow the emergence of antibiotic-resistant pathogens.
Q: It's noteworthy to see leaders from both parties coming together to co-sponsor this important legislation. Why do you think there is bipartisan support for efforts to combat antibiotic resistance?
Young: As we've learned on a tragic scale during the COVID-19 pandemic, diseases do not care if you are a Democrat or a Republican. Like COVID-19, antibiotic-resistant bacteria are an equal opportunity enemy, and they are relentless. Bacteria will always be evolving in new ways to defeat the drugs we have, and new therapies will always be needed to address emerging resistance. We're in a race with dangerous microorganisms that we can't afford to lose. Superbugs don't respect borders or parties—when antibiotic resistance develops anywhere, it is a threat to people everywhere.
Bennet: Bipartisan collaboration is the right choice when there is widespread, long-standing consensus on both the problem and the solutions. World-renowned economists, the Centers for Disease Control and Prevention, the Group of 7, and more have all come to the same conclusion: Antimicrobial resistance is a known and certain danger that threatens modern medicine and the treatments we all rely on every day. For years now, public health leaders from around the world have recognized the need to take action and advocated for economic incentives to stabilize and revitalize the antibiotic pipeline. Now is the time to act.
Q: With the U.S. and the world still managing the serious and lasting impacts of the pandemic, why do you think antibiotic drug development should be one of our highest public health priorities?
Bennet: The danger of antibiotic-resistant infections was a global crisis before the pandemic, and COVID-19 has only accelerated the superbug threat. Studies have raised concerns about high rates of potentially injudicious antibiotic use among COVID-19 patients, and we know that the more antibiotics we use, the more quickly resistance develops. We need to ensure patients have the antibiotics they need as quickly as possible—both for the risks we face today, and in the future when the inevitable superbug pandemic hits.
Young: Antibiotic resistance is also a national security issue. For years, leading public health and national security experts around the world have sounded the alarm about antibiotic-resistant bacteria. Multidrug-resistant superbugs threaten not only U.S. citizens here at home, but also our armed forces at risk of battlefield trauma and ultimately our military's force readiness internationally. Policymakers must ensure that the U.S. is not caught flat-footed when the inevitable superbug outbreak hits. Some threats we cannot begin to anticipate, but when it comes to antibiotic-resistant bacteria, there's no excuse for being unprepared.